New Zealand
Editors Review
Last Updated: 8/31/19
A small, budget-based campervan rental in Christchurch, New Zealand, Wanderlust Campers rents out two campervan options― both petite, petrol units that sleeps two, either inside the camper or inside the tent.
About Wanderlust Campers
Conveniently located near the Christchurch airport, this small campervan rental company targets the budget market, particularly backpackers and couples. Offering campervan hires with no-frills, outdoor enthusiasts might fall in love with the simplicity and functionality of the campervans or the All-Wheel-Drive option of car and tent. They offer free pick up and drop off to the near-by Christchurch Airport as well as free GPS and no cleaning fee! And to ensure a stress-free campervan hire, don't forget to check the freedom camping rules for each NZ district.
Fleet
A fleet of only 2 berth campers, this may come as a disappointment for bigger groups. These automatic units are not family-friendly but could be a charm for simple travellers looking for a simple road trip. Further, these campervans are also not the newest yet well-equipped with some extras like cutlery and dinnerware, cooking equipment, kitchen utensils, pillows, cleaning stuff and the like. Campervans are built on a 2000- 2003 Toyota Estima with a 2014 interior refit, while the 4WDs are Hyundai Santa Fe or similar vehicles.
Vehicles
2 Berth Campervan

From the look itself, you may think you're renting a car. But this car is pretty functional for those who would want to try something uncomplicated yet fully practical. If you're on a budget, this 2 berth Toyota Estima could help you. It may not be that spacious as compared to family motorhomes or as elegant as compared to luxury vehicles, but these campers are suitable for those who would want a practical, laid back road trip.
To start, the seating area converts into a nice, double bed. The rear area is for the kitchen with a gas cooker, compressor fridge, and sink. The design is not particularly original with the kitchen at the back, but with the limited space, really, what else was there to do? As much as the campervan technically can fit 2 child seats it only sleeps 2. The answer would be a tent for the other 2 people, but add in luggage for 4 and if you had even just 1 child seat, that's a cramped space and a lot of moving luggage and seats around in an out of tents to sleep. No, really, this is only a 2 person campervan. I guess if it's a parent/child getaway week, it would work though. Only a 10ltr water supply and matching 10ltr grey water tank. No toilet, so not certified 'self-contained'.
2 Berth 4WD
These automatic units based on the Hyundai Santa Fe are recommended for outdoorsy types with a heart for adventure. Highlighting its outdoor features, including a Fast Pitch Coleman tent, large camping table, and 2 luxury recliner chairs, road trips have never been more convenient. Also, sleeping is made more comfortable with the collapsing bed frame and self-inflating mattress. And for your cooking needs, don't worry because you are provided with a Coleman stove, 22 ltr. cooler, and Enamel dishware.
If you are looking for the convenience of a car, rather than a sleep-inside campervan, then this unit might take your fancy, but remember you will be pitching and packing a tent every day and more exposed to the elements - if that's what you love, you're gonna love this. The added extras of the table, chairs, cooler and beds are what makes this offering more attractive than just renting a car and buying a tent, but it is living the basic life.
Insurance
For the insurance, you may coordinate with the company upon initial booking so that you can prepare before the day of vehicle pickup.
Reputation
Wanderlust Campers wants each traveller to meet their wanderlust― that is through their Wanderer. With a fleet that is only focused on travellers up to two, the company's audience may not be that extensive. Not only that, the campervans aren't the newest on the road, so if you're picky in terms of vehicle age, this campervan hire might not be for you. Still, these units are a good value for your money.
Summary
If you and your partner are up for an adventure via a simple campervan, Wanderlust Campers' Wanderer is a nice choice that can bring simple joys. Their biggest problem will be not standing out from the crowded market with their product, so hopefully, they can do it with their price.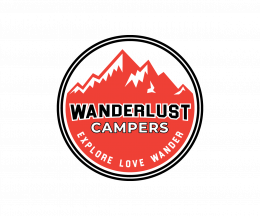 From the Agency
No word from this agency yet. Come back and see if they checked in soon.
Pros
Cheap campervan hire
Easy to drive and park vehicles
Simple to operate
Cons
Only 2 berth option
Tent camping is not as cosy as being in a campervan
Kitchen and fridging is a little under-done
See who else rents Campervans in the same cities
Instant Price Comparison
Just Got Questions? Want a Quote direct from the company?
Fill in this form to contact the Agency direct.
Write Your Own Review
Tell the world about your experience renting from this company
Have you experienced Wanderlust Campers?
Be the first to leave them a review and help others on their journey.