United Kingdom
Editors Review
Go on a road trip with a beautifully converted VW campervan from Adventure Wagons. Their campervans accommodate 2 persons in comfort and style.
About Adventure Wagons
Adventure Wagons is a small, family-operated company based in Edinburgh. Their branch is located roughly 30 minutes away from the airport. One of the best things when renting from a small campervan company is you get to experience a more personalised holiday with homey service. So, if you're planning to explore Scotland, you can ask for help and the owners will happily assist you in making a self-drive tour to the place.
Fleet
Currently, Adventure Wagons offer two great VW Caddy campers that are tailored for an assuming holiday. These are 2 berth campervans that are automatic and fuel-based. Plus, these are kitted with basic kitchen needs and other essential camping stuff like DVD player, Bluetooth Stereo, GPS Sat Nav, road map, and such.
Vehicles
Pop Top Caddy
This compact campervan has everything you need, from its cozy sleeping area to its efficient storage spaces. The rock n roll bed comfortably sleeps 2 persons. And of course, one impressive feature of this unit is its pop top roof that expands the internal height. Hence, if you're particular the space, you'll love this one. For your cooking needs, you have a 12v cool box fridge, camping stove, and kitchen utensils.
Wee Adventure

Another compact van for rent is the Wee Adventure, which is also a 2 berth unit with cozy rock n roll bed. It's pretty similar to the Pop Top Caddy, except it doesn't have a pop top roof. This means it may not be as spacious as the previous model, though it's furnished with the same campervan amenities. It has its own kitchen equipment and entertainment features. To compensate the lacking feature, this one comes with a roof box for extra storage!
Insurance
Insurance is provided for one driver, but you have the option to add another coverage for the second driver for £25. To know more about the insurance coverage and options, you can email them.
Reputation
Adventure Wagons focuses on a more personal rental that's why they only offer a handful of campervans. These 2 berths aren't all flashy but are equipped with all the essentials. Unlike big motorhomes, the units are very easy to drive and even park in standard spaces. With their limited fleet, it's suggested to look for other rental options if you're travelling with the entire fam.
Summary
Take your partner and experience a laid-back holiday with a 2 berth, modern Volkswagen Caddy campervans from Adventure Wagons.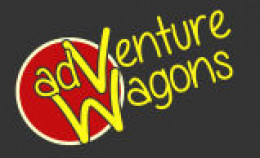 From the Agency
No word from this agency yet. Come back and see if they checked in soon.
Pros
Compact units for two
More personalized rental
Well-equipped campervans
Cons
Not for big groups
Only two campervan options
See who else rents Campervans in the same cities
Instant Price Comparison
Just Got Questions? Want a Quote direct from the company?
Fill in this form to contact the Agency direct.
Write Your Own Review
Tell the world about your experience renting from this company
Have you experienced Adventure Wagons?
Be the first to leave them a review and help others on their journey.