United Kingdom
Editors Review
CamperVanTastic is a well-known, local business based in London, offering both luxury hire and online store. Their VW California and Mercedes Benz for rent campers are perfect for couples and families up to 4.
About CamperVanTastic
Established in 2007, CamperVanTastic is one of the popular campervan companies in London. With the help of their "Vantastic" crew, they'd let you experience a quality campervan trip with their luxury vehicles. With the accreditation of the British Vehicle and Rental Association (BVRLA), this award-winning business is tagged as a specialist hire company. Accordingly, they are flexible in terms of vehicle pick-up and drop-off, as long as you inform them ahead so they can discuss the requirements. Their depot is located right within the city. At present, they have limited parking for your personal vehicle, though they have unrestricted residential parking nearby. And, if you're planning to take the unit outside UK, you are allowed to do so for a fee. Aside from rentals, CamperVanTastic also have some vehicles for sale.
Fleet
The CamperVanTastic fleet is composed of VW California and Mercedes Benz campers that are packed with kitchen equipment and other bits and pieces like a rechargeable lantern, coat hangers, fitted sheet, and more. Their campervans are meant for 2 to 4 people, though they have units that can seat up to 7. There are three-point seatbelts and free child seats for those bringing kids. More than that, pets are allowed inside the unit as long as you have a prior arrangement.
Vehicles
VW California Ocean

Sleek and sophisticated. The California Ocean is perfect for 4 people, though it can cater up to 5 with the optional removable seat. This campervan provides all camping essentials, which includes the kitchen. The kitchen comes with a gas cooker, sink, and fridge. The swivel captain seating features a slide-out internal table that allows all for four to dine in together. Plus, there's built-in storage and safe for your stuff. You can even add an optional cold water shower at the back so you can freshen up conveniently outside.
VW California Beach

Better and brighter. The California Beach campervan is suitable for groups of 5 to 7 people (5 seats and 2 optional removable seats). However, just like all other campervans for rent, this unit can only sleep up to 4. In terms of vehicle dimensions and engine type, they are pretty the same as Ocean. But one main difference between Ocean and Beach is the kitchen. The Beach has a smaller kitchen, hence adding extra space or storage inside the unit.
Mercedes Benz Marco Polo

One of the newest additions to the CamperVanTastic fleet is this functional and stylish Marco Polo built on a Mercedes Benz. It also accommodates up to 4 persons through its cozy double beds. For added comfort, you are given an extra memory foam topper. The kitchen area comes with pretty unique features such as the split lid cooker design with two hobs and a sink. The electric rear seating can be individually adjusted.
Insurance
CamperVanTastic requires renters to pay the damage deposit of £1,000 or up to £1,500 for non-UK license holders. There is also a windscreen excess amounting to £150. This will be taken out through a pre-authorisation of your credit card. You can avail of the CDW at £15 per day to reduce the excess to £200. However, this does not include coverage for wheels, tyres, windscreens, glass, overhead, and underbody damage.
Reputation
Having the BVRLA logo adds up to the already good reputation of CamperVanTastic. Their well-maintained, luxury campervans have everything you need, from kitchen essentials to sleeping gears. Since you are renting out luxury campervan models―VW California and Mercedes Benz―you'd be paying extra for the quality features. But these extra means you get to enjoy your adventure more, together with your pet. Another feature that makes CamperVanTastic more popular is that they also sell some luxury units.
Summary
If you're looking for a luxury campervan for rent and for sale, you've got a whole lot of fleet from CamperVanTastic.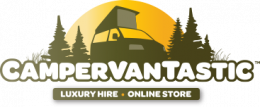 From the Agency
No word from this agency yet. Come back and see if they checked in soon.
Pros
Well-known local campervan business
Nice reputation
Luxury campervan hire
Pet-friendly
Cons
Not the cheapest campervan rates
Suitable for groups up to 4 persons
See who else rents Campervans in the same cities
Instant Price Comparison
Just Got Questions? Want a Quote direct from the company?
Fill in this form to contact the Agency direct.
Write Your Own Review
Tell the world about your experience renting from this company
Have you experienced CamperVanTastic?
Be the first to leave them a review and help others on their journey.