United Kingdom
Editors Review
Explore Scotland with Edinburg Camper Hire's 7 berth family motorhome. With only one campervan model on offer, you won't have a hard time with your rental selection.
About Edinburgh Camper Hire
Edinburgh Camper Hire has been in the hiring business for 7 years and counting. This local campervan rental company based in Edinburg caters to families looking for a motorhome to travel around Scotland, the UK, and Europe! As a family motorhome hire, they provide more personalized rental at an affordable price. Their depot is located 30 minutes away from Edinburgh International Airport. If you want, they can arrange for a taxi to pick you up from the airport.
Fleet
With only one motorhome for hire, it's not difficult to choose a unit from them. Their motorhome is great for a family of 7. It is well-equipped with all camping essentials and even excellent storage spaces. If you want extra convenience, you can rent out their beddings as well as child sleeping pod, outdoor tables, chairs, and external gas BBQ. They also have towel and cleaning packages for rent.
Vehicles
7 berth family motorhome
Their family motorhome is perfect for big groups up to 7. There are lots of sleeping areas inside the unit, including a cabover double bed above the front seats, two convertible dinettes in the middle area, and two spacious single bunks at the rear. The convertible dinettes turn into one double bed and one single bed at night. The shower, together with the toilet room, is placed right before the rear single bunks.
Also, you will not be disappointed with the kitchen because it's fully equipped with all the important stuff. It comes with a microwave, 3 hobs stove, fridge with freezer, kettle, and toaster. And of course, cutlery, crockery, pans, and pots are provided too! For your outdoor needs, they also include bike rack and a great storage for all your other camping stuff.
Insurance
Though Edinburg Camper Hire does not disclose their insurance excess, they provide you with information about their foreign license insurance, which is at £5 per day. And, if you opt to travel in Europe, there's also extra insurance coverage at £10 per day.
Reputation
Edinburg Camper Hire is a small family campervan hire that targets family travellers. With that, their reach isn't that extensive, though their reputation is on point. So if your travelling with the entire fam, their big motorhome is a good option. Their family motorhome is in great shape, with all the functional amenities that you need. Plus, the owners are very hands-on and helpful with each rental. Lastly, they offer decent rates for their motorhome for hire.
Summary
Edinburg Camper Hire is a family campervan rental business that offers a great family motorhome. So, if you want to travel Scotland and beyond with the entire fam, their 7 berth motorhome is a nice option.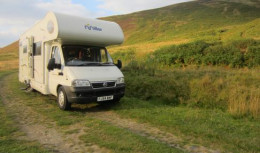 From the Agency
No word from this agency yet. Come back and see if they checked in soon.
Pros
Great, well-equipped family motorhome
Depot near the airport
Decent rates
Good reputation
Cons
Limited rental options
Ideal for big groups
See who else rents Campervans in the same cities
Instant Price Comparison
Just Got Questions? Want a Quote direct from the company?
Fill in this form to contact the Agency direct.
Write Your Own Review
Tell the world about your experience renting from this company
Have you experienced Edinburgh Camper Hire?
Be the first to leave them a review and help others on their journey.