United Kingdom
Editors Review
Take your pick from Freedom Hire's fleet of modern motorhomes and travel around the country and beyond with your family and friends. With their depot in Little Haywood, it's easy to start your luxury adventure.
About
Freedom Hire started isn't new in the motorhome rental industry; they have over three decades of experience. Specifically, they are one of the divisions of Freedom Caravans Limited, a famous company in terms of lightweight caravans. With their expertise, they can even help you with ferry and campsite bookings. Their depot is located in Little Haywood, stuffed between Stafford and Rugeley.
Fleet
Freedom Hire offers a fleet of modern motorhomes and campervans. These range from 4 to 6 berths, with special features and unique layouts. Even with the differences, all vehicles for hire are meant for a luxury holiday. Their motorhomes are manual units that run using diesel. And each unit is like an actual home on wheels; it comes with kitchen equipment, living area, beds, shower, toilet, storage spaces, airconditioning, and lot more.
Vehicles
Zefiro 675
The only 6 berth motorhome, Zefiro 675 is a top-notch choice for touring families. Since this is a family motorhome, you get to enjoy all comforts of home, including a kitchen, dinette, sleeping beds, and of course, shower & toilet. There are three sleeping areas inside―cabover, convertible dinette, and permanent bunk beds. Plus, you can store some of your stuff inside the rear garage space. This one is based on a Ford Transit model.
Tribute T715
Built on a Fiat Ducato, this 4 berth motorhome is slightly spacious than the first one. It comes with a roomy living space in the middle that acts as the dining area at daytime and double bed at night. The other double bed is located at the rear. Almost all interior amenities and equipment are same as Zefiro 675, though this one provides some unique features like microwave and captain chairs.
Tribute T669
Another 4 berth motorhome is Tribute T669, which is also a Fiat Ducato model. Even with the similarity of the model, they largely differ in terms of interior style and size. This one is quite smaller, with a distinctive layout. At the front area is a cosy dining space with two seats. When dining, you can easily turn the captain chairs so everyone can eat together. At the rear is a spacious lounge that serves as the living space and the sleeping area. This is where the two double beds are prepared, with one removable bunk on top.
Insurance
Freedom Hire requires a security deposit of £250 to be paid at the time of booking. This will be paid via credit card or debit card. This amount will then act as the insurance deposit, in case of accidents. And if you opt to travel around Europe, you have to purchase their EU Insurance at £70 per week.
Reputation
With a fleet of modern motorhomes, you can go on an adventure with your family and friends. But unlike other rental businesses, this one offers your a luxury holiday on the road. More so, this company has been in the industry for many decades, which means you get quality service and a knowledgeable team to back you up all throughout your trip.
Summary
Freedom Hire gives you the freedom and the luxury to tour around the country and even Europe with their family motorhomes and campervans.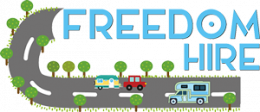 From the Agency
No word from this agency yet. Come back and see if they checked in soon.
Pros
Fleet of modern motorhomes
Ideal for groups up to 6
Extensive rental experience
See who else rents Campervans in the same cities
Instant Price Comparison
Just Got Questions? Want a Quote direct from the company?
Fill in this form to contact the Agency direct.
Write Your Own Review
Tell the world about your experience renting from this company
Have you experienced Freedom Hire?
Be the first to leave them a review and help others on their journey.