United Kingdom
Editors Review
Kombi Campers is a small campervan business in Glasglow that rents out VW campers for your vacations, corporate events, and even special ocassions.
About Kombi Campers
This family business is all about classic and modern VWs for hire in Scotland. Their depot is located near Glasgow Airport, which means you won't have to travel far to start your adventure. Their campervan range is unlike other companies; they rent out their campervans for all sorts of activities, from holidays to music festivals to corporate occasions and more! So whatever you have mind, Kombi Campers' team can prep a vehicle that will suit your style and needs.
Fleet
Kombi Campers' fleet is consist of 6 beautifully restored VW campervans that are suitable for couples and families up to 4. These may be older units that have toured the roads for years but these are still amazing home on wheels. They have classic campervans and even some modern VWs to give renters different options. The best thing about these vehicles is that each comes with same mindset―and that is to provide renters like you a simple yet memorable holiday in Scotland.
Vehicles
Stanley
Dubbed as the oldest of them all, Stanley is a 1968 VW that still rocks the road. This oldie but goodie campervan is the perfect option for lone travellers or couples who want a laid-back holiday. It has a spacious dining area for two that converts into comfy double bed. Plus, this one comes with a pop up roof that adds extra interior space.
Dave

Also a 2 berth, Dave is often called as "Tin top". This 1972 camper is a head-turner because of its blue and white exterior. More than its bright colors, this camper also takes pride of its amazing interior features. It has a pull-out bed, small table, and lots of storage spaces.
Penelope
Penelope is a beautifully restored 1976 Westfalia with a hint of modern touches. The small kitchen area is located at the back of the driver and passenger's seats. It has a gas hob, sink, fridge, and two retractable tables that allow you to prep and dine in outside. The pull out bed, on the other hand, comfortably sleeps up to 2 adults.
Skye
If you're looking for a modern VW California, Skye is one of the best options. This automatic campervan now comes with upgraded features like privacy glass, electric windows, cruise control, elevating roof, and such. It's a well-equipped unit that sleeps 2 adults and 2 children, making it a great campervan for families. And for this particular vehicle, there's no need to book camping chairs and table because these are included in the rental. And at night, you can have a cozier sleep with the help of the warm air heater.
Lewis
Do you want a more spacious campervan for the entire family? There's Lewis, a VW T5 long wheel base that gives more than enough space for 2 adults and 2 children. It has a comfy double bed downstairs and another double bed upstairs. Also inside the unit is a nice kitchen area loaded with sink, 3-way fridge, two-burner hob, grill/oven, and glass worktop. And because of the extra interior space, there are lots of storage areas inside too!
Harris
The latest addition to the fleet is the 4 berth Harris that is pretty similar to Lewis, except for some added features. This recent unit drives like a car and comes with all the essentials of a campervan. It furnishes a built-in SAT NAV, DAB radio, and start stop tech to make your trip more convenient. And because of its panoramic windows, you get better views of the scenery outside.
Insurance
First of all, Kombi requires a security deposit of £500 (£750 for guests from EU). If you want to have a more secured trip, you can avail of the CDW at an extra cost of £10 per day or £70 per week. This one reduces the insurance excess to £0. Another CDW option is at £5 per day or £35 per week, which would reduces the excess to £250. Tyres and windscreen, however, are not part of the CDW option, which means any damage will be paid from your security deposit.
Reputation
Kombi Campers targets a specific group of campers―these are travellers who wouldn't mind driving units that have covered many miles. It's because their fleet is mostly composed of classical campervans that are beautifully restored. But even if their campervans have toured long lengths, these are still reliable on the road. Plus, you have lots of rental options, ranging from 2 berths to 4 berths units. Aside from that, they now offer some modern VW models to give more choices to renters.
Summary
If you want to experience a unique kind of adventure, Kombi Campers welcomes you to their fleet of VW campervans that are suitable for all sorts of adventures and occasions.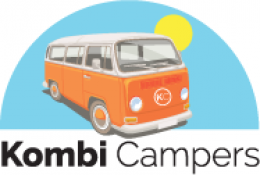 From the Agency
No word from this agency yet. Come back and see if they checked in soon.
Pros
Lots of campervan options
Suitable for couples and families up to 4
Convenient branch location
Ideal for VW lovers
Cons
Not for picky and fancy travellers
Mostly older campervans
See who else rents Campervans in the same cities
Instant Price Comparison
Just Got Questions? Want a Quote direct from the company?
Fill in this form to contact the Agency direct.
Write Your Own Review
Tell the world about your experience renting from this company
Have you experienced Kombi Campers?
Be the first to leave them a review and help others on their journey.