United Kingdom
Editors Review
Hit the road with LokoCampers fleet of modern, VW California campervans that accommodate 4 people in comfort and style.
About LokoCampers
LokoCampers is a family-owned campervan company based in Surrey, but with transfers in Gatwick, Heathrow, and Salzburg (winter only). This local business offers vintage campervans for rent and for sale. This means you can rent first and assess if the unit is suitable for you, then purchase if it fits your preferences. Their T6 VW California campervans are perfect for whatever weather, from summer to winter. Hence, these are available all year round. You can even take the campervan abroad as long as you avail of the added insurance coverage. And if you're bringing your personal car, you can leave it within their area but at your own risk.
Fleet
Their latest VW Californias are meant for 2 to 4 people eyeing for extra comfort. These factory-built units are less than 2 years one, which means these are pretty new and highly reliable on the roads. You've got 2 models to choose from―VW Ocean and VW Beach. Because of its compact size, these units can be smoothly driven in single-track roads and parked in standard parking spaces. Each camper is equipped with camping necessities like central heating system for all-season comfort and outdoor table & chairs for alfresco relaxation. A pop-top roof with a comfy double bed is also featured in all campers, as well as a rear bench that converts into another double bed. You have the option to rent out a bike rack and a roll-out awning.
Vehicles
VW California Beach

The California Beach gives you more interior space than you expect. It's because there's no built-in kitchen inside, leaving you more space for lazing around. The 3-seat rear bench easily alters into a double bed. With no interior kitchen, the unit can actually seat up to 7 people! Accessories included are the hamper, pop-to tent, kettle, gas stove, cooking utensils, and the like. All these will help you prepare your food comfortably and enjoy alfresco dining.
VW California Ocean
If you want convenience at its finest, there's the California Ocean, which is tagged as a full-on home on wheels. You have everything you need inside the camper, from the well-equipped kitchen to the comfy double beds. This unit can seat up to 5 passengers and sleep up to 4 adults. With the built-in kitchen, there's no need to spend time to set up your kitchen stuff. Everyone can dine in together with the help of the fold-out table, bench, and swivel passenger and driver chairs. But if you want to enjoy alfresco dining, you can do so with the optional awning and the camping table and chairs that can be stored in the tailgate and side door.
Insurance
Campervans have a policy excess of £750 and another £750 for insurance purposes. Hence, you will need to pay a deposit amounting to £1500 or £1750 (for festivals). You can add extra insurance for your personal stuff.
Reputation
LokoCampers is a highly-rated campervan company in the Surrey area. They offer a range of the most recent VW California campers that are designed for groups up to 4. Since these are almost brand new models, you will experience a more comfortable and cozy holiday on wheels. These compact units feature a pop-up roof, making it suitable for those travelling with kids. This family business only has two campervan models, hence may easily book out during peak seasons.
Summary
For a family of four looking for a modern and well-equipped VW California camper, check out LokoCampers fleet of 4 berths.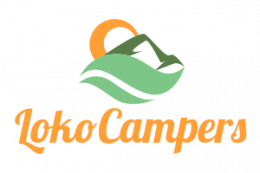 From the Agency
No word from this agency yet. Come back and see if they checked in soon.
Pros
Latest VW California campervan models
Multiple transfer locations
Well-maintained and well-equipped units
Cons
Not meant for groups more than 5
See who else rents Campervans in the same cities
Instant Price Comparison
Just Got Questions? Want a Quote direct from the company?
Fill in this form to contact the Agency direct.
Write Your Own Review
Tell the world about your experience renting from this company
Have you experienced LokoCampers?
Be the first to leave them a review and help others on their journey.