United Kingdom
Editors Review
Supplying a fleet of modern and retro VW campervans, London Campers is one of the top-rated rental companies in the city. Its decade-long rental experience makes their 4 to 5 berth vintage vans more popular among couples and families.
About London Campers
London Campers has been in the business for quite some time. Established in 2009, this local rental company offers you well-maintained vans at decent prices. They even match any quote for comparable vehicle hire. The owners are avid fans of Westfalias and have maintained over 20 VW vans. They started with a VWT25, then added a T5 to give options to renters. Their branch is located in Streatham, South London. Aside from drop-off and pick-up, they also provide delivery and collection of units within London Zones 1-3 or surrounding area as long as you have a prior arrangement and you pay the extra fee.
Fleet
London Campers solely focuses on vintage vans that are perfect for groups of 4 to 5 people. They have two main selections: T25 (retro) and T5 (modern). For their T25, they've got 2 Westy campervans. On the other hand, their T5 fleet has 4 options. Most of their vehicles are manual, though they also have few automatic models. Each unit comes with cutlery, crockery, camping tables, chairs, BBQ, lighters, and such. They also allow well-behaved pets, which is a great thing for pet owners.
Vehicles
VW T5 Campervans
Silvester
Coated in metallic silver exterior, Silvester features the charms of both worlds. It's a classic van with a hint of modern style and frills. It's suitable for 4 adults, plus 1 small child. Adults can relax either in the pop-top area or at the convertible rear double bed. The kitchen has its own double hob, sink, and 12v fridge. And to add comfort, there's an onboard night heater to keep you warm at night and LED lighting to save energy.
Santiago
This bright red camper never goes unnoticed. Its classy exterior is complemented with the refined black and sportline leather interior. It has the same features as the Silvester, including a well-equipped interior kitchen, pop-top roof, LED lighting, heater, air conditioning, USB charging, and more. There are also two double beds for 4 adults and optional cab bunk for 1 small child.
Blueberry

Blueberry is another premium T5 campervan for 4 adults and 1 child. This one is pretty much the same as the previously mentioned campervans. It comes with an onboard fridge, cooker, sink, night heater, and USB charging. Inside, you'll love the black and blue designs, along with the 12v TV / DVD player.
Carl

Carl is definitely a force to reckon with because of its high-end features. It actually seats 7 but sleeps up to 2 only. Hence, this is the perfect option for couples wanting a luxury space while exploring the roads with a sophisticated, vintage van. This is the only automatic VW T5 model with some amazing features, which include a sunroof, electric windows, climate control, and heated captain seats with armrests. Plus, the spacious living space with fold-away table easily converts into a full-width double bed.
VW T25 Campervans
Vic
One of the two T25 campervans is Vic, a Westy with vintage exterior and modern interior. It's a 4 berth campervan that seats up to 6 because of the additional row of seats. But with the optional cab bunk, it can take up an extra small child. The pop-top roof not just adds space but also acts as sleeping area for two. Inside, you have a nicely stocked kitchen and a safe for your valuables.
Lenny
The other T25 campervan is the group-friendly Lenny. With a standard seating setup of 6 persons, it can even extend up to 7 with the optional rear-facing seat. But of course, just like all other campervans on offer, it can only sleep 4 to 5 persons. One unique feature of this unit is the removable kitchen unit that allows you to cook inside and outside. An awning is provided for extra convenience.
Insurance
Campervans include a fully comprehensive self-drive hire insurance as long as the drivers are between 24 to 75 years old and meet the terms and conditions required by London Campers. For more info about the insurance, it's best to send them an email.
Reputation
London Campers is a well-liked rental company offering a fleet full of VW campervans. With the wide range of rental options that are also pet-friendly units, they have become one of the sought-after local businesses in their area. But of course, their rental fleet is not suggested for picky and fancy travellers because their units are not brand new models. These are old campervans that let you enjoy a slow-paced yet memorable road trip.
Summary
So, if you want an ultimate classic road trip or a vintage ride with a touch of modern comforts, London Campers can provide you with a quality VW campervan.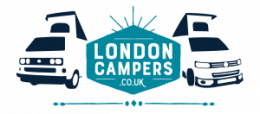 From the Agency
No word from this agency yet. Come back and see if they checked in soon.
Pros
Wide rental options
Well-maintained fleet
Pet-friendly units
Top-rated campervan hire company
Cons
Not recommended for fancy travellers
All 4 to 5 berth units
See who else rents Campervans in the same cities
Instant Price Comparison
Just Got Questions? Want a Quote direct from the company?
Fill in this form to contact the Agency direct.
Write Your Own Review
Tell the world about your experience renting from this company
Have you experienced London Campers?
Be the first to leave them a review and help others on their journey.