United Kingdom
Editors Review
A small, family business, New Adventure Motorhome Hire rents out their pet-friendly, 6 berth motorhome for a luxury holiday on the road.
About New Adventure Motorhome Hire
New Adventure Motorhome Hire is a local company operating from the Greater London area, particularly in Ruislip, Middlesex. They tag themselves as a small business that provides more personalized service to all renters using their units. Their motorhomes are available year-round, though you can book in advance during peak seasons. And, these units are permitted for European travel. If you're bringing your personal car, you can leave it at their collection point for free but at your own risk.
Fleet
There's only one motorhome type for hire, which is a 6 berth Roller Team Auto-Roller 747 manual motorhome. This family vehicle welcomes well-behaved pets so you won't have to leave your furry friend behind. And, it is well equipped with all the amenities you need for a convenient road trip, which include a functional kitchen, spacious lounge, shower & toilet, and sleeping areas.
Vehicles
6 berth Roller Team Auto-Roller 747
The Roller Team Auto-Roller 747 is a great family motorhome offering 6 travelling seats, each with a 3 point seat belt. Upon entering the unit, you will be greeted with luxury style and amenities. Adjacent to the door is the functional dinette that alters into a double bed. There's a comfy cabin seating at the back of the driver's seat. At the back, the U-shaped lounge also modifies into a large double bed or two singles. To provide enough sleeping areas inside without taking too much space, an electric drop-down double bed is provided. And, you can't miss the tiny kitchen because it provides you with all your needs, including a sink, oven, fridge/ freezer, crockery, cutlery, cookware, and more! Lastly, the bathroom is just the right size and style to give you a comfy and stylish holiday.
Insurance
Fully comprehensive insurance is provided with the rental for drivers between the ages of 25 and 75, who have met certain requirements. Their insurance excess amounts to £850/1000 and can not be reduced even if you provide a third party insurance policy.

Reputation
New Adventure Motorhome Hire holds a great reputation for offering well-maintained family motorhomes for a family of 6. The owners are not just knowledgeable about the ins and outs of their unit but are also friendly and accommodating. But because of its limited fleet, it caters to a specific number of travellers onboard. There's only one RV type, which means you've got no other options to choose from. Still, if you want a quality motorhome hire within the Greater London area, their RV is a good choice.
Summary
For a family of 6 wanting to tour around the Greater London area, New Adventure Motorhome Hire has Roller Team Auto-Roller 747 waiting for you.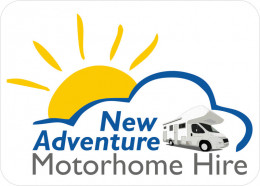 From the Agency
No word from this agency yet. Come back and see if they checked in soon.
Pros
Luxury motorhome hire
Ideal for families or groups up to 6
Pet-friendly
Modern and well-equipped RV
Cons
May not be the cheapest
Only one motorhome type
See who else rents Campervans in the same cities
Instant Price Comparison
Just Got Questions? Want a Quote direct from the company?
Fill in this form to contact the Agency direct.
Write Your Own Review
Tell the world about your experience renting from this company
Have you experienced New Adventure Motorhome Hire?
Be the first to leave them a review and help others on their journey.