United Kingdom
Editors Review
Rent a VW campervan from Red Kite Campers and take your family into a fantastic holiday on wheels. This small campervan hire business in Glasgow comes with a straightforward fleet with only one campervan model that sleeps 4.
About Red Kite Campers
Just 10 miles north of Glasgow city centre, Red Kite Campers is beautifully located near transport links and national parks. But if you want utmost comfort, they offer paid airport transfers from Glasgow, Edinburgh, and Prestwick Airports. Likewise, they also provide minibus service for your luggage. If you pick-up or return the unit, you are given two schedules 2 PM & 3: 30 PM (pick-up) and 10 AM & 11: 30 AM (return).
Fleet
There's only one campervan type on offer―a modern VW T6 campervan that sleeps up to 4 people. These well-maintained vehicles got everything you need for a cozy getaway, including a spacious dining area, a functional kitchen, and comfy sleeping quarters. If you want, you can also hire some of their amazing extras like camping table, chairs, bike rack, pop-up awning, extra bed, bedding, and porta potti. It's not hard to miss these campervans because of their colors (red and white), which are pretty much in rhyme with the company name―Red Kite. But even with the cool hues, the vehicles do not come with any trace of marketing hints.
Vehicles
This red-and-white VW T6 campervan is a nice 4 berth unit. It has an impressive layout that provides a roomy interior space and extra storage. There's a well-kitted side kitchen with essentials like gas hob, grill, fridge, and sink. Dining table is situated right beside the kitchen. The large back seat modifies into a rock and roll bed that sleeps two. The other double bed is located at the pop-top roof, which also adds extra headroom.
Insurance
The insurance excess is £750, which corresponds to the refundable deposit required upon collection of the rented vehicle. This excess, however, does not include windows and tyre damage.
Reputation
Red Kite Campers only has one campervan type on offer, which is a well-liked VW campervan by families. These modern VWs are easy to drive, with efficient fuel consumption. Likewise, you won't be disappointed with the vans' interior layout and facilities. To top it all, it's easy to pick up your rented unit because their depot is located within the city centre. All these amazing features add up to the excellent reputation of Red Kite Campers in Glasgow City and beyond.
Summary
For couples and small families looking for a modern VW campervan, take a look at Red Kite Campers's 4 berth VW T6 campervan and kick-off your holiday with a bang!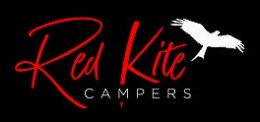 From the Agency
No word from this agency yet. Come back and see if they checked in soon.
Pros
Great reputation
Modern VW campervans
Suitable for couples and small families
Convenient pick-up and drop-off location
Cons
Only one campervan type
Not for big groups more than 4
One depot
See who else rents Campervans in the same cities
Instant Price Comparison
Just Got Questions? Want a Quote direct from the company?
Fill in this form to contact the Agency direct.
Write Your Own Review
Tell the world about your experience renting from this company
Have you experienced Red Kite Campers?
Be the first to leave them a review and help others on their journey.