United Kingdom
Editors Review
For festival needs and long term hires, Trek Campers supplies a range of modern and fully-equipped campervans that accommodate up to 4 persons, plus 2 dogs.
About Trek Campers
Based in Droitwich, Trek Campers is easily accessible from Birmingham, Wolverhampton, Coventry, Gloucester, and other neighboring cities. Unlike big rental corporations, this local business operates on a more personal service. Therefore, you will deal directly with the owners, who are knowledgeable, accommodating, and environment-conscious people. They are particular in reducing the use of plastic as well as single-use items, hence you will be provided with bamboo/ wood items instead of plastic kitchenware. Likewise, their rental prices are competitive and their campervans are highly suitable for cosy road trips, exciting festivals, and long-term holidays.
Fleet
All Trek campervans are 2019 Volkswagen T6 vans that sleep 4 adults, plus 2 dogs. So, if you're planning to go on an adventure with your furry friends, their modern vehicles are a great option. More so, all their units are furnished with a wind out awning so you can enjoy outdoor dining. And for your kitchen needs, each campervan has its own set of cutlery, plates, bowls, pans, and pots. Extras that can be added into your hire, including bike rack, additional driver, Europeran travel, and such.
Vehicles
Willow

Willow is a 4 berth camper that is quite spacious and highly functional. It comes with a pop up roof that provides a double bed. Another sleeping space is from the convertible seating area that also provides storage for your stuff. The front seats easily swivel to the living area. This manual campervan offers a whitewashed interior complemented with a blue floor.
Fern
Fern is technically the same as Willow, except for the interior colors. Instead of blue, this 4 berth campervan features a bright green color to brighten up your day. This means, if you want all the comforts of Fern such as double beds, kitchen area, USB power sockets, swivel front seats, full curtains, and more, this is a nice alternative.
Oak
The last option is the Oak, a long wheelbase campervan that gives you extra space inside. This unit is ideal for those who are planning for a longer road trips and holidays in Europe! It's even ideal for those with big dogs! Because of the added 16 inches, there's definitely space for everyone on-board.
Insurance
All Trek campervans require a £750 security, which will be paid by card or in cash. This will be used in case of possible damages to the unit. However, you have to take note that their insurance excess may increase if your age is under 25 or over 70. The excess ranges from £750 - £1000. Another thing to take note is that the insurance does not cover damage to windscreen, wheels, tyres, windows, roof, underside, interior of the van.
Reputation
Trek Campers isn't like national campervan hire companies. They provide you with a more personal service so you fully enjoy and relax during your campervan holiday. All campervans for rent are nicely equipped, not just with the basic camping needs but also with some unique extras like heater, awning, and kitchen stuff. And, you won't be driving a run-down unit because all Trek campervans are less than 3 years old. Another good thing from this small, local company is their location, which right in the heart of the Midlands. Lastly, they are one of the few companies in the UK that is environmentally conscious with their rentals.
Summary
Whether you go road-tripping or festival hunting, Trek Campers has a modern, well-equipped 4 berth campervan for your needs. And because of their pet-friendly units, you won't have to leave your pets behind!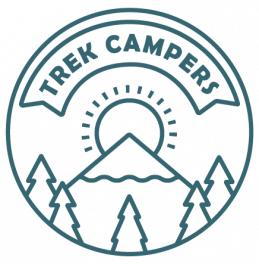 From the Agency
No word from this agency yet. Come back and see if they checked in soon.
Pros
Modern campervans with nice inclusions
Great for couples and young families
Pet-friendly
Strategic location
Cons
Caters to up to 4 persons only
See who else rents Campervans in the same cities
Instant Price Comparison
Just Got Questions? Want a Quote direct from the company?
Fill in this form to contact the Agency direct.
Write Your Own Review
Tell the world about your experience renting from this company
Have you experienced Trek Campers?
Be the first to leave them a review and help others on their journey.