United Kingdom
Editors Review
If you want to have a quick weekend getaway or a cosy road trip, UK Camper Hire has something for you. This Derby-based company rents out a well-equipped VW T5 Tranporter that fits a family of four, plus a pet.
About
This small, local company with a depot in Mickleover, Derby continues to amaze local and international renters with their first-rate service. Since this is a family-run business, UK Camper Hire gives you a more personalized campervan rental for your holiday needs. For instance, if you're bringing your personal car, they can provide an off road parking space. They also offer special vouchers perfect for wedding gifts and special occasions. And if you're planning for a long holiday, they have some discounts too! Aside from campervan hires, they also have a couple of campervans for sale.
Fleet
There's only one campervan model for rent―a long wheel base camper that drives like car. It's a VW T5 Tranporter with the complete home comforts, from fridge to storage spaces. It even comes with special inclusions like cafetiere, wine glasses, whisky tumblers, outdoor chairs, and table! And if you want more fun and comfort, they have a few extras for hire, including bike racks, porta potty, and awning. Because of the campervan's layout, it's meant for both short and long drives. More so, it's highly economical with low emissions.
Vehicles
VW T5 Tranporter
It's not hard to fall in love with this VW T5 Tranporter 2.5. It's easy to drive and it has everything you need. Likewise, the campervan does not come with marketing signs that scream "I'm on a holiday". Apparently, the campervan looks like a sleek car with all the comforts of your home. There's a well-equipped kitchen stocked with a fridge, cupboard space, 2-ring hob, grill, and sink. The living/ dining space effortlessly alters into a double bed and the pop-up roof gives way to the second double bed. The rear of the van provides a provision for exterior shower with hot water!
Insurance
On top of the initial deposit of £150, rentals come with a £500 security deposit. To know more about their terms and condition, including their standard insurance, it's best to send them a message.
Reputation
UK Camper Hire is a nice campervan business in Mickleover, Derby with great reputation. All their campervans are equipped with cosy home features so you can enjoy your trip no matter what season. Unlike big motorhomes, their vehicles drive like car, making it perfect for uncomplicated getaways. Their vans, however, are only suitable for a family of four, plus a furry friend. Yes, their vehicles are pet-friendly, so if you want to go on an adventure with your pet, their fleet is a good choice.
Summary
Wander around the picturesque UK roads with a fully-furnished VW T5 campervan from UK Camper Hire. Their vehicles are quality home on wheels for couples and small families.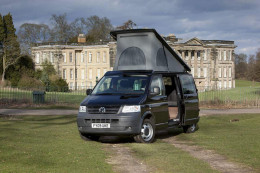 From the Agency
No word from this agency yet. Come back and see if they checked in soon.
Pros
Perfect for couples and starting families
Special offers and vouchers
Pet-friendly
Cons
Older campervan models
Limited fleet
Meant for groups up to 4
See who else rents Campervans in the same cities
Instant Price Comparison
Just Got Questions? Want a Quote direct from the company?
Fill in this form to contact the Agency direct.
Write Your Own Review
Tell the world about your experience renting from this company
Have you experienced UK Camper Hire?
Be the first to leave them a review and help others on their journey.