United Kingdom
Editors Review
A small, family-operated based in the suburbs of Edinburgh, Wee Hoose Campervans offers you their compact house on wheels. Their campervans are suitable for 3 adults or 2 adults, plus 2 children.
About Wee Hoose Campervans
Wee Hoose Campervans is a local campervan hire business in Edinburgh. In Scotland, a wee house is technically a little house that offers no end of delight. And this is what Wee Hoose Campervans wants to offer to travellers. This small, family company has its depot located close to the airport and Edinburgh City Bypass. They even provide free parking at their depot so you can leave your car for free while you hit the road.
Fleet
The Wee Hoose Campervans fleet is not that complicated. They only have two campervan styles that are perfect for couples or groups of 3 to 4. Each of their campervans comes with comfy sleeping spaces, kitchen, cooking utensils, storage areas, and lots of extras. These include a complimentary welcome pack that has coffee, tea, hot chocolate, and sugar so you'll kick off your adventure with a bang! If you want, you can rent out their pop-up table, foldaway chairs, bike rack, and Sat Nav for a small charge.
Vehicles
Nissan Elgrand campervan
If you prefer an automatic unit, there's the Nissan Elgrand campervan, which easily switches between 2 to 4 wheel drive with just a touch of a button. This compact campervan is suitable for driving steep roads and even motorways. With its pop-up roof, you can comfortably stretch your arms or even stand up inside the vehicle. It also comes with a swivel front passenger seat and a foldaway table for a comfier dining setup. The kitchen has a two-burner gas stove, sink with running water, fridge, and a freezer. To top it all, there is a heating system and optional vented windows.
VW T6 Transporter campervan

For manual lovers, here's a VW T6 Transporter campervan for you. This unit also caters to 3 adults or 2 adults plus 2 children. The facilities inside are pretty similar to the Nissan Elgrand, though it also has some unique features. Instead of only one front passenger seat that is rotatable, this one comes with swivel double chairs so everyone can eat comfortably. But the downside of this campervan is that it doesn't have a heating system.
Insurance
The standard excess for each campervan rental is £750. This does not include coverage for tyres and windscreen. Hence, you will be liable for the cost of any damage these parts.
Reputation
Being a small, family-run business, Wee Hoose Campervans provides a more efficient and friendly hire to couples and small families up to 4. Many customers have noted that the owners are very professional and accommodating, from start to finish. Though they only have two campervan styles on offer, these units are well-maintained and fully-furnished with all camping essentials and even some extras. Plus, these are very easy to drive.
Summary
So, if you want to start your adventure right away, Wee Hoose Campervans provides you with their compact campervans perfect for 3 to 4 persons.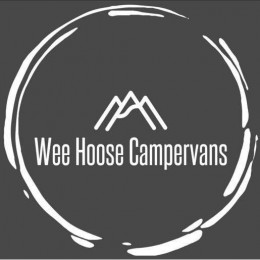 From the Agency
No word from this agency yet. Come back and see if they checked in soon.
Pros
Great rental reputation
Suitable for couples and small families up to 4
More personalized service
Cons
Only two campervan styles available
Not for big groups
See who else rents Campervans in the same cities
Instant Price Comparison
Just Got Questions? Want a Quote direct from the company?
Fill in this form to contact the Agency direct.
Write Your Own Review
Tell the world about your experience renting from this company
Have you experienced Wee Hoose Campervans?
Be the first to leave them a review and help others on their journey.