United Kingdom
Editors Review
Do you want to go camping in the UK or in Europe? Rent a 4 or 6 berth motorhome from You Choose MotorHome Hire and take the entire family to a luxury, cosy, and stress-free holiday!
About You Choose MotorHome Hire
A family-friendly campervan business, You Choose MotorHome Hire is a Tamworth-based company that caters to groups of 4 to 6 travellers. This family-run entity was established in 2017. Since then, they have offered competitive campervan rentals to travellers wanting to camp around the UK and beyond. You can rent a unit from them, whether it's for festival gatherings or simply just a home away from home. The owners themselves enjoy camping, hence you can expect a more personalized motorhome and more efficient service. Your rental even includes a free secure parking for your personal vehicle!
Fleet
You Choose MotorHome Hire offers two motorhome options―4 berth and 6 berth. Both are luxury motorhomes with all camping essentials, including a well-stocked kitchen, toilet & bath, spacious seating/ dining space, and storage areas. They also provide some extras such as vehicle tracker, DAB radio, CD player, TD/DVD, awning, bike rack, camping table, outdoor chairs. They have for hire gas BBQ, bike, petrol generator, towels, linen, and more.
Vehicles
4 Berth Motorhome

The 4 berth motorhome is suitable for families or even couples who want extra space. This unit offers a spacious seating area with a table, TV, and overhead storage. Uniquely, this motorhome has a skylight to provide natural light inside. The swivelled cabin seats make it easy for everyone to dine in together at the mid-seating area. At night, this convert into a double bed. There's also a fixed doubled bed at the rear that comes with storage spaces.
6 Berth Motorhome
Another motorhome option is the 6 berth, which is perfect for bigger groups. At the rear, there's a roomy lounge that serves as a living area during daytime and double bed at night. Moreover, there's a sliding bed with ladder on top of the dining area. And for your stuff, you can store them inside the overhead storage and cabinets.
Insurance
When renting from You Choose MotorHome Hire, there's a security deposit amounting to £750. This can be paid via credit, debit card, or cash. The security deposit acts as your insurance excess, which will then be refunded if you meet the stipulations noted by the company.
Reputation
As a small, local business in Tamworth, You Choose MotorHome Hire wants your holiday to be convenient and comfortable. That's why they supply family-friendly motorhomes with nice inclusions. Another factor that fuels their popularity is their location, which situated at the heart of the UK, sandwiched between Derbyshire, Leicestershire, Staffordshire, and Warwickshire. So, even if they only have limited motorhome choices, they are still in-demand because of their strategic depot. And lastly, their rental prices are highly competitive.
Summary
Take your family to a luxury road trip with You Choose MotorHome Hire's fleet of 4 and 6 berth motorhomes. All their units are well-equipped with camping essentials and extras to make your holiday way more comfortable and unforgettable.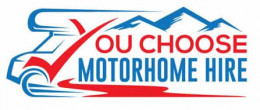 From the Agency
No word from this agency yet. Come back and see if they checked in soon.
Pros
Suitable for families of 4 up to 6
Luxury motorhome experience
Nice reputation
Competitive prices
See who else rents Campervans in the same cities
Instant Price Comparison
Just Got Questions? Want a Quote direct from the company?
Fill in this form to contact the Agency direct.
Write Your Own Review
Tell the world about your experience renting from this company
Have you experienced You Choose MotorHome Hire?
Be the first to leave them a review and help others on their journey.