United States
Editors Review
Remarkably a top notch selection in Southern California, 1st Choice RV has been offering rentals for RVs, motorhomes, and travel trailers for more than 15 years. They make sure to uphold the company's name through seamless transactions and great customer service.
About 1st Choice RV
1st Choice RV is notably known for providing great rental service— from the booking of vehicle to the refund of deposit. They practice this '1st Choice RV' promise that guarantees customers to get the exact model they reserved, and in case of unlikely event when the RV is not available, they will upgrade the vehicle at no additional cost, which is surprisingly fascinating because most competitors are following the 'What's left of the lot' policy.
Fleet
There are 20 RVs and 1 travel trailer for rent, and none of these vehicles come with any flashy graffiti or marketing slogan. They are simple yet clean and equipped with all the needed extras like awning, generator, TV/ DVD, and more. The vehicles look and act like brand new models, giving you a fantastic road trip. Aside from the fully-furnished RVs, it's the customer service that makes 1st Choice RV one of the top notch rental companies in Southern California.
Vehicles
Coachmen Freelander Ar
To begin the 1st Choice RV, let's delve into the Coachmen Freelander model. There are two Freelander models— the 23' and the 25' with slide-out. The smaller RV caters 2 adults and 3 children or 4 adults. At 23', the motorhome provides 2 full and 1 double bed, and an optional swivel seat near the entry. The pedestal table easily inclines to make the J-lounge a snug bed for two. The 25', on the other hand, is pretty big making it a 5 berth unit with slide-out. It has 2 queen and 1 double bed and a U-shaped dinette. Because of the extended length, the kitchen galley is more spacious.
Thor Chateau

The Thor Chateau has the most number of units on fleet. There are 9 different Chateau models, with different sleeping capacity and interior layout. The smaller ones are at 25', sleeping 4 adults. Though these are 4 berths, the motorhomes are equipped with 2 queen and 1 double, making it very versatile and spacious when it comes to sleeping. A relatively bigger Chateau at 30', these are ideal for families of 6 to 8 with 2 queen, 2 doubles and bunk beds option. And lastly, we have the 33' units that provides accommodation for 8 to 10 people but only have 7 seat belts. These larger RVs come with two-slide-outs, a smaller yet equipped kitchen, and many sleeping places— at the rear, living quarters and cab-over.
Thor Four Winds
The Thor Fourwinds is a 30', 7 to 8 berth motorhome with one slide-out. Featuring a normal Class C unit with beds at the private rear queen, dream dinette, jack-knife sofa and cab-over bunk. A step-up before the rear bedroom gives a more discreet ambiance. The L-shaped kitchen supplies facilities such as stove, oven, microwave, fridge/ freezer and overhead cabinets.
Four Winds Fun Mover

The Four Winds Fun Mover is great for outdoor and sports enthusiasts looking for a motorhome that can store their fave equipment. With plenty of storage compartment in the garage, you can now easily keep your gear outside. The garage features a roll-up door, overhead cabinets and optional cargo bed. This RV is also very spacious because it only sleeps up to 5 at the queen cab-over and 2 double beds from the sofa and dinette.
Mercedes Thor Citation

The 25' Thor Citation with a Mercedes chassis is good for 3 adults and 2 children or 4 adults. This 4 to 5 berth RV is equipped with a rear queen bed, double bed at cab-over and a sofa with air bed. The 26" LED TV uniquely comes with a view slide while the bathroom sink also has a flip-up counter top. Because of the slide-outs located at the living area and rear bedroom, the motorhome can provide a more roomy layout.
Thor Hurricane

With one full slide-out, this 31' RV is downright spacious for 6 people. Tired drivers can easily stop off and enjoy a coffee break with the fixed table at the front. Aside from the indoor kitchen with complete amenities and interior entertainment system, there's an optional outdoor kitchen and LED TV for extended fun. The 32' TV is nicely located above the dream dinette for comfortable viewing.
Thor Outlaw

Travelling 6 people, the Thor Outlaw is a unique large RV with a patio deck. The rear bedroom also takes pride of its queen-sized drop-down bunk, 32" TV and storage cabinets. The slide-out expands the sofa bed with two removable pedestal tables. Adjacent to the sofa bed is another sofa sleeper but a smaller one. The cab-over sleeping area does not limit the indoor entertainment because of its LED TV with swivel. Another TV is located before the bathroom area, making it a total of 3 TVs inside.
Jayco Greyhawk

This 8 berth RV is considered as the most compact bunkhouse model of the fleet. It is loaded with full-packed entertainment designed for your kids. Each bunk bed provides its own LCD with DVD player, wireless headphones and inputs and 2 LCD TV with high-def tuners located at the rear bedroom and cab-over sleeping area. The full kitchen comes with a pull-out pantry, oven, microwave and fridge. A power awning allows you to enjoy an alfresco dining while the large rear basement is all for your outdoor equipment.
Forest River FR3
The Forest River FR3 comes in two variants: 32' and 34'. Both are equipped with two slide-outs, one at the living room and the other at the rear bedroom. The smaller motorhome features a hide-a-bed sofa bed with footrests and a wrap-around booth dinette on one lane while the bigger RV nicely divide the two facilities adjacent to each other. The two provides a private rear bedroom with wardrobe, overhead cabinets, and LED TV.
Itasca Meridian
This Class A RV lets you experience a luxurious motorhome holiday with its 36' length and 2 slide-outs. As the biggest RV sleeping up to 6, the Itasca Meridian is a posh diesel pusher with a great floor plan to offer a full kitchen, full bathroom, and a private bedroom. Since this is a Class A motorhome, it can provide bigger and better road vistas. Aside from the sleeker exterior, the carpeted living area completes the elegant style of the RV.
Winnabego Brave
The Winnebago Brave is a limited edition retro sleeping 6 to 8 people. This may be tagged as retro style motorhome but it is fitted with amenities of newer RV like fully-equipped kitchen, sofa sleeper, convertible dinette and spacious rear king-sized bed. One unique feature for this unit is the flip-up counter table at the front seat, giving more comfort for those seating at the anterior
Insurance
1st Choice RV provides two insurance options: to obtain an insurance binder from your existing auto insurance company or purchase one from the company's insurance provider, MBA Choice Insurance. Take note of the insurance deductible amounting to $2,500.00 for Class C, Class A gas model RV's and all diesel pushers.
Reputation
Customers appreciate how the team helped them with everything they need— informative rental videos, comprehensive walk-through of the vehicle, fast road assistance and ease of return. Well, it's so nice to be able to travel at ease from the start until the end of your trip, and you don't even need to worry about dumping or cleaning tank. Some petty bummers are the limited depot (only one) and the 'no pick-ups/ drop-offs during Sundays and other major holidays'.
Summary
All in all, 1st Choice RV is great and recommended, especially if you'll be travelling as a couple or with your kids.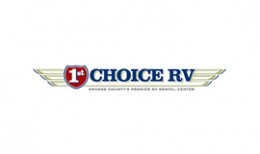 From the Agency
No word from this agency yet. Come back and see if they checked in soon.
Pros
Notable customer service
Extensive rental experience
Competitive rates
Cons
Only one depot
No pick-ups/ drop-offs during Sundays and other major holidays
See who else rents RVs in the same cities
Instant Price Comparison
Just Got Questions? Want a Quote direct from the company?
Fill in this form to contact the Agency direct.
Write Your Own Review
Tell the world about your experience renting from this company
Have you experienced 1st Choice RV?
Be the first to leave them a review and help others on their journey.