United States
Editors Review
ABC Motorhome & Car Rentals has been offering high-quality motorhome and car rentals in Alaska since 1985, and these units are great for families in different numbers.
What ABC Motorhome & Car Rentals Tells Us
The landscapes in Alaska are breathtakingly beautiful, making it a great place to take an RV holiday with your family. And for more than 3 decades now, ABC Motorhome & Car Rentals has catered every traveller who wants to experience the Alaskan RV holiday. This family-run entity already knows how to run the game, and often gives rental perks and specials every now and then. They only have one branch in Anchorage but it is strategically situated. As the only RV rental business at the airport, the company provides convenience through their free shuttle service, as well as half-day vehicle rentals. Not only that, they also deliver the vehicles at an additional fee and offers one-way rentals for certain areas.
Fleet
As of this writing, ABC Motorhome & Car Rental not only provides RV and car rentals, but also other vehicle rentals like vans, trucks and SUVs. The motorhomes, in particular, are same models in different sizes. These are all 2016 or newer Sunseeker motorhomes, ranging from the petite 22' to the larger 32'. Each vehicle comes with slide-out/s, shower & toilet, kitchen cookware, linens and towels. For your comfort and savings, the vehicles supply you with unlimited mileage, as well as unlimited generator usage, plus no cleaning or dumping fees during return. Aside from the motorhomes, there is also an economical camper van rental on set that is ideal for couples or backpackers in budget.

22' Motorhome
At 22', this is the smallest yet the most compact motorhome suitable for 2 adults with 2 children. The smaller dimensions do not necessarily mean there's a restricted comfort because the vehicle comes with a nicely functional layout. With a slide-out dinette area, queen-sized bed at the rear and bunk bed at the cab-over, there's still room for everyone. So if you're looking for a handy and affordable motorhome with enough space and value, this one is a delight.
24' Motorhome

A slightly bigger motorhome at 24', this unit has the same features with the above-mentioned like slide-out, bedroom at the rear, overhead bed above can, dinette, and more, but have upgrades like barrel chairs in the extended living quarters and added windows in the cab-over and living room.
30' Motorhome
This 30 footer could be a perfect layout for 4 people or even up to 6. Tailored with 7 seat-belts, the motorhome has plenty of space in the living/ kitchen area. The dinette and sofa become sleeping places at night. Just like the 24 ft., it has a lot of windows— in the living room, bedroom, and cab-over, so you're free to gaze the scenic views from the inside.
31' Motorhome
Bigger by one ft., the motorhome is appropriate for small to big families as it provides 7 seatbelts. By far, this is the most spacious option for smaller groups because it has 2 slide-outs, one in the rear bedroom and the other in the living room, and bigger vehicle layout. Aside from the overhead cabinets in the kitchen, there are extra storage in the master bedroom. The fully-packed entertainment system also makes this unit more appealing, especially for those travelling with kids. There are TVs in the living room and cab-over bed.
32' Bunk Motorhome
Having a length of 32', this unit is the largest among all the motorhomes on fleet. Because of the expanded size, it can cater up to 8 people. The 2 slide-outs are well located in the living room and bunk beds. The sofa sleeper is very useful during the day and at night because it is easily convertible. And if you have lots of clothes, make use of the wardrobe closet in the rear bedroom.
Economy Camper Van

The company also offers rentals for campervans, and in this case, they have something for budget travellers in two. Their Economy Camper Van may be pretty simple and small but is compact with all the camping essentials like two 2-burner propane stove, pots & pans, cutlery and crockery, kitchen & bath towels, sleeping bags, full-sized foam mattress, camping chairs and a lot more. However, if you're wanting for a scenic road trip inside, this isn't for you because the vans do not have windows. Well, it's fitting for those wanting a very discreet holiday on the road.
Lance Truck Camper
Aside from motorhomes and campervans, there are also truck campers for rent that are equipped with kitchen furnished with stove, refrigerator, sink, cookware, linens and towels. Well, these are like most motorhomes but are way sturdy and bulky. For instance, this Lance Truck Camper that sleeps up to 2 people. The unit is an economical choice for budget couples looking for outdoor charm and indoor elegance. The inside layout is more of a box type, with each corner allocated to all essentials, including bathroom, kitchen, dinette and pantry/fridge. Plus, there's more than enough space and storage for two.
Camp Lite Truck Camper
A 2 berth unit, the Camp Lite Truck Camper is oozing with sleek and sophisticated exterior and well-polished interior. Uniquely, the unit is durable yet lightweight perfect for wandering around the scenic and windy Alaska routes. This truck camper is tailored with everything you need- from spacious bedroom to kitchen space and optional cassette toilet. Also, the L-shaped kitchen is way comfy and convenient for dining.
Insurance
As required by the company, every renter must be an insured driver with his own auto insurance, as well as credit card to be used for the security deposit. The damage deposit depends on the rented unit— $1, 000 for RVs and $250 for other vehicles. Make sure to check everything during the walk-through, especially the windshield because the company deducts a whopping $500 from your damage deposit in case you return it not in good condition. And don't forget to carefully read the fine print to know what are covered and what are not in your insurance, considering that Alaska has a lot of rocks!
Reputation
Being in the rental industry for many years now, well technically more than 3 decades, is definitely a plus factor. Not many companies can survive the competition, and ABC Motorhome & Car Rentals has proven that they are one, tough family business. Their office is very close to ANC airport and even provide reasonable shuttle service. But even if they are in the business for quite a while now, they have petty problems that seem to be piling up every year; hence, the not perfect rating. There were feedback about helpful but little unprofessional and unorganized staff, and vehicle problems while on the road. Though most motorhomes are advertised as close to new models, other vehicles are old with lots of maintenance issues.
Summary
ABC Motorhome and Car Rentals is something to be on your list if you want a company with legit reviews (positive and even negative). Their rentals aren't just restricted to motorhomes and campervans but also of cars, SUVs and trucks. And they have heaps of special promotions every year, usually near the end and start of the year. So, choose your own rental and save bunch of money with their perks!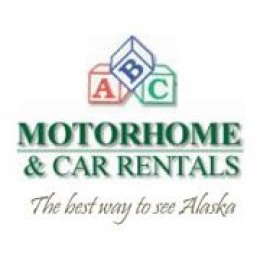 From the Agency
No word from this agency yet. Come back and see if they checked in soon.
Pros
A family rental business for more than 3 decades
Offers rentals, not just for motorhomes, but also for campervans, cars, trucks and SUVs
Convenient location
Cons
Only one branch
Service is not quite reliable
Insurance coverage is not that comprehensive
See who else rents RVs in the same cities
Instant Price Comparison
Just Got Questions? Want a Quote direct from the company?
Fill in this form to contact the Agency direct.
Write Your Own Review
Tell the world about your experience renting from this company
Have you experienced ABC Motorhome & Car Rentals?
Be the first to leave them a review and help others on their journey.