United States
Editors Review
With affordable Class C motorhomes on fleet, the Alaska's Best R. V. Rentals has yet to prove something even after more than 15 years in the rental industry.
What Alaska Best RV Rentals Tells Us
Alaska's Best R. V. Rentals started its RV rental business in 1999 and up to now, they provide affordable rentals to different travellers around the world. The company allows the comforts of home while exploring the panoramic Alaskan scenery. Though only one depot, they offer airport pick-up and drop-off, upon request. However, the company as a whole isn't very reliable, with mostly negative feedback and not so flattering website. It appears that they haven't really taken a step to update their social media. Well, this could mean two things— they are too busy with their rentals that they couldn't upgrade their virtual platform or they aren't just interested to step up the game. Whatever their reasons are, this has indirectly affected the company.
Fleet
The Alaska Best RV Rentals fleet is composed of limited and affordable Class C motorhomes. The smallest on selection are the 24' Fleetwood Tioga and Winnebago Chalet, while the largest is the 31.5' Coachmen Santara. Despite the size differences, all vehicles are suitable for large families or travelling couples. These units are not pet-friendly and are quite older models, so expect for some slight distractions during your trip. However, each motorhome includes some useful amenities like bathroom with shower, kitchen, sink, microwave and generator, as well as pleasant extras such as linens, bath & hand towels, kitchen utensils, pots, pans and cleaning supplies.
Vehicles
Coachmen Santara
As the biggest rental motorhome, the 31.5' Coachmen Santara is particularly fitting for larger groups up to 6. This unit has seriously a lot of overhead cabinets— from the living quarters to the kitchen and up to the rear bedroom. If you want some private sleeping place, you can opt for the private queen suite, sofa sleeper or the bunk beds. And because of the spacious layout, there's a fitted out swivel chair near the entry.
Catalina Sport
There are two options for the Catalina Sport motorhomes: the cozy 25.5' or the smaller 24'. The slight differences aren't that visible as these two still provide almost the same features. There's a double bed at the rear and bunk bed on the cab-over. The larger model, in particular, also comes with a nice swivel chair in the living room. The kitchen, however, is quite unique compared to the previous one, featuring an L-shaped layout .
Fleetwood Tioga
Another motorhome model on set is the Fleetwood Tioga in 24' and 29'. These spacious units can accommodate 6 people— 4 adults and 2 children. Aside from the normal rear queen-sized bedroom and overhead bunks, the dinette acts as an additional sleeping area at night. The awning is perfect for outdoor dining and chill. And just like the other motorhomes, it is equipped with fully-furnished kitchen and bathroom.
Winnebago Chalet
Another 6-berth model is the Winnebago Chalet that comes with more windows but not that panoramic compared to the Fleetwood units. The motorhome provides convertible couch and dinette in the living room and a fascinating L-shaped kitchen. For your entertainment needs, there are TV sets near the dinette and inside rear bedroom.
Insurance
All renters are required to provide a copy of their insurance binder to cover the rental with full insurance coverage. In case your insurer does not give your rental insurance, the company will add a motorhome insurance to your rental at $20/ day. And a damage deposit of $500 is required upon pickup if you opted for an insurance from the company, while if you provide an insurance binder, the damage deposit will vary depending on the amount of your collision and comprehensive deductibles.
Reputation
Alaska's Best R. V. Rentals seemingly haven't lived up to its name. Notwithstanding the fact that they have been in the rental industry for more than a decade, they are still struggling to create a positive reputation from the community of travellers. Most of the models are very old with lots of scratches and dents, and there were few issues with the refund of the deposits. These circumstances, of course, pulls them down, but their affordable rates and personalize features like airport pick-up and drop-off and thoughtful extras are one of the few reasons why they are still alive and kicking.
Summary
There are several RV rentals in Alaska and Alaska's Best R. V. Rentals is one of those that aren't very lucky when it comes to mastering the RV rental service. Hence, the company is not that recommended, especially for picky travellers. But if you want to save heaps of money, you can take the risk.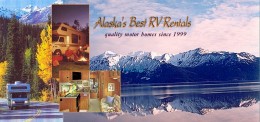 From the Agency
No word from this agency yet. Come back and see if they checked in soon.
Pros
Affordable rates
Extensive years in the rental industry
Offers airport pick-up and drop-off
Cons
Older vehicles
Only one depot
Limited reviews, mostly negative ones
Outdated website
See who else rents RVs in the same cities
Instant Price Comparison
Just Got Questions? Want a Quote direct from the company?
Fill in this form to contact the Agency direct.
Write Your Own Review
Tell the world about your experience renting from this company
Have you experienced Alaska Best RV Rentals?
Be the first to leave them a review and help others on their journey.