United States
Editors Review
Specializing in affordable luxury motorhome rentals, Alaska Grizzly RV Rentals has only two type of RV units, allowing them to target more on giving personalized service and well-maintained fleet.
What Alaska Grizzly RV Rentals Tells Us
When it comes to convenience and luxury, Alaska Grizzly RV Rentals make sure clients get it . Although armed with only 2 types of luxurious RV options, this family-owned rental service offers an all-inclusive package that covers basic rental equipment from camping chairs, tables to first aid supplies, basic cleaning necessities, plus other rental amenities at a minimal cost like coolers, bikes, fishing gear, strollers, and even a romance package for those celebrating a special event.
Fleet
There are two all-inclusive rentals offered by the company— first, the 2013 Winnebago 22 foot RV and the other one, 2014 Winnebago Chalets that come in two: 8-berth 31C RV and 10-berth 31J RV. Unlike other companies, there are no extra charge for rental amenities such as linens, towels, dishes, pots and pans, sleeping bags, chairs, plates, silverware, coffee pot and a toaster. Complementary basic condiments, seasonings, tea and coffee are also included. However, there are slight traces of marketing schemes on each vehicle. So, expect for an RV with a company name on it.
Vehicles
22' Winnebago Chalet
At 22', this 2013 Winnebago Chalet is perfect for small families up to 4, but may be a little restricted for 6 people.To save space, the sleeping places are well-fitted out inside the vehicle. Instead of a rear queen bed, the shower & toilet is tailored on the back, which means the sleeping areas are located on the sofa bed, convertible dinette and overhead bunk bed. There are enough overhead cabinets in the living quarters and bathroom. The kitchen/ living area is equipped with microwave, sink, fridge, pantry, and entertainment system.
31' C Winnebago Chalet
With one slide out for a sleeping capacity of 8, the cozy RV offers a lot of space inside. It extends the dinette and sofa bed at night, and supplies all the needed facilities during daytime like microwave, fridge, sofa, dinette, and a lot more. If you are travelling with less than 8 people, you have the option to convert the overhead bunk bed into a fantastic entertainment center with 32" LCD TV and side storage. The shower & toilet for this RV are separated.
31' J Winnebago Chalet

This RV sleeps up to 10 and has two slides out— one at the living quarters and the other one at rear bunk beds, giving more space for other comforts inside the vehicle like wardrobe, chest of drawers, nightstand and a lot more. For this unit, the shower & toilet are not separated; the bathroom is nicely located at the rear side. For added entertainment, you may add TV/ DVD on the back bunk beds or opt for a premier entertainment package on the overhead cab instead of having a bed.
Insurance
Aside from the binder that will provide the auto liability, collision and comprehensive insurance from your own insurance company, you have the option to avail of the Supplemental Liability Insurance for $12.95/day, as well as the Personal Accident/Personal Effects Insurance for only $4.95/day. Also, there is a $500 refundable security deposit for all reservations to be charged 21 days before date of vehicle pickup.
Reputation
As a family owned business, there is a personalized style of service that makes clients have a lasting impression with the company. Owners are deemed as very friendly and helpful with the wife even offering pastries in addition. Rentals from Alaska Grizzly RV Rentals are taken well for its affordability, as well as for its cleanliness, nice customer service and all-inclusive rates. This company is tagged as roadworthy and well-armored for an Alaskan memorable adventure.
Summary
This family-owned and operated rental company strives to give a comfortable, hassle-free and luxurious Alaskan trip with its 22 foot and 31 foot all-inclusive RV rental luxury vehicles, and they are definitely on the right track.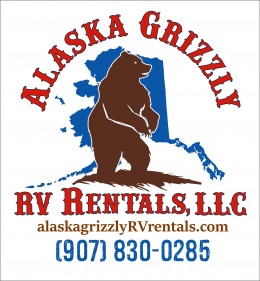 From the Agency
No word from this agency yet. Come back and see if they checked in soon.
Pros
Friendlier and personalize rental
Affordable prices
Excellent reviews from previous clients
Cons
Only one depot
Limited motorhomes
See who else rents RVs in the same cities
Instant Price Comparison
Just Got Questions? Want a Quote direct from the company?
Fill in this form to contact the Agency direct.
Write Your Own Review
Tell the world about your experience renting from this company
Have you experienced Alaska Grizzly RV Rentals?
Be the first to leave them a review and help others on their journey.