United States
Editors Review
Last Updated:11/6/19
Serving the Los Angeles area, All Valley RV Center Inc. is an all-inclusive store for your RV needs―trade-in & consignment, service, parts, finance, and rental. There are Class A and Class C motorhomes that are suitable for family road trips.
About All Valley RV Center Inc.
All Valley RV Center is a well-liked RV dealer in Los Angeles, with branches in Acton and Lancaster. The company is more popular in terms of sales and repair. Still, their rental department, which is located in Lancaster, is a good choice. Since their rental range appears to be an extension of their services, they make sure that they rent out only reliable and recent motorhomes. And just like most larger RV companies, they do not have pick-ups or drop-offs on weekends and holidays. But what makes them quite special is that they allow pets up to 50lbs for an additional fee.
Fleet
The selection of 'for rent' units is simple. You are given two rental categories, Class A and Class C category. The remaining rental options are travel trailers. These 2018- 2019 motorhomes are rigged with propane tank, full fresh water tank, empty grey tank, and black water holding tank. Sleeping 6 to 8 people, these are family and pet-friendly vehicles provided with 5 hours free generator use per day.
Vehicles
2019 Jayco Redhawk 25R
The 2019 Jayco Redhawk 25R is a 7 berth Class C good for big groups. The interior layout is well-thought-out, featuring a cozy kitchen area and bathroom on one side and dinette on the other side. The permanent bed with TV sleeps up to two while the convertible dinette and sofa can accommodate 2-3 persons. The vehicle dimensions aren't that big but nothing to worry about because this unit comes with a fitted slide-out on one side.
2019 Jayco Redhawk 26XD
With added length and 2 slide-outs, this 2019 Jayco Redhawk 26XD now accommodates up to 7 people. The slides are positioned at both sides for a roomier living area. This Class C bears sleeping places in the rear, living area, and cab-over space. In the middle, there's the modifiable dinette and sofa, together with the fully-equipped kitchen.
2019 Jayco Redhawk 31XL
The biggest Class C offers a room for all 9 passengers. Also a 2019 Jayco Redhawk, this motorhome is a bunkhouse model, with bunks stationed before the rear permanent double bed. The dinette and sofa also switch into beds. The sizable L-shaped kitchen is very much attractive for those who love cooking. At the back of the kitchen is the bathroom area with a shower and toilet.
2019 Jayco Alante 31V

Are you the type of driver who would want sweeping road views? Then you can have this large 2019 Jayco Alante 31V armed with 2 slide-outs for a spacious interior. Just like most Class A motorhomes, this one is fully furnished with all facilities, including dinette and sofa bed, roomy kitchen, permanent rear bed, bathroom. This particular unit can accommodate up to 8 persons.
Insurance
The company requires $500 for the security deposit. You can confirm with the company upon booking if they allow a copy of the insurance binder from your insurance company for the rented unit.
Reputation
Over the years, All Valley RV Center, Inc. has carved a good name in the RV industry, and renting from them is a great option. Whilst the reviews are mostly from their sales and repair services, their rental fleet is something to consider, especially that these are family and pet-friendly motorhomes. They hire out only modern models, from 2017 to 2018 units. And if you aren't quite attracted to the motorhome range, then they have travel trailers on offer.
Summary
All Valley RV Center Inc. makes RVing more comfortable and convenient because of its broad RV services. So aside from your RV rental needs, you can also capitalize on their RV service, parts, and finance.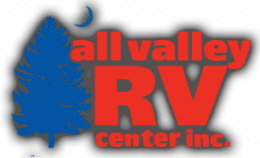 From the Agency
No word from this agency yet. Come back and see if they checked in soon.
Pros
Convenient pick-up and drop-off location
Impressive range of RV services
Latest motorhome models
Two branches in California
Cons
Mostly suitable for big groups
Limited rental options
See who else rents RVs in the same cities
Instant Price Comparison
Just Got Questions? Want a Quote direct from the company?
Fill in this form to contact the Agency direct.
Write Your Own Review
Tell the world about your experience renting from this company
Have you experienced All Valley RV Center Inc.?
Be the first to leave them a review and help others on their journey.