United States
Editors Review
A recent RV rental in Alaska, Amazing Accommodations Alaska is acting like a seasoned rental entity by providing affordable and almost flawless Alaskan adventure through their deluxe motorhomes and compact camper vans.
What Amazing Accommodations Alaska Tells Us
Established just in 2008, Amazing Accommodations Alaska is a family business that specializes in personalized rental service. The company may be a newbie in the industry but they are seriously competing well— friendlier service, lower rates, and frequent specials. Despite having only one branch, they provide convenience to their renters through their free shuttle service, to and from the airport. Since the owners have extensive rental expertise, they can provide you with a travel guide, as well as campground map. And when they say 'No Hidden Fees', that means that your rental already includes free coolers, camping chairs and even additional towels and lines. With these features, the company, as whole, is certainly on the right track.
Fleet
The company is very straightforward with the condition of their vehicles. There are only two rental choices— the deluxe motorhomes and the economical camper vans. All motorhomes are late Class C model units, but their fleet is normally refresh every year so vehicle maintenance may not be a problem. The campervans, on the other hand, are great alternative for budget travellers. These are much cheaper and win points for compactness and convenience. Every rental from Amazing Accommodations Alaska is equipped with complete amenities, together with some pleasant extras like toiletries, camping essentials and more.
Vehicles
24′ Class C Motorhome
These Class C motohormes are great for families, ideally 4 adults and 1 kid. Beautifully painted with leather finish, the unit contains full kitchen and bathroom.The kitchen, in particular, is furnished with oven, stove, double sink, refrigerator, freezer and plenty of overhead cabinets. For the bathroom, it comfortably features a glass shower, toilet and sink. And to smoothly sleep everyone inside, there's the rear queen-size bed, overhead queen bed and dinette bed.
Camper Van
With Amazing Accommodations Alaska, you will have a cheaper alternative to explore the outskirts of Alaska. Offering an economical and compact camper van, budget backpackers will fall in love with this rather unique selection. This converted passenger van can comfortably sleep two adults. As for the equipment, you need to cash out a minimal amount. This add-on will surely not be disappointment because this will provide you with the following: queen-sized mattress, pillows, sleeping bags, two burner propane stove, kitchen utensils, and a lot more.
Insurance
Every rental from the company already includes a rental insurance coverage, but to fully protect both parties, especially international travellers, they require a Collision Damage Waiver (CDW) at $16/ day additional rate to reduce the deductible from $2, 500 to $500. U.S. renters, however, have the option to purchase the CDW add-on. Aside from that, the company also obliges every renter for a $500 fee that acts as reservation deposit and damage deposit.
Reputation
With an almost flawless customer satisfaction, Amazing Accommodations Alaska has a definite edge over other big companies. They are known to provide friendlier service with a personal touch to every rental. Their vehicles are also not mobile billboard, so you'll have a more discreet holiday. Not only that, this family-run business really stand by its 'No Hidden Fees' tagline as they only charge a flat rate and even offers exciting perks and specials! No wonder most of their feedback are all praises and recommendation.
Summary
Amazing Accommodations Alaska is undeniably amazing! The positive reviews speak for the company's reliable reputation and the only little downer from them is their limited fleet.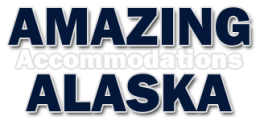 From the Agency
No word from this agency yet. Come back and see if they checked in soon.
Pros
Positive reputation
Affordable rates
Friendlier customer service
Perks like free airport shuttle and thoughtful extras
Cons
Limited fleet of motorhomes and camper vans
See who else rents RVs in the same cities
Instant Price Comparison
Just Got Questions? Want a Quote direct from the company?
Fill in this form to contact the Agency direct.
Write Your Own Review
Tell the world about your experience renting from this company
Have you experienced Amazing Accommodations Alaska?
Be the first to leave them a review and help others on their journey.