United States
Editors Review
Offering a rental selection of luxury camping vehicles, Big Paw Tours is a family-owned RV/ campervan rental based in Portland, Oregon. Their pet-friendly fleet accommodates a group of 5 to 6 persons.
About Big Paw Tours
From hobby to business, Big Paw Tours was established in Colorado 20 years ago. Now, after years of exploring Colorado, the owners have decided to set up their rental fleet in Portland, Oregon. This local rental company offers RVs and campervans. Technically, they just rent out Class C RVs because their campervans are sourced out from another company in Portland―Ramblin' Vans. Soon, they'll also rent out a Jeep Wrangler. For each rental, they give free 150 miles per day. They provide airport pick-up and camper delivery to those staying in Portland. They may allow one-way rental and possible pick-up and drop-off in another city under special circumstances.
As a family-owned business, the owners want every renter to have a less stressful road trip. Hence, they provide a full concierge service and even prepackaged gourmet food. And if you're a pet owner, there's a great possibility that you can bring your furry friends during your holiday.
Fleet
In particular, the Class C units on offer are suitable for families up to 6. One of the best things when renting a unit from them is that you get a well-maintained, luxury vehicle that is well-stocked with camping essentials. They even provide some surprising extras, which are not included in most RV companies in the area. These a table, camp chairs, linens, kitchenware, bike rack, games, and a lot more!
Vehicles
Groovin' Grizzly

A family RV, Groovin' Grizzly sleeps up to 6 persons. This Winnebago model is oozing with luxury features, including sophisticated interiors, full kitchenette, porch awning, and cozy sleeping areas. The rear bedroom comes with a queen-sized bed, wardrobe, and nightstand. Other sleeping options are the sofa bed and full-sized loft. The indoor bathroom, on the other hand, is furnished with a toilet, shower, and vanity area with sink. And for the kitchen, it has everything you need, from the three-burner stove & oven to the refrigerator & freezer. Plus, there are plenty of storage spaces inside the unit.
Polar Express

The next RV on offer is the Polar Express built on a Class C Jayco, with elegant leather furnishings and woodwork. This one comes with two slide-outs making it very spacious and comfy. You've got plenty of sleeping options, including the walk-around queen bed, loft sleeper, sofa bed, and dinette bed. You'll love this model even more because of its entertainment features such as TV, DVD player, and surround speakers. And of course, the kitchen has all sorts of essentials that you need.
Insurance
For the insurance, this will be provided by the third-party booking platform upon booking the unit.
Reputation
Big Paw Tours focuses on luxury rentals through their fleet of RVs, campervans, and soon-to-be 4WDs. Their vehicles are well-stocked, luxury units that are also dog-friendly. As a local, family-owned business, they can provide a more personalized rental such as airport pick-up, camper delivery to Portland areas, concierge service, and more. Plus, they have over decades of experience, adding up to their already good reputation. Though they technically just own two RV types at present―Class C Winnebago and Jayco―they are still impressive in terms of service and vehicle maintenance.
Summary
For those planning to explore the Pacific Northwest, Big Paw Tours offers 5-6 berth, luxury units that are well-maintained and well-stocked with almost everything you need.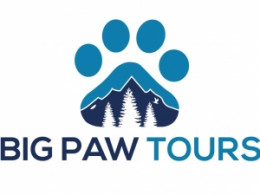 From the Agency
No word from this agency yet. Come back and see if they checked in soon.
Pros
Well-stocked luxury units
Pet-friendly
Airport pick-up and camper delivery
Lots of extra perks
Cons
Only two owned RV types
Vehicles limited to up to 6 persons
Sources out some units from other company
See who else rents RVs in the same cities
Instant Price Comparison
Just Got Questions? Want a Quote direct from the company?
Fill in this form to contact the Agency direct.
Write Your Own Review
Tell the world about your experience renting from this company
Have you experienced Big Paw Tours?
Be the first to leave them a review and help others on their journey.