United States
Editors Review
A Palm Springs RV rental specialist, BlissRV brings you to the great American adventure through their simply gorgeous luxury Mercedes RVs.
What Bliss RV Tells Us
A trace of pure bliss with BlissRV― this Palm Springs RV rental specialist is reputably known for their lavish units that are not covered with all-out marketing jingles or stickers. As a locally owned rental entity, the company goes the extra mile to provide a more personalized rental with airport pick ups, home or hotel delivery, and one-way rentals. Their convenient location in Palm Springs is a nice starting point for your American adventure. Since these are luxury units, the rental rates are pricier but these are already all-inclusive pricing. And if you consider bringing your pet during your holiday trip, then BlissRv may grant your wish!
Fleet
There are only three luxury types on collection― the Free Spirit SS, Serenity, and the latest addition, Unity MB. All three luxury units stand out on its own, with special features and striking layout. Be ready with some admiring glances because these are not just vans but luxury and newer Mercedes units. The appreciation doesn't stop there as all units are completely outfitted rigs. The glamour layout and fittings redefine classy outdoor adventure, but this may only be appreciated by couples or smaller families.
Vehicles
Serenity
The Serenity is a top-notch Mercedes Sprinter that sleeps two adults but can sneak in 1 or 2 kids. This 2016 white suede luxury vehicle with elegant appointments is so fun and easy to maneuver and park in standard areas because of its fiberglass coach body and solid and quiet rig. Even from afar, you can distinguish the modern and gorgeous exterior that defines a certified Mercedes glamping! But the elegance is not just limited with the external styling but also inside. There is a lounge area surrounded with solid hardwood cabinetry and fine entertainment system. The electric fold down sofa bed and full-sized convertible dinette are more than enough for all passengers on-board.
Free Spirit SS
Older with a 2014 fit-out, the Free Spirit SS still exudes luxury at its finest. Built on the Dually Sprinter chassis, this Mercedes unit is the tagged as the first Class B van with an extensive slide-out and large sliding door that lets you connect to the magnificence of open roads and full bathroom for a posh relaxation. The three-piece residential bathroom is all that you wish for a fancy me-time― a walnut cabinetry, Corian vanity, pocket door with full-sized mirror, porcelain toilet and sky-lit walk-in shower with sliding glass door. Not only that, the expanded living/ kitchen area comes with an additional table set up that allows all four passengers to dine in together. Extra comforts like linens, bedding, comforter, towels, kitchenware and tableware are also provided for free. And whether you travel light or not, don't worry because there are lots of storage areas inside and outside.
Unity MB
The newest addition to the BlissRV fleet is the 2018 Leisure Travel Vans Unity MB (Murphy Bed). This luxury Class C motorhome is one of the most coveted units in America because of its queen-sized murphy bed and full residential bathroom, making it a great treat for fancy travellers. And take note, BlissRV is the exclusive source of Unity MB rental all over North America! Their Unity MB has the desired Leisure Lounge Plus upgrade that exudes luxury living in all corners. This fuel-efficient and easy to drive 18 MPG Sprinter is very compact and can be parked in most standard parking spaces. For an expanded living quarters, open the slide-out tailored with windows and lights.
Insurance
Included in your rental is the insurance coverage that meets the statutory requirements. In case of a claim, the amount deductible for each occurrence is $2, 000. You can add a $1 million SLI and contents coverage policy for an additional charge. As to the travel insurance, primary emergency medical coverage and comprehensive trip cancellation is not part of the coverage but could be added through their partner company.
Reputation
The luxury units may be quite pricier for budget travelers but the all-inclusive pricing is simply captivating. These luxury models are very limited but feature completely outfitted rigs that are great for couples and starting families. BlissRV makes everything convenient with their special one way rental and airport services. And to top it all, they could allow pet inside the unit! With that, the company has gathered mostly positive reviews since their establishment.
Summary
Driving a fuel-efficient vehicle that also acts as an elegant studio apartment is a great way to start your great American adventure in style and luxury. Way pricey but definitely exceptional glamping!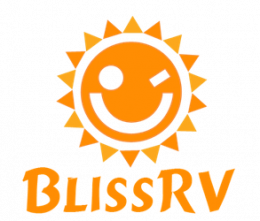 From the Agency
No word from this agency yet. Come back and see if they checked in soon.
Pros
Luxury models featuring completely outfitted rigs
Great for couples and smaller families
With special one way rental and airport services
Could allow pet inside the unit
Cons
Limited selection of RVs
Only one depot
Way pricey for budget travellers
See who else rents RVs in the same cities
Instant Price Comparison
Just Got Questions? Want a Quote direct from the company?
Fill in this form to contact the Agency direct.
Write Your Own Review
Tell the world about your experience renting from this company
Have you experienced BlissRV?
Be the first to leave them a review and help others on their journey.