United States
Editors Review
Budget RV Rentals is a small, family-run rental business that has lived up to its name through its cheap and older yet reliable and personalized fleet of motorhomes, travel and tent trailers.
What Budget RV Rentals Tells Us
Budget RV Rentals is a nice catch for those in tight budget as they provide you with very competitive rental rates for their mid-ranged to entry RVs. This locally-owned family business focuses on cheaper and older RV rentals with free 100 miles per trip. All pick-up and drop-off is done at their one and only depot, which was recently relocated in Ponoma for better servicing and more convenient location. For added comfort, they offer storage of personal cars at their place for a small fee and may even allow your furry pets inside some units.
Fleet
Started in 2010 with their personal unit, Budget RV rentals has now more than 25 motorhomes on fleet. These RVs are different models with unique styles and layout, ranging from the compact Sunseeker to the spacious Winnebago. Despite the notable variances, most are older units with unadorned exteriors. Further, it comes with free awning and few perks like cleaning chemicals and toiletries, and 100 free miles per trip. This will save you a couple of dollars, considering that RVs with awnings are quite pricier. The sleeping capacity of the motorhomes are fitting for starting families up to 6 or larger groups up to 8.
Vehicles
Sunseeker
There are several Sunseeker models on fleet, ranging from 24' to 30'. These RVs are equipped with kitchen, dining table, couch, rear bedroom, bathroom with shower and toilet. Depending on the size, the unit may sleep 5 to 6 or 6 to 8 people. All these vehicles feature a V10 engine, air conditioning, heater and generator for a more convenient road trip. The 30' RV comes with 2 slide-outs for an expanded living room and bedroom, while the 29' features a larger overhead clearance for added comfort. The 24', on the other hand, may be the smallest option but it still provides large storage area for your stuff.
Coachmen Leprechaun
With one slide out, this Coachmen Leprechaun is very spacious and convenient. Despite being one of the largest motorhomes on selection, the unit is still very easy and smooth to drive at 30'. It can also sleep 6 to 8 people through its sleeping places at the back bedroom, cab-over bed, dinette and sofa sleeper. For your storage, there are lots of overhead cabinets and drawers scattered inside.
Fleetwood Jamboree
The Fleetwood Jamboree is a 6- 8 berth motorhome with larger living room windows. At 29', the interior space is just enough for walking around unlike the 30' to 31' RVs. Adjacent to each other are the dinette and sofa that convert into comfy sleeping areas at night . Next to the couch is the L-shaped kitchen with 3 burner cooktop, sink, microwave, overhead cabinets, and more. At the back is the private bedroom with a queen bed and enough cabinets and closet for your stuff. Other passengers may sleep at the cab-over bed that can sneak in up to 2 persons.
Fleetwood Tioga
The Fleetwood Tioga is another model on fleet that has many options. For the sizes, there are two options― the 26' and 29'. The smaller RV can sleep 5 to 6 while the bigger one can extend up to 8 people. The interior layout is likely the same with the other Fleetwood model, the Jamboree, with the convertible dinette and sofa sleeper positioned neighboring to each other. It also features an L-shaped kitchen that saves space in the living area. The rear bedroom provides overhead storage, full length mirror and window blinds.
Minnie Winnie

The biggest motorhome on offer is the Minnie Winnie that can cater 6 to 8. The simplicity of the exterior is pretty much different with the fitted out interior. The layout is nicely maximize to feature all comforts of home, from living quarters with dinette, kitchen, and couch to back bedroom with comfy mattress, linens and more. Because of the extended length, the unit leaves more space for walking or even stretching. The large storage can store all your equipment and gears.
Insurance
All motorhome rentals have an insurance coverage that meets the Commercial California State Minimum, which is full coverage on the units with $1,000 deductible. The liability limits are as follows: $5,000 property, $15,000 bodily and $30,000. But you have other insurance options: insurance binder from your personal insurance company or SLI at $14.95/Day from MBA Insurance.
Reputation
In general, Budget RV Rentals keeps you in track with your budget, but just make sure to rent in caution— inspect the vehicle thoroughly beforehand and take note of the mileage (only 100 free miles per trip) and generator use. Most of their motorhomes are older models that may have some wear and tear issues, though religiously maintained and serviced by the company. Since these are fairly priced service, do not expect for a flawless rental because you might be disappointed. Still, this small family business is a good rental company.
Summary
A more hands-on service with lesser rates, Budget RV Rentals helps you experience an RV holiday without letting you spend the bottom dollar. Whether you're up for a closed family gathering or a road trip with friends, their cheaper prices will help you get through the American adventure.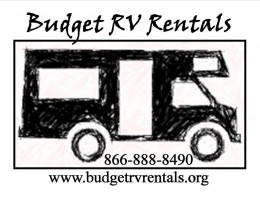 From the Agency
No word from this agency yet. Come back and see if they checked in soon.
Pros
Affordable rates
Several options for small to larger groups
Few pet-friendly vehicles
Cons
Simple and older models on fleet
Unexpected charges about mileage and generator use
Only one pick-up and drop-off branch
See who else rents RVs in the same cities
Instant Price Comparison
Just Got Questions? Want a Quote direct from the company?
Fill in this form to contact the Agency direct.
Write Your Own Review
Tell the world about your experience renting from this company
Have you experienced Budget RV Rentals?
Be the first to leave them a review and help others on their journey.