United States
Editors Review
Started in 1999, Camp USA is quite a charm for picky travellers wanting an extensive selection of vehicles and reliable rental service.
About Camp USA
An RV rental company that's been in the industry for quite a while, Camp USA offers a lot of RVs with different unique features. All in all, there are 24 vehicles for rent that are further divided into three categories— Class A Gas Units, Class A Luxury Diesel Units and Class C. Starting at $245 per night, this means that the business is aimed at mid to luxury market. But there are certain special rates you can avail of depending on the season.
Fleet
The extensive fleet of privately owned motor homes starts with the Class A RV that are either gas units or luxury diesel motorhomes. The gas units are cheaper but still provide all comforts of home. For a more luxury stay on wheels, you can have the luxury diesel category. These big RVs bring you to a whole new experience with certain vehicle refinement and alluring inclusions. And to complete the fleet, there's the affordable Class C RVs, which are still great for large families. Most of these vehicles provide very efficient interior layout even with its smaller vehicle dimension. Plus, it comes with many striking features so you'll certainly appreciate the value for money.
Vehicles
Class A
Genesis King of the Road
Let's take a closer look of their remarkable A42 Genesis King of the Road Quad Slide Out. The particular 8-berth vehicle is easy and smooth to drive around, but parking could be a problem because of its gigantic length at 40'. Consequently, this gigantic motorhome features a spacious living area and very comfortable sleeping quarters. Tagged as the company's most coveted unit, this luxury diesel RV provides you with unique features like fireplace, four-door refrigerator, two leather sofa beds, outside TV, and more.
Fleetwood Bounder
A gas unit, the Fleetwood bounder is a new addition to the fleet. This new but classical RV can sleep up to ten, from the bunk beds to the master rear bedroom and at the sofa sleeper or dinette in the living room. At 36', the unit has a huge residential refrigerator, Corian counter tops and faux leather interior. Sounds like a fancy apartment on wheels, right? Not only that, there are four television sets, including one with exterior sound center under the power awning.
Fleetwood Excursion
The 40' Excursion is a gem for travellers who love indoor entertainment as well as outdoor fun. Featuring 2 HDTVs in the salon and bedroom, these aren't just your so-so entertainment set because these are Dolby 5.1 home theater. The full slide-out expands the driver's side seat up to the large living room area while the kitchen is equipped with three burner cook top, convection microwave oven and 4-door stainless steel refrigerator. At the rear is a queen bed with wardrobe and dresser. All in all, this unit can sleep up to 6 people.
Fleetwood Expedition
A luxury unit at 39', the Fleetwood Expedition is another recent RV on range that sleeps eight in the bunk beds, queen rear bed and U-shaped dinette. There are 2 slide-outs conveniently located at the kitchen area and queen bed at the master's bedroom. Cooking area would definitely be very easy and favorable because of the extended layout. Inside, there are three television sets, one positioned at the living quarters, one at the bedroom and one under the awning. This motorhome is ideal for outdoor events like tailgating and even race events.
Fleetwood Revolution
The Fleetwood Revolution is an eight sleeper luxury unit. Polished with a spacious interior layout, the unit is complete with lots of sleeping areas— at the rear queen bed, two sofa beds and a fold down dinette. This triple slide-out motorhome allows bigger facilities to be furnished inside the cabin like the four door refrigerator, full master bathroom and another 1/2 bath at the rear, two sofa sleepers and free standing dinette.
Fleetwood Southwind
One of the newest and smallest RVs, the Fleetwood Southwind is a 4 to 5 berth unit with a queen rear bed, dinette sleeper and single sofa bed. The double slide-out gives a more roomy layout. Even with the relatively petite length, the motorhome features one full bath and another one-half bathroom with washer and dryer. Aside from the interior TV, there's an outside entertainment set to extend the fun.
Four Winds Windsport
A lighter, mini RV, the Four Winds Windsport is a six sleeper with two slide-outs. The double slide-out extends the horseshoe dinette sleeper and queen sofa airbed. The queen bed at the rear is complete with a wardrobe and a closet while the bathroom has a separate shower and toilet. The mid-sized TV is nicely positioned at the center of the living room, plus the ultra leather upholstery add some fancy touches inside.
Coachmen Mirada
The Coachmen Mirada is a great option for a smaller Class A, but still equipped with space and essentials. This is a recent addition to the fleet that is also very roomy with a charming layout of two slide outs, tiled floor, large master bath and half bath in galley. The six berth motorhome provides a full kitchen and two flat screen TVs.
Damon Daybreak

The Daymon Daybreak is a single slide-out, eight berth RV that is equipped with a convertible dinette, two sofa sleepers, and rear queen bed. One distinct feature of this big motorhome in classical white exterior is it elegant tile flooring that offers a more relaxing and bright interior.

Newmar Canyon
A huge unit that caters 8 to 9 people is a sleek toy hauler that comes with a separate garage area at the back to give way for the over-sized queen bunk beds plus half bath. In addition, the station can hold some of your sport vehicles and equipment like motorcycles, ATV, golf cart, and more camping supplies. And since you are tagging along your toys, the separate fuel tank as well as separate entrances and own air conditioners are definite treats.
Thor Windsport
Even with one slide-out, this 8 berth Thor Windsport exudes a very spacious layout because this isn't just a small extension but rather a full slide-out that expands the entire living quarters up to the rear bedroom. This is one of the latest RVs by the company, which is a suitable option for tailgating families. Uniquely, there's a pull down bunk bed located over the driver's area.
Tiffin Allegro Bus
A 38' gas unit, the Tiffin Allegro Bus is beautifully designed to sleep a family of six comfortably. Thanks to the double slide-out that gives a roomier layout inside. The extended length lets this huge motorhome provide two sinks— one in the full bathroom and one in the master bedroom. The top quality power awning makes outdoor entertainment more convenient.
Winnebago Vista
The Winnebago Vista is another new RV with one full bath and a half. This gas unit Class A provides sleeping areas in the queen bed at the rear, another queen sofa sleeper and fold down dinette allowing it to cater up to six people. The L-shaped couch in the living room gives a more comfy vibe while watching your favorite series. And you can continue with your movie marathon outside because of the exterior TV.
Class C
Chateau
Tagged as the Super C, the Chateau is ideal for a family of nine. Yes, this is definitely a large motorhome with versatile sleeping areas all over the cabin, from the sofa sleeper and fold down dinette at the living room to the bunk beds at the cab-over. Plus, there's an additional bunk over the drivers compartment and three interior TVs for a nonstop entertainment.

Coachmen Leprechaun
Another Class C is the 8 berth Coach Leprechaun with master rear bed, queen cab-over, convertible horseshoe dinette and a sofa sleeper. To save space, the big screen TV at the kitchen area can easily be stored away into the counter top. There's another large TV located under the large power awning, plus outside refrigerator and even a wet bar!
Forest River Sunseeker
The Forest River Sunseekers are some of the most in demand units, that is why they provide two options for this model— the 31' and 32' with double slide-outs. These motorhomes are great for a family of 8 to 10, especially those with kids because of the fitted bunk beds. The cab-over area can either be an extra bunk or big entertainment center with storage.
Jayco Greyhawk
An 8 to 10 sleeper, the Jayco Greyhawk serves a very large family. Just like the Sunseeker models, this one has lots of sleeping beds all over the cabin so that everyone can retreat comfortably at night. This may be a bit smaller than the other Jayco unit but it sleeps more because of its double slide-out!
Jayco Redhawk

The Jayco Redhawk is slightly bigger but only comes with one slide-out that lengthens the U-shaped dinette and sofa sleeper. This 8 berth is another good option for bigger groups.
Insurance
At the time of reservation, verify with the company the different insurance options.
Reputation
Camp USA is offers a wide variety of motorhomes, mostly Class A units, so you'll have an extensive selection of rental options. In addition, they are a seasoned rental entity with more than 15 years of experience. However, despite of the lengthy service, their reputation isn't that stable. There are some satisfactory reviews and there are also flop service. Further, their website URL is somehow misleading considering their company name.
Summary
Camp USA makes choosing the right RV for your holiday easier. They have lots of options, really but most of these are pricier than other vehicles on road.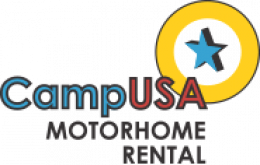 From the Agency
No word from this agency yet. Come back and see if they checked in soon.
Pros
15 years of experience
Extensive fleet of RVs
Certain special rates depending on the season
Cons
Website URL is somehow misleading
Pricier than other vehicles on road
See who else rents RVs in the same cities
Instant Price Comparison
Just Got Questions? Want a Quote direct from the company?
Fill in this form to contact the Agency direct.
Write Your Own Review
Tell the world about your experience renting from this company
Have you experienced Camp USA?
Be the first to leave them a review and help others on their journey.