United States
Editors Review
Corona Motorhome Rentals is a family-owned rental business that was once based in Corona, California; hence, its company name. However, they have already relocated to Riverside, together with their extensive rental range of Class A and Class C RVs.
About Corona Motorhome Rentals
Corona Motorhome Rentals has now moved to Riverside, creating a slight confusion because of the disparity of the new location and its company name. Nevertheless, Corona is still a family business that rents out RV, travel trailers and even rhinos/ squads. Despite the almost remote branch location, Corona allows you to park your personal car for free in their area. Not only that, they grant an early check-out and late return, depending on the season, to accommodate traffic and unexpected circumstances.
Fleet
The fleet ranges from 5 to 8 berth Class A and Class C RVs that are great for big families. Each vehicle normally comes with a complete entertainment system like TV, VCR or DVD player as well as useful generators. However, you will be paying an extra fee once you consume the 3-hour generator use daily. Hence, it is advisable to stay in camping sites that have electrical hookups, and don't leave the generator running while you're away. Take note, bring your own utensils and supplies because these are not for free. Kitchen and cleaning kits, along with bike racks are rented out at an additional cost. And, pets are welcome in some units.
Vehicles
Class A
Newmar Dutchstar

The Newmar Dutchstar is the biggest motorhome that surprisingly sleeps only 6 to 7 people. At 43', the unit is oozing with spacious layout and more than enough storage. Plus, it has 4 slide-outs, which means extended width for extra ease while on-board. This fully loaded diesel RV appoints 2 TV/ DVD inside and a satellite direct TV for extra entertainment. The private bedroom at the back is all you need for a discreet snooze.
Coachmen Sports Legend

A brighter exterior with bigger dimension, the 40' Coachmen Sports Legend is also a charm inside out. This RV exudes a classical vibe that makes it a unique treat for those with a heart for elegant style. Sleeping 5 to 6 persons, the unit bears 4 slides as well as 2 bathroom sinks. The kitchen takes pride of its full-sized refrigerator while the entertainment system features 3 TVs.
Damon Tuscany

If you're looking for a sleeker motorhome in and out, the Damon Tuscany is a suitable unit for six. This 40' RV featuring a 350 turbo diesel is a cruise to drive, not to mention very spacious because of its 3 slides. The internal access is a convenient treat for tired drivers. Plus, the front seats can easily be turned around so that you can watch your favorite series or film from the TV/DVD located at the center. And just before the bedroom, there's are sitting areas for instant relaxation with footrests!
Forest River Georgetown

This 36' RV is an 8 berth motorhome with a functional layout to cater all passengers without feeling restricted. The two slides compensates the cut-out dimension. The garage, however, makes this unit more attractive as it features two drop down double beds. Also, there's a pull-out couch and dinette that easily become additional sleeping areas. Aside from the 2 TV/ DVD inside the cabin, you are provided with extra one for external entertainment.
Winsport Bunkhouse

A 34' motorhome with 2 slides, the Winsport Bunkhouse is a great option for families bringing their kids. It can cater 7 to 8 people with 5 separate beds, ideal for kids or even teenagers who do not want to share their sleeping place. Before going to the rear bedroom with super spacious layout and heaps of storage areas, there's a private curtain. For extra entertainment, there are 3 TVs and satellite TV/DVD.
Arista Bunkhouse

Another 34' RV bunkhouse is the Arista. The bunk beds are strategically located before the rear bedroom and adjacent to the bathroom. The queen-sized bed at the rear is perfect for the parents. Other sleeping options are at the dinette and sofa sleeper, so a total of 6 passengers can squeeze in inside the unit comfortably.
Georgetown Bunkhouse

There are two options for the 34' Georgetown Bunkhouse. Both have the same features, with two slide-outs at the rear beds and living room, fully-equipped entertainment set with 3 TVs as well as satellite one and a furnished kitchen with sink, overhead storage, refrigerator and pantry. The front seat up to the dinette and sofa sleeper lane is beautifully styled with a carpet.
Bounder

The 34' diesel Bounder may be one of the smallest Class A RVs but it still comes with 2 slides for an extended layout, especially in the living room. This thoroughly loaded motorhome sleeps up to six only so leaving more space inside. At both sides of the sofa sleeper are storage tables with lamp, which is a nice area to check your emails or read a book at night. The rear bedroom is also an extension of the fun because it has a TV set.
Fiesta Bunkhouse

Last unit for the Class A fleet is the 34' Fiesta Bunkhouse for up to 8 people. This unit provides 2 slides as well as two TVs, one at front and one at the rear bed. In addition to that, the bunk beds come with drop-down DVD players for extended indoor entertainment.
Class C
Outlook

The 31' Outlook is the largest Class C motorhome you can find on fleet. This is a 6 to 8 berth unit with 2 slides, an L-shaped kitchen and a rear queen bed. The awning allows you to enjoy some outdoor fun while the A/C and generator give comfort while you are inside the cabin.
Dutchman

A bit smaller but with more sleeping capacity, this 8 berth RV features 2 slides situated across each other; hence, giving it a very huge living quarters. Since this is a Class C motorhome, expect for a cab-over sleeping area for two and other double beds located at the rear, dinette and sofa sleeper.
Freelander

With only 1 slide-out that broadens the dinette, the 26' Freelander is one great portrayal of a compact Class C with a very practical layout. Sleeping up to 8, the unit appears to be a bit restricted in terms of interior space but the facilities are well designed to bring comfort despite of the limitations.
Chateau

The 22' Chateau is a 6 berth RV with lesser length and space. Still, this motorhome can serve up to 6 people who aren't very fussy about touching elbows while inside. The small unit provides all features of a big motorhome, from kitchen to dinette and sleeping areas.
Insurance
The company requires you to provide either an insurance binder from your own insurance company or purchase one from them. There is a minimum damage deposit amounting to $1,000, which is payable during vehicle pick-up.
Reputation
Corona Motorhome Rentals is an RV dealer that caters rental, service and parts. Their rental department brings a lot of different options, from Class A to Class C units as well as trailers and UTV. Most of their motorhome rentals are big with unique features that are downright engaging. However, the considerable amount of negative reviews about the company is a drag. Concerns about mechanical issues and inconsistent customer service are some of the reasons for its mixed-up reputation.
Summary
This substantial RV dealer with a huge rental fleet gives countless of options for renters. But you might have a slight confusion with their rental name because they already relocated to a new location. And if ever you decide to rent from them, make sure you take into account tips from previous customers.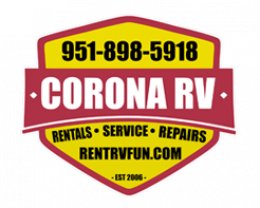 From the Agency
No word from this agency yet. Come back and see if they checked in soon.
Pros
A lot of rental units on fleet
Free parking of personal car
Early check-out and late return depending on the season
Cons
Slight confusion because of new location
Remote branch area
Mechanical and customer service issues
Inconsistent reputation
See who else rents RVs in the same cities
Instant Price Comparison
Just Got Questions? Want a Quote direct from the company?
Fill in this form to contact the Agency direct.
Write Your Own Review
Tell the world about your experience renting from this company
Have you experienced Corona Motorhome Rentals?
Be the first to leave them a review and help others on their journey.