United States
Editors Review
Hoosier RV Rental is a small-scaled RV rental business in Lawrence, Indianapolis, offering a range of Class A and Class C motorhomes, as well as travel trailers, at fair prices.
What Hoosier RV Rental
A decent family owned business in Lawrence, Indianapolis, Hoosier RV Rental supplies motorhomes and travel trailers for rent. These RVs are suitable for a weekend getaway, tailgating party or a fun family reunion. Being run by a crew of real people, the company can give you personalized service, like trying to be flexible for outside office hours pickup and dropoff. Renting a unit from Hoosier RV Rental is not that pricey and most of their RVs nicely maintained, though you might have limited rental options.

Fleet
The Class A and Class C RV's come with 100 miles per day and allow 5 hours generator use a day. You'll get a great deal of savings from them because most RV companies only give 3 hours free generator use. These automatic motorhomes are fully-equipped and pet-friendly, so you only need to bring your clothes (and your furry friend!) The Class C motorhomes are medium-sized RVs that are easy to drive and very roomy. The Class A, on the other hand, is quite big, making it suitable for larger groups with children.
Vehicles
Class A Daymon DayBreak
The Damon is a 36' dual slide bunkhouse model that works like a charm for kids. The bunk spaces are equipped with a TV that your children will surely enjoy. The parents, on the other hand, can comfortably retreat on the queen bed in the master bedroom. Other sleeping options include the pullout couch and foldable dinette. And you don't have to worry if you rent this out during summer because this one got a super-sized air conditioner. This low-mileage Class A is the largest unit with 3 satellite TVs and even external shower.
Class C Fourwinds
This 39' Class C is very easy to drive and provide more than enough space for a group of 7. The exterior design, plus the large slide-out, already defines its roomier layout. You can choose where you want to sleep- at the master queen bed, jack-knife sofa, bed over the cab and the convertible dinette. You will also enjoy the walk-in shower and spacious toilet with sink and storage. There are two TV's/DVD's positioned in the living room and cab-over bed.
Class C Winnebago Access
An ideal RV for tailgating adventure or cross-country journey, this Class C Winnebago Access features just the right amount of size and more than enough facilities you'll need for a memorable road trip. Plus, it has one slide-out for a sizable interior layout. This 29' RV sleeps 6 to 8 people and provides sleeping options at the rear queen bed, dinette bed, couch sleeper and cab-over bunk, all provided with linens. The master bedroom at the back is tailored with TV/DVD and window blinds. The bathroom comes with a separate full shower and a roomy toilet.
Insurance
As the renter, you will need to provide an insurance binder from your personal auto insurance company to extend the coverage to the rented RV. Aside from this, Hoosier RV Rental offers a commercial insurance policy. Take note of the refundable deposit amounting to $1,000, which will be collected at the time of pick up.
Reputation
Hoosier RV Rental is a small-scaled RV business run by a family, with depot in Lawrence, Indianapolis. They offer fully-equipped RV at decent prices. However, their reputation isn't that established yet. Also, their fleet is quite limited and most of these RVs aren't really modern or brand new. To compensate the slight downers, the company makes sure that they provide personalized service to each renter. Another good thing is that most of these units are pet-friendly.
Summary
If you don't want to break the bank and want to bring a furry friend during your holiday, then an RV from Hoosier RV Rental is a decent option, with decent prices.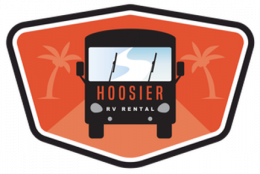 From the Agency
No word from this agency yet. Come back and see if they checked in soon.
Pros
Decent prices
Small and personal family business
Pet-friendly
Cons
Not really modern motorhomes
Limited motorhome options
See who else rents RVs in the same cities
Instant Price Comparison
Just Got Questions? Want a Quote direct from the company?
Fill in this form to contact the Agency direct.
Write Your Own Review
Tell the world about your experience renting from this company
Have you experienced Hoosier RV Rental?
Be the first to leave them a review and help others on their journey.