United States
Editors Review
Focusing on one motorhome hire, Las Vegas RV Rental can be a good option for groups up to 7, who are travelling around the glitzy and scenic city of Vegas.
About Las Vegas RV Rental
With only just one motorhome for rent, Las Vegas RV Rental gives emphasis to family or group travellers. This small RV rental company is located on the northwestern portion of Las Vegas, which is pretty far from the hotels, casinos, and resorts. Still, this is a good location for those who want to start the adventure at Red Rock Canyon. And surprisingly, they are open every day, from 6 AM to 11:30 PM; hence, the owner could give you a more personalized rental because of the extended hours (and limited fleet). The owner himself is very accommodating, knowledgeable, and reliable all throughout the rental, making this rental business a good choice for an RV holiday.
Fleet
There aren't any other motorhome option for rent except for the Class C Thor Four Winds. This family RV model caters to up to 7 persons, which means it's suitable for small families and touring groups. Or, if you and your partner want extra space and comfort, this motorhome can also do its job.
Vehicles
Thor Motor Coach Four Winds

Just like any other Class C unit, the Thor Four Winds gives enough space for all persons on-board. Comfy sleeping areas are provided, which include the cabover area, convertible dinette, sofa bed, and of course, the permanent rear bed. There's a TV positioned at the cabover space so that you can conveniently watch shows or movies while dining. The L-shaped kitchen has all the things you need, including sink, oven, overhead cabinets, among others. Plus, you can keep your other stuff or sports equipment in the exterior storage.
Insurance
As there is no information about the insurance coverage and options, it's highly advisable to call, text, or send them an email to know more about the rates.
Reputation
Firstly, Las Vegas RV Rental is a small RV rental with only one motorhome for hire. Second, their unit is meant for couples who want a spacious ride or families who need a decent yet economical RV adventure. Third, they can give you a more personalized rental since they have a limited fleet. All in all, this small-scale business is proving its worth among renters looking to hire an RV within Las Vegas. The owner surely provides an impressive service, a well-maintained fleet, and a good location.
Summary
Take a look at the limited motorhome selection of Las Vegas RV Rental and see if the unit fits your needs. If you have decided, contact them ASAP because they only have one motorhome model for rent!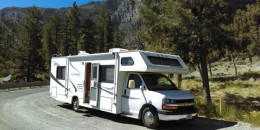 From the Agency
No word from this agency yet. Come back and see if they checked in soon.
Pros
Good for couples or families up to 7
More personalized service
Positive reputation
Cons
Only one motorhome for rent
Limited company info
May easily book out
See who else rents RVs in the same cities
Instant Price Comparison
Just Got Questions? Want a Quote direct from the company?
Fill in this form to contact the Agency direct.
Write Your Own Review
Tell the world about your experience renting from this company
Have you experienced Las Vegas RV Rental?
Be the first to leave them a review and help others on their journey.