United States
Editors Review
Since 1991, Messner RV Rentals puts up a diverse range for motorhomes for rent. Ranging from 21' to 40', these RVs accommodate to different number of travellers in Phoenix.
About Messner RV Rentals
This mom-and-pop RV business in Avondale, Phoenix has been in the rental industry for quite some time. Established in 1991, they are conveniently located within the city and near Interstate 10 and Sky Harbor Airport, with an option for airport pickup an delivery too. Aside from rentals, the owners also offer consignment of RVs at great prices. And since they have more than two decades of experience, each rental is showered with personalized tips and itineraries to assist different renters. These make them different from large rental corporations. Their RVs for rent are great for vacations, tailgating, training suites, production use, and even temporary office.
Fleet
The Messner fleet is quite a number, ranging from small Class C RVs to large Class A units. All these self-contained units are automatic with power steering and power brakes, with most units featuring a cruise control and overdrive. Accordingly, these vehicles are easy to drive and are well-equipped. Each unit has a kitchen, a bathroom, different sleeping areas, a generator, and air-conditioning. Extras such as maps, campground directories, discount cards, and others can be added to your rented RV. Stretching from 21' to 40', the diverse collection of motorhomes provide a great array of options for individuals, couples, families, and friends.
Vehicles
Small Motorhomes
The small motorhomes are typical Class C RVs at 21' to 24'. These are suitable for couples or starting families, with sleeping options at the sofa bed, cab-over bed, and dinette bed. Each bed accommodates two people, hence a total of 6 onboard passengers. Further, there are 28' to 30' RVs that are equipped with four beds to sleep the entire family. All in all, these RVs are great for a short weekend getaway or an extended vacation.
Medium Motorhomes

For bigger groups, you can choose between the large Class A or a Class C RV. The Class A units range between 30' to 34', with two to three sleeping options, including a private rear bedroom. The Class C motorhomes, on the other hand, are 31' models with one slide. These units offer four to six beds, allowing to sleep up to 10 passengers. You've got an option to choose twin bed or bunk beds at the rear. All in all, these are great for large families looking for a spacious interior.
Large Motorhomes

The large RVs are Class A models ideal for renters wanting extreme space and style while exploring the roads. The 34' to 36' with slide are equipped with two to three beds―queen rear bed, dinette bed, and sofa sleeper. Aside from the sleeping beds, other amenities on board are the refrigerator, coffee maker, TV, VCR, and more. If you want something bigger and more luxurious, you can have the 36' to 40' diesel with a slide. These diesel RVs surprise renters with a large storage space that fits everything you need.
Insurance
If you're planning to rent a Class A or Class C RV from Messner, you need to coordinate with the owners if they allow an insurance binder from your own auto insurance company. There is a $500.00 security deposit required to complete your rental.
Reputation
Messner RV is a quality RV rental business with over 20 years experience. Since then, they have offered a great selection of RVs that cater to a different number of travellers. These RVs range from 21' to 40', either Class A or Class C motorhomes. Renting from a business with a notable RV background can give you a decent assurance of a quality rental. Though not one of the most popular RV companies in the area, Messner puts on display great RVs at great rates.
Summary
Founded more than 20 years ago, Messner RV Rentals has established an extensive range of RVs that take in a different number of wanderers wanting to explore Phoenix and its nearby areas.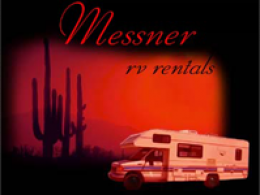 From the Agency
No word from this agency yet. Come back and see if they checked in soon.
Pros
More than 25 years in the business
Great selection of RVs
Cater to different number of travellers
Cons
Limited reviews
Only one depot
See who else rents RVs in the same cities
Instant Price Comparison
Just Got Questions? Want a Quote direct from the company?
Fill in this form to contact the Agency direct.
Write Your Own Review
Tell the world about your experience renting from this company
Have you experienced Messner RV Rentals?
Be the first to leave them a review and help others on their journey.