United States
Editors Review
From rentals to sales to repair and maintenance, Mount Comfort RV has done an excellent job as a one-stop RV dealer in Indiana.
About Mount Comfort RV
Mount Comfort RV is one of the leading RV shops in the state of Indiana with a 17-acre complex featuring a sizable inventory of recreational vehicles for sale and rentals, an extensive parts and accessories store and a modern repair center. The company has over 40 years of experience and that's pretty impressive. Their prices are also competitive so it can fit your preferences as well as your budget. Their rental units can be a great value to your money because of some free features like propane consumption and power awning.

Fleet
The Mount Comfort RV fleet is made up of 2017 or newer models with all motorhomes 35,000 miles on the clock. These close to brand new RVs have home-like amenities such factory installed generators and air conditioners as well as power awning for free usage. To save money, you don't get additional charge or propane use. The myriad of motorhome choices are good for families from 6 to 10.
Vehicles
Class A
2018 Coachmen 31SB

This Coachmen Pursuit 31SB is an 8 berth model designed for families looking for versatile floor plan and practical features such as full kitchen, large bathroom, innovative sleeping places and complete entertainment set. The motorhome brings more standard features than any other units on fleet, plus it has a 1,500 BTU air conditioner and awning for extra comfort while on the road.
2018 Coachmen 33BH

A bigger Coachmen Pursuit can now accommodate up to 10 people without feeling restricted at all. This 33' RV offers extra space, extra storage and extra sleeping capacity. Walk into the unit and take in all the beautiful features it has to offer, from the drop-down bunk with ladder at the front area to another set of bunks at the rear side. Equipped with two slide-outs, there's more room for walking around.
Class A
2017 Coachmen Freelander 21QB

This may be the oldest and the smallest unit yet the Coachmen Freelander 21QB is all you need for a compact and meaningful holiday on the road. Because of the dimensions, newbie RV'ers would fall in love with the RV in a heartbeat. All the good and easy stuff are fitted inside like kitchen appliances, U-dinette with overhead cabinets, full bathroom, rear queen bed, and cab-over bunks. So if function and beauty are your priority, this one is good catch.
2018 Coachmen Freelander 31BH Ford 450

The 2018 Coachmen Freelander is the choice for bigger groups. It can cater groups of 10 without the feeling of riding or driving a very huge RV. The unit is just 33'5" but it is equipped with all the comforts you need for a complete and smooth road trip. There are different dinette layouts inside to give you choices, plus the sleek cabinetry and flooring make this unit a pick for fancy travellers.
2019 Coachmen Freelander 27QB

The newest motorhome provides a sleeping capacity of 8 and a slide-out for unparalleled space. This Coachmen Freelander is a balance of compactness and functionality. Inside the unit, you will see the multi-purpose facilities such as the two-way overhead that could be a spectacular entertainment room or an extra sleeping area, the sofa and dinette that easily transform into bed and the well-designed full kitchen that does not take up so much interior space.
Insurance
For the insurance as well as the security deposit, you can verify with the company during the booking stage.
Reputation
If you're looking for a reputable RV dealer in Indiana, Mount Comfort RV will not be a disappointment. They have over 40 years expertise in the business, and they offer not just rentals but also sales, service, financing and more. This one-stop RV dealer offers a rental fleet of close to brand new motorhomes that are smooth and reliable on the road. Their service is also a plus factor as they take pride with friendly people and friendly prices.
Summary
The company's competitive pricing as well as friendly service makes them a notable rental choice in Indiana. Their RVs are worth the splurge.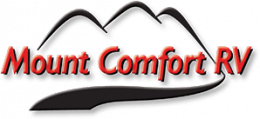 From the Agency
No word from this agency yet. Come back and see if they checked in soon.
Pros
Over 40 years in the business
One-stop RV dealer
Close to brand new motorhomes
Cons
Not attractive for couples or smaller groups
Only one depot
See who else rents RVs in the same cities
Instant Price Comparison
Just Got Questions? Want a Quote direct from the company?
Fill in this form to contact the Agency direct.
Write Your Own Review
Tell the world about your experience renting from this company
Have you experienced Mount Comfort RV?
Be the first to leave them a review and help others on their journey.