United States
Editors Review
A small, locally-owned business in Anchorage, Mugsy's RV Rentals allows you to experience Alaska through their limited fleet of small motorhomes and one car for rent. Just 15 minutes away from Anchorage airport, this could be your go-to RV rental without breaking the bank.
What Mugsy's RV Rentals Tells Us
You might be wondering how on earth did a company get such unique name. Well, Mugsy is the owner's adorable pet! This relatively small RV rental is situated close to the airport, which means no need to spend hours just to pick-up or drop-off your unit. And since this one is a local business, the owner himself strives to offer personalized rental through airport service and extended-stay accommodations. Having only three motorhomes and one car on fleet, this allows a more hands-on service to every rental. The units are also reasonably priced so you'll have more savings on rentals.
Fleet
There are only three motorhomes, ranging from 22' to 24' and one late model jeep for rent. These Class C motorhomes cater specific number of travellers, with a maximum of 6 only. The units are small and simple so they can easily be maneuvered and can provide a more discreet holiday on the road. Also, each rental already comes with 150 free miles per day. However, it seems that the company is not paying good attention to their RV rental as they provide a very limited description to each. Instead, they focused more on their extended-stay accommodations, with almost complete specifications and and more pictures. So if you want to avail of their cheap RV rentals, it's recommended to fully know what you're up to and give them a chat.
Vehicles
22' RV
The smallest unit by the company, this 22 ft. motorhome is fully-furnished and can sleep up to 4. Though pretty petite in size, it is compact and still leaves enough space for everyone on-board.
23' RV
Slightly big at 23', this motorhome is the newest addition to the company's fleet. The unit comfortably caters 5 to 6 people and offers nice large windows for better viewing. There aren't much of a difference compared to the above-mentioned except for the extended space and more sleeping capacity.
24' RV

At 24', this 6-berth motorhome is the largest option for travellers. So, if you're travelling with a bigger group, the motorhome is one of the limited options for you. From the exterior itself, it appears that the model is way older. Hence, there may be no bells and whistles to greet you.
Insurance
The company requires a $200 refundable security deposit . For the insurance, it is advisable to get a copy of your binder from your own insurance company to save more money. But you can confirm with the company if they provide other insurance options for a safer, convenient road trip.
Reputation
Mugsy's RV Rentals is no doubt cheaper compared to other small, locally-run RV rental businesses in Anchorage. The reasonable rates are very attractive, but the limited fleet may be a downer. With that, the company's reputation is just so-so. Groups of more than 6 will have no choice from their set. But for those smaller groups needing an affordable Alaskan adventure, then they are quite appealing.
Summary
Cheaper rates, personalized service, strategic location— these are some of the reasons why renting an RV from Mugsy's RV Rentals is a good choice. And Mugsy himself/ herself might even greet you personally! But of course there are different types of travellers, so if you're travelling with a bigger group who needs a lavish holiday-on-wheels, this one is not for you.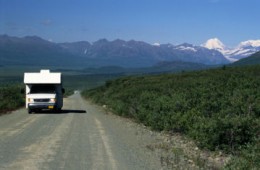 From the Agency
No word from this agency yet. Come back and see if they checked in soon.
Pros
Cheaper rates
More personalized rental with airport service and extended-stay accommodations
Strategically located near the airport
Cons
Very limited fleet
Mostly older vehicles
Only one depot
See who else rents RVs in the same cities
Instant Price Comparison
Just Got Questions? Want a Quote direct from the company?
Fill in this form to contact the Agency direct.
Write Your Own Review
Tell the world about your experience renting from this company
Have you experienced Mugsy's RV Rentals?
Be the first to leave them a review and help others on their journey.