United States
Editors Review
A well-known RV business in Portland, Oregon, RV Northwest offers an extensive range of RV services, including sales, financing, and rentals. They rent out plenty of motorhomes and travel trailers that cater to couples and even big groups up to 10.
About RV Northwest
With a depot right within the city, RV Northwest has everything right within your reach. If you're planning to buy an RV, they have units for sales. If you're applying for a loan, they offer financing. And if you're eyeing to rent an RV, they also have lots of options! Established in 2005, they now offer a rental fleet of over 85 vehicles. With that, they claim to have the widest selection of RVs in the area. Since they are a family-owned business, they always strive to provide a more personalized service, which includes transport arrangements from the airport and acceptance of pets inside their units.
Fleet
Renting a unit from them means you're showered with plenty of RV options. They have both motorhomes and trailers for rent, which cater to different group sizes, from couples to starting families to big groups up to 10. For their motorhomes, the oldest RV is the 2002 Holiday Rambler and the newest is the 2019 Thor Chateau. All these units are well-stocked with amenities, making it suitable for those who want a comfy, cozy, and convenient holiday on the road.
Vehicles
Class A Motorhomes
Holiday Rambler
The oldest RV on the fleet, the 40' Holiday Rambler is also one of the biggest RVs by the company. But even with its colossal dimensions, this Class A actually sleeps up to 4 persons only, which makes this RV a great option for those looking for a super spacious motorhome. Amenities inside this ultra-big vehicle are sofa sleeper, dinette, full kitchen, shower, toilet, and entertainment center. And adding up to its size are the triple slide-outs that expand the living room, kitchen area, and rear bedroom.
Itasca Sunova
Another Class A is the 32' Itasca Sunova that is meant for big families. With multiple sleeping areas, the unit can accommodate up to 8 persons. The rear bedroom has its own wardrobe closet and the center bathroom comes with a separate shower and toilet. Other sleeping options are the booth dinette bed, sleeper sofa bed, and bunk beds. And to add more space inside, the unit features double slides.
Class B Motorhomes
Leisure Van Serenity Mercedes Sprinter
For those who prefer a more sophisticated road trip for four, you can rent out this Class B motorhome built on a Mercedes Sprinter. The 2016 Leisure Van Serenity is a compact RV with luxury features, including a rear lounge that converts into a double bed, a dinette bed at the back of the driver's seat, and a shower & toilet at the back. But of course, since this one is just 24' in length, the interior space isn't that roomy.
Thor Gemini
Also a 4 berth Class B motorhome, the Thor Gemini is more updated because it's based on a 2018 model. As a result, it provides some polished amenities such as the pedestal table, sofa sleeper, and entertainment system. And, this unit also supplies a shower, toilet, kitchen, and rear bedroom.
Class C Motorhomes
Forest River
The Forest River is one of the many Class C motorhomes on offer. Presently, there are 5 units of this motorhome, ranging from 2012 to 2019 year models that cater to 6 to 8 persons. Depending on the unit rented, you can either have a gas or diesel type. Some of the facilities included in these RVs are shower & toilet, dinette bed, refrigerator, microwave, entertainment center, and storage spaces. And, there are also some bunkhouse motorhomes you can choose from.
Thor Freedom Elite
At 24', this 2015 Class C motorhome easily lodges up to 6 persons because of its practical interior layout. There are three sleeping options inside, each of these sleep two persons. Located beside the dinette bed is a captain chair that allows you to relax comfortably. Plus, this compact motorhome has its own bathroom with a shower and toilet.
Thor Chateau
Last Class C motorhome is the Thor Chateau. There are three RVs of this type, all of which are 2019 models that take in 6 to 10 persons. Ranging from 27' to 32' in length, the units are fully furnished with everything you need. The biggest Thor Chateau model is a bunkhouse model, allowing it to sleep up to 10 persons.
Insurance
For the complete approval of your rental, you need to provide proof of insurance from your own, auto insurance coverage.
Reputation
RV Northwest is not just an RV rental company. It offers other RV services, which include sales and financing. Their rental category is quite impressive because it has a lot to offer. Their wide selection of motorhomes and trailers accommodate different group sizes, from couples wanting a luxury space and big groups looking for a compact unit. As a well-known RV business in Portland, they have some fair share of positive and negative reviews. Often than not, they have a hit-or-miss reputation. Aside from great customer service and a well-maintained fleet, there were some feedback about rude staff and issues about the security deposit.
Summary
If you want an extensive range of RV options for rent, RV Northwest gives you an extensive fleet of motorhomes and travel trailers to choose from.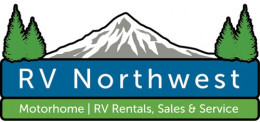 From the Agency
No word from this agency yet. Come back and see if they checked in soon.
Pros
Extensive fleet of motorhomes and trailers
Caters to small to big groups
Several RV services
Mostly new RVs
Cons
Few issues about rude staff
Some concerns about security deposit
See who else rents RVs in the same cities
Instant Price Comparison
Just Got Questions? Want a Quote direct from the company?
Fill in this form to contact the Agency direct.
Write Your Own Review
Tell the world about your experience renting from this company
Have you experienced RV Northwest?
Be the first to leave them a review and help others on their journey.