United States
Editors Review
A small, locally-owned business in Southern California, Sprinter RV Rental isn't all about gaudy advertisement, but more on personal treats like customized layout, riveting inclusions, and pet friendliness.
What Sprinter RV Rental Tells Us
With only seven vehicle types on selection, each unit comes with a distinct layout with fascinating inclusions. What you see is what you pay, well except for the additional charge for cleaning and delivery option. The company may be not that popular but the personal touches to each rent makes them unique and worth the try. They even provide secured parking for your vehicles in their own lot. If pre-arranged, they allow 24/7 pick-up and drop-off as well as vehicle delivery.
Fleet
The RV fleet of the company consists of class A, class B, and class C units― all of which already include a free 100 miles per day and full propane and diesel fuel. Most of their units are also great for your four-legged pets so it's totally a charm to pet owners needing a road trip. As to the cleaning of the unit, the company sets a $75 cleaning fee for sprinters and $125 for diesel pushers, which already includes free dumping of the waste tanks.
Vehicles
Pleasure Way
This compact luxury Sprinter is a class B motorhome that is very easy to drive and park because of its size at 22'. But don't be fooled with its limited vehicle dimension because it is equipped with all essential features in a motorhome― from cooking and storage facilities that include microwave and refrigerator to entertainment system such as LED HDTV, AM/FM and CD/DVD player and shower & toilet. Plus, awning for outdoor relaxation! Though this can only sleep up to two, you may bring a tent to maximize the five seat-belts.
Vista Cruiser
Another class B on fleet is the 2 berth Vista Cruiser that has a higher turbo diesel engine and comes with a tailored designed such as permanent dinette, elevated bed, and underneath storage. With a bed that is raised slightly off the floor, you have the option to make use of the step-up box in front of it for your storage. In addition, the unique layout widens the compartment and improves the interior of the room. So whether you are 6 feet or taller, you'll have no trouble stretching out or walking around because of its extra length.
Sportsmobile ERA Roadtrek RV
Last for the Class B motorhome is the Sportmobile ERA Roadtrek that comfortably sleeps two but can sneak one passenger or child on-board. The inside is pretty much convenient and cozy too with a dining table, kitchen sink, microwave, refrigerator, shower and toilet. Also, this one provides an on-board LP generator for added comfort and outdoor awning for alfresco dining or relaxation.
Navion
As the only class C motorhome on selection, the 6-berth Navion provides unique features for a more distinct road trip. Compared to most models that allocate the rear for the bedroom, this one gives way for the bathroom at the back. Hence, sleeping places are set in the sofa sleeper, dinette bed and cab-over bed. If you think you'll have a cramped space inside, you got it wrong because there's a slide-out in the sofa bed! Plus, this vehicle is not difficult to drive and park because it is only 23'.
Fleetwood Revolution

Definitely the perfect treat for a family of 7, this class A Fleetwood Revolution is fully-equipped with essentials, from kitchen supplies to linens, and a lot more. The unit is tagged as one of the most well-stocked RVs on fleet at a competitive price. Extras like outdoor table and carpets, floor mats, camping chairs, as well as BBQ, bike rack and even DVD's are already included with the rental. Because of the two slide-outs in the living room and bedroom, there's enough space for everyone. In the rear bedroom, there's a nice mirrored wardrobe with lots of drawers for your stuff. The living room, on the other hand, provides you with a pantry, kitchen sink, burner range, refrigerator & freezer. The patio awning is great for daytime shade, as well as evening entertainment. Not only that, there's a HD TV positioned outside in the patio area.
Monaco Safari Diesel Pusher

Another great pick for bigger groups is the Monaco Safari Diesel Pusher that takes pride of the bedroom slide outs, mirrored wardrobe and spacious overhead storage. A bit smaller than the first Class A unit, this one still exudes a rather spacious layout and almost the same features as above. Also with two slide-outs, walking around or doing your exercise inside is never a problem. However, there's no outside TV for this model, only patio awning.
Insurance
To save money, you can provide your own insurance binder from your existing auto insurance company at no charge. The endorsement must include comprehensive, collision and liability. Further, you can purchase insurance from the company's commercial insurance carrier, in case your company does not provide a binder.
Reputation
Sprinter RV Rental is a gem for travellers with pet, and those in dire need of simple and discreet holiday on wheels. The company continues to provide a more personalized treat to each rental like free 100 miles per day and a secure space for your personal vehicle. Also, the fleet consists of different motorhome sizes in customized layouts. There are units that are small and compact to drive around, and there are also those bigger models that provide luxury space. But since this is a local business, you may need to spend an extra mile as there is only one depot to pick-up and drop-off the RV and prepare a large amount for the security deposit.
Summary
Sprinter RV Rental is a great shot for renters who want to take a chance on a local rental business. With a diverse fleet of class A, B and C motorhomes, there's something for everyone. Just take note that the prices aren't that cheap so you need to prepare for it.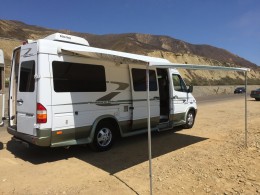 From the Agency
No word from this agency yet. Come back and see if they checked in soon.
Pros
Customized layouts
Free 100 miles per day
Pet-friendly
Cons
Only one depot
Rates aren't that cheap, including the security deposit
See who else rents RVs in the same cities
Instant Price Comparison
Just Got Questions? Want a Quote direct from the company?
Fill in this form to contact the Agency direct.
Write Your Own Review
Tell the world about your experience renting from this company
Have you experienced Sprinter RV Rental?
Be the first to leave them a review and help others on their journey.