United States
Editors Review
Sun Coast RV & Coach Rentals is a family-oriented RV rental with only one branch located in La Habra, and has only four RV types that are fairly priced.
What Sun Coast RV & Coach Rentals Tells Us
This family-oriented RV company in La Habra has seemingly failed in living up to their company tagline― family matters! Flagged with mostly bad reviews, the company offers four different Class A motorhomes. With only one type of RV on selection, those who need smaller and easier to park vehicles may be disappointed. Further, these units are not owned by the company but from third parties who religiously maintain and service the units. Their competitive prices are quite a charm but bad reviews has really took a toll with their image.
Fleet
The fleet of four different units are all big, Class A RVs. The smallest on selection is the Winnebago model that can comfortably sleep up to 4- 6 persons, and still leave lots of storage for your stuff. Next in line is the bigger Fleetwood Bounder that features 4 slide outs, power patio, entry door awnings and more! Both Winnebago and Fleetwood Bounder highlight its captivating entertainment set that comes with 3 televisions ( 2 inside and 1 outside), DVD players, and sleeping sofas. For larger groups, there's the 39' Fleetwood Bounder and Country National Coach that let you travel in comfort and style through its extra space, fully-equipped kitchen, living area and bathroom.
Vehicles
39' Fleetwood Discovery

One of the two biggest motorhomes by the company, the 39' Fleetwood Discovery specializes in luxury space and comfort. Offering three slide-outs and two sofas, this unit sleeps 7 to 8 comfortably. Because of the extra space, the dinette seats not just two but four, so your entire family can enjoy your meal together. The two sofas (one is a pull-out bed) provide a pleasant place for conversation and relaxation. For a more discreet holiday on the road, this RV also gives you a private bedroom and private bathroom.
39' Country Coach National

The other biggest motorhome on fleet is the 39' Country Coach National that comes with three useful slide-outs. Maximum sleeping capacity is 8 persons and there are enough space for everyone on-board. This particular model features a very sleek and sophisticated exterior and a nice tiled kitchen complete with all the cooking essentials and storage cabinets. You and your kids will enjoy the fancy VCR/ DVD entertainment system, along with the dual leather sleeping sofas in the living quarters. Because of its extensive length, walking around or even stretching your legs is not a problem.
38' Fleetwood Bounder

Another Fleetwood RV with a slightly smaller length at 38', the Fleetwood Bounder can sleep 6 to 8 people. And take note, this may be 1 ft. smaller but it has four slide-outs, which means each side of the vehicle comes with two expandable parts, providing extended comfort for everyone! Another fascinating feature by this compact motorhome is its low mileage and 6 speed automatic Allison transmission. The entertainment hub for this one is also a bomb with 3 interior TVs and 1 exterior, as well as DVD and surround sound. The kitchen highlights the Maplewood cabinetry and Corian counter tops.

36' Winnebago Eclipse

Last for the Class A diesel pushers and for the limited fleet is the classy 36' Winnebago that comfortably sleeps 4 but easily caters up to 6. Even with its reduced size, there are three slide-outs positioned in the living room and in the bedroom. In addition, the bedroom is speckled with several overhead cabinets, full closet and dresser for your convenience. With a ceramic tiled kitchen floor, carpeted living area and Euro leather lounge sofa, there's seriously lots of reason to slack off even inside. But if you want to relax outside, no worries because just like all other RVs on set, this one has an outside awning.
Reputation
Sun Coast RV & Coach Rentals isn't as grand nor as reputable as other family-owned businesses. The company is unfortunately flagged with mostly negative reviews related to incompetent staff and mechanical issues despite of having only a limited fleet of RVs. Some of which are acknowledged, while some are denied by the company.
Summary
If you need a fairly priced Class A diesel RV for your holiday, you may or may not avail of their rental services. Considering the not-so-appealing reviews from previous renters, this may allow you to think twice before renting from them. Still, you can avail of their services and see for yourself.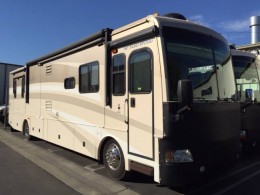 From the Agency
No word from this agency yet. Come back and see if they checked in soon.
Pros
Family-owned RV rental business
Fair rental rates for luxury models
Caters large groups up to 8
Cons
Only one depot
Limited selection of RVs,only Class A
Mostly older models
Reputation isn't that good
See who else rents RVs in the same cities
Instant Price Comparison
Just Got Questions? Want a Quote direct from the company?
Fill in this form to contact the Agency direct.
Write Your Own Review
Tell the world about your experience renting from this company
Have you experienced Sun Coast RV & Coach Rentals?
Be the first to leave them a review and help others on their journey.