United States
Editors Review
With branches in Kansas City and New Haven, Unlimited RV offers competitive prices while offering services beyond the competition. Their rental fleet is consist of motorhomes and travel trailers that are suitable for starting to extended families.
About Unlimited RV
Unlimited RV is an independently owned and operated family business that caters families to create a unique kind of family-like adventure. They have two branches but if you're up for a spectacular rental, then Kansas City is the place. The company's rental rates are attractive enough, plus there aren't hidden fees to surprise you along the way. Because of the all inclusive pricing, you'll be getting a great deal of savings from them.
Fleet
The fleet of motorhomes and travel trailers are professionally maintained to get you on the road comfortably. The RVs are equipped with family items and safety features so that you can enjoy your road trip to the fullest. Equipped with full-fledged facilities, there's no need to bring your own stuff or pay extra for some camping essentials. Minimize your packing as the cabin is furnished with kitchen and sleeping amenities. These are beautiful rigs that you would own for days or weeks. Also, you get 150 miles per day, which is 50% more than other RVs on the road. These new, low mileage rigs would give value to your money.
Vehicles
Family Sized Motorhome
Perfectly sleeps 2 to 6 people, this Family Sized Motorhome is a Four Winds model with queen bed room. It snugly caters small to mid sized family who wants to explore the open roads with comfort and style. The unit comes with power awning for outdoor relaxation. Also, enjoy some good old movies and relaxing songs with TV/ DVD player and HDMI connection to your phone.
Extended Family Sized Motorhome
For bigger families up to 8, this motorhome is the one for you. Ideal for larger groups or starting families wanting to have extra space, the Extended Family Sized Motorhome furnishes a power awning, airy queen bedroom, full kitchen and large bathroom. Both the jack-knife sofa and dream dinette become comfy sleeping places. There are three LED TV sets, including one optional exterior entertainment set.
Insurance
With your rental, you get a free commercial insurance but you need to verify with the company first with regards to the amount of security deposit as well as the insurance deductible.
Reputation
With a good reputation that is built one family at a time, Unlimited RV is known to provide a family-like rental with quality and friendlier service. Renting a unit from them is like an adventure investment. You are given with a well equipped, new, low mileage unit at very competitive and all inclusive pricing. But you need to act fast because they only have two motorhome rental options, all Class C models and the rest are travel trailers. Still, this budget-friendly rental with two branches can give you the quality service that you need. And, they might feature you and your family in their website!
Summary
Hiring a motorhome from Unlimited RV does not mean a stripped down rental. These are nicely furnished RVs that would not cost you your bottom dollar rather give you a nice and homey rental service.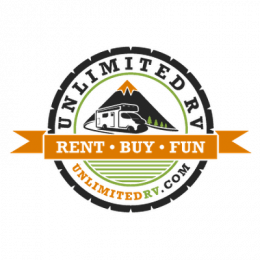 From the Agency
No word from this agency yet. Come back and see if they checked in soon.
Pros
Two branches
Family-like and budget-friendly rental
Quality service
Cons
Only two motorhome rental options
One RV type, only Class C
See who else rents RVs in the same cities
Instant Price Comparison
Just Got Questions? Want a Quote direct from the company?
Fill in this form to contact the Agency direct.
Write Your Own Review
Tell the world about your experience renting from this company
Have you experienced Unlimited RV?
Be the first to leave them a review and help others on their journey.