United States
Editors Review
West Atlanta RV Rental is a small RV hire based in Dallas, Atlanta that offers one motorhome hire for 6 persons and two travel trailers for 6-8 persons.
About West Atlanta RV Rental
As a small RV hire company in Atlanta, West Atlanta RV Rental isn't like large RV rental corporations. They cater to those who prefer to talk directly to 'real owners' instead of machine operators. Since they are a small-scale business with limited units for hire, they can be more hands-on with their customers. All of their rentals, however, are for 25 years and above, with a minimum of three days. But if you rent their unit for 7 days, then you get 1 night for free!
Fleet
The rental fleet is a combination of motorhome and travel trailers. For their motorhome for hire, they only have one model, which is a Class A RV. This motorhome is ideal for small families or even couples who want extra space.
Vehicles
39' Fleetwood Discovery

The one and only motorhome for rent, the 39' Fleetwood Discovery is a very spacious unit for the entire fam of 6. Yep, this extra-large RV caters only a limited number of people on-board. This diesel-run Class A oozes with a very roomy interior, not just because of its extended length but also its expanded width. The unit comes with 3 slide-outs, making it easy to move around and even do some stretching. Entertainment is also a priority with this motorhome as it has both indoor and outdoor TV's.
Insurance
In compliance with their rental policy, you will be required to either provide an insurance binder or purchase insurance coverage for an extra fee per day.
Reputation
Being a small rental company in Atlanta, West Atlanta RV Rental hasn't really created a far-fetch reputation in the area. Plus, they've got a limited rental fleet that only caters to a specific target market. Their motorhome, in particular, is meant for small families up to 6 or couples who want extra comfort. Despite the unpopular standing and few units for rent, they can offer you a decent and more personalized service. And, you get to enjoy a discount for long-term hires.
Summary
If want to explore the western portion of Atlanta, you may want to check West Atlanta's fleet of motorhome and trailers. They've got fully-equipped 6-8 berth RVs to choose from.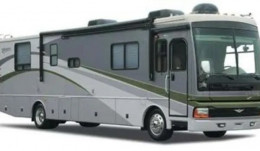 From the Agency
No word from this agency yet. Come back and see if they checked in soon.
Pros
Small, personalized rental
Also offers trailer for rent
Long-term discounts
Cons
Limited fleet
Caters to up to 6 persons only
One depot
See who else rents RVs in the same cities
Instant Price Comparison
Just Got Questions? Want a Quote direct from the company?
Fill in this form to contact the Agency direct.
Write Your Own Review
Tell the world about your experience renting from this company
Have you experienced West Atlanta RV Rental?
Be the first to leave them a review and help others on their journey.