Australia
Editors Review
Last Updated: 8/8/19
Experience some outback adventures from Perth to Broome to Darwin with a 4WD vehicle from Broome & Beyond. Designed for off-road trips, rentals now come with solar panels for energy conservation.
About Broome & Beyond
Broome & Beyond welcomes a road trip showered with fascinating wilderness, scenic landscapes, and tranquil beaches. This Broome-based company focuses on off-road adventures. Start your journey in the beach resort town of Broome and wander around Western Australia. For added convenience, they provide pick-up and drop-off service in Perth, Broome, and Darwin. You can even request them to pick you up on another location and show you through the unit so that you are ready to go!
Fleet
Their 4WD fleet is consist of fully-equipped off-road vehicles of premium quality. These Tranyon units cater to couples and small families up to 4. Unlike traditional campervans and motorhomes, these 4WD vehicles are meant for some hard-duty adventures. Rental comes with an interior kitchen with cold water tap and an external shower. Every unit features an aluminum lightweight build and low profile for sturdier and easier travelling.
Vehicles
4x4 Vehicle
Renting an off-road 4x4 vehicle means that you can explore some of Australian's outback landscapes conveniently with the provision of unlimited kilometres and inclusion of camping essentials and a safety pack. The unit provides different sleeping arrangements, allowing it to accommodate 2 to 4 persons. Two people can sleep at the extendable rooftop tent with a double bed while the other two at the convertible L-shaped sofa and kitchen area. The kitchen is packed with onboard 4kg gas bottle, fridge/freezer, portable gas cook-top with griller, cookware, cutlery, and crockery. Also inside, there are plenty of storage options for your stuff.
Insurance
For the insurance, you can verify with the company during the booking stage and know if they have different insurance coverage options. For added information, the company requires the renter's credit card imprint for the security bond.
Reputation
Specifically built for off-road fun, Broome & Beyond knows how to handle customers well with easy communication and competent staff. Their rental fleet is suitable for those with a heart for adventures, whether you are a backpacker couple or a daring family of 4. But of course, you cannot expect all fancy and frills. Though there are limited reviews about this small rental company, you may want to give their sturdy units a try.
Summary
Broome & Beyond grants an epic Australian outback adventure with their fleet of 4WD's on long or short term hire.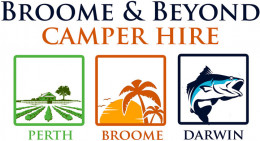 From the Agency
No word from this agency yet. Come back and see if they checked in soon.
Pros
Suitable for adventurous renters
Different drop off/ pick up locations
Inclusion of camping essentials and extras
Cons
Only 4WD vehicles
Not for groups more than 4 people
Limited reviews
See who else rents Campervans in the same cities
Instant Price Comparison
Just Got Questions? Want a Quote direct from the company?
Fill in this form to contact the Agency direct.
Write Your Own Review
Tell the world about your experience renting from this company
Have you experienced Broome & Beyond?
Be the first to leave them a review and help others on their journey.