Australia
Editors Review
Byron Bay Campers is a family owned business with short and long-term campervan hire in Byron Bay and the surrounding areas.
What Byron Bay Campers Tells Us
With many years of experience in the car rental industry, Byron Bay Campers can provide friendly helpful service and reliable vehicles to the renters. They are located in Ballina township on the coast of Northern New South Wales, approximately 5 minutes drive from the Ballina-Byron Gateway Airport and 30 minutes drive to the south of Byron Bay. There aren't so much to say about this company, along with its very finite campervan choices.
Fleet
The Byron Bay Campers fleet is very limited, consisting of only one vehicle type― 2001 Toyota Hiace or Hi-top models that can seat 5 but sleep up to 3 people only. Considering the older vehicles on set, this means that wear and tire is something perceivable but manageable. Besides, these campervans are way cheaper than other hi-roof units on the road, freeing your budget for use elsewhere. However, if you're the type of person who wants to be discreet about the road trip, then this one is quite unmatched with your personality as the campervan is speckled with flashy marketing strategies all over the exterior. And, it appears that the campervans are the company's real life commercial. Another downside is that it is not possible to use baby/ child seat, leaving your kids at home.
Vehicle
3-berth Hi-top
The one and only campervan type in the fleet is this 3-berth Toyota Hi-top. Though designed for only 3 adults, it can cater an additional 2 passengers with the help of the 2-man tent. The campervan is spacious enough because of the extended height from the hi-roof. Even if you're 6 foot above, you can freely stand in the back without needing to bend over. There's also no need to bring your own blankets, sheets, pillows as you are supplied not just with the sleeping essentials, but also some cooking and eating utensils,
Insurance
The standard excess for Byron Bay Campers is $1000.00, which will be required upon vehicle pick-up through a credit card imprint. However, if you are under 25, there is an additional 'age excess' amounting to $950, which is on top of the standard excess. The company also does not provide any insurance reduction options to limit the excess so you need to exercise extreme precaution while on your trip. Well, it's better safe than sorry!
Reputation
Byron Bay Campers is a low-cost holiday alternative for smaller groups only. With only one type of campervan rental, the company focuses on giving personalized service instead of providing an extensive fleet of vehicles. They may not be very popular but they appear to be one of the competitive choices for renters wanting to wander around Bryon Bay.
Summary
If you are visiting Byron Bay and its surrounding areas without kids, this is the way to travel. The rates are cheaper and the vans are quite spacious. Just do not expect too much from an older Toyota Hi-top model. Keeping your expectations low will definitely make your trip more convenient.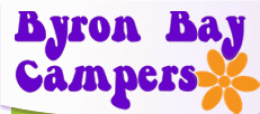 From the Agency
No word from this agency yet. Come back and see if they checked in soon.
Pros
Cheap
Unlocks more of Byron area for visiting
Allows standing up in the vehicle
Cons
Not possible to use a child/ baby seat
Only one branch
Limited vehicle numbers
See who else rents Campervans in the same cities
Instant Price Comparison
Just Got Questions? Want a Quote direct from the company?
Fill in this form to contact the Agency direct.
Write Your Own Review
Tell the world about your experience renting from this company
Have you experienced Byron Bay Campers?
Be the first to leave them a review and help others on their journey.