Australia
Editors Review
Last updated: 4th May 2021
Even after many years, Hippie Campers continues to stick to their market, focusing squarely at budget and youth travellers. That being said, they allow drivers aged between 18-21 to rent the vehicles. They have limited models―a mere 3 options―so at least choice will not be hard. They only supply 2, 2/3, and 4 berth campervans that are now suitable for your pet dogs.
---
Take a glimpse at how Hippie appears on the road. With its funky exterior, this campervan is definitely a standout.
About Hippie Camper
First of all, Hippie is part of the Apollo family of campervans. Apollo is one of the largest campervan and motorhome rental companies in the world with vehicles in Australia, New Zealand, and the USA and are listed on the Australian stock exchange. Being associated with Apollo, this means you will be picking the camper up from the same depot as Star RV, Apollo, and Cheapa Campa. However, the locations for Hippie Camper is worth noting.
Whilst they are owned and operated by Apollo Campervans, it seems Hippies are not welcome at a number of the branches. Hippie is mainly restricted to the east coast, which is definitely the most popular route in Australia. However, there is one branch way over the other side of the country in Perth― 4000km and 40 drive hours away―but you have to bypass Adelaide even though there is an Apollo branch there. Apollo also has branches up to the middle in Alice Springs and the top-end in Darwin, but Hippie Camper doesn't participate in these either. Go figure your route beforehand.
Hippie exudes a vibrant and youthful feel. They want your road trip to be fun and exciting and they suggest many ideas on what you can do. They have even teamed up with an Australian adventure company to get discounts on activities around the country, called the Hippie Club. Sometimes these discounts are actually worth it and really save you money, other times not so much, but at least the ideas are there to see. And in general, you won't be disappointed when approaching a Hippie rental with this in mind―as long you keep in mind their rental fleet. They want you to know they are 'cruzy' and cheap whilst giving quality for your money at the same time
Fleet
Hippie is keeping it pretty simple for a company with such financial might behind it by going with only 3 models of campervan―the Hippie Drift (budget model), the Hitop (deluxe model) and the Hippie Endeavor (touring family). What's the main difference other than price? Budget equals low roof is the biggest difference. Let's start with the hi-top, this one costs more but accommodates more than two people. But even though Hippie is suggesting it should be a child due to the weight rating of the overhead bed. Don't worry about that, I slept 2 adults upstairs on one of those beds for a whole year in a 4wd camper with a similar roof style and weighting. If there are 3 adults in your party the hi-top will be just fine or you can opt for the more versatile Hippie Endeavor. Hippie campers may either be automatic or manual, but in general, the maintenance and general appointments of these units are a thumbs-up even if they are aged over 5 years.
The other distinct advantage is that even the budget version comes with a fridge and an electric water pump. Most the others in this price range are going to come with an esky (cooler box, chili bin), which is a pain as you are constantly having to find ice supplies and the ice melt will inevitably ruin some food. Generally the fridge is the way to go, however, you might have to put up with some humming during the night when it turns on. If you're a really light sleeper, this may be problematic, but the worst case is to turn it off at night and turn it on in the morning. Fridges will always run off a 2nd "house" battery so there is no need to worry that you will flatten the car battery when you use it whilst parked.
Vehicles
Hippie Drift
Review & Walkthrough of the Hippie Drift Camper Van from Hippie Camper's Australia
The Hippie Drift is the budget model of the 2 available from Hippie being 3-5 years old. Built on the ubiquitous Mitsubishi Express, this is actually decked out pretty well for a budget van. The seating and table arrangement is good, there's a safe and a nice addition of some roof racks which most companies don't have. Also, an awning is thrown in as inclusion, which is rare for a budget 2 berth campervan. If you're on a surfing safari the roof racks and the awning are going to be a bonus. The kitchen is located at the back of the campervan, as is the case with pretty much all budget vans. This means so you have to open the back flip-up door in order to cook, wash, etc., but snacks can be obtained from inside by leaning over the back. Remember that this unit for 2 people only as there are only 2 seat belts, both in the front. There are no seatbelts in the back and children under 8 cannot travel in this camper.
Hippie seems to still be transitioning out of some older style vans (the ones that have flowers painted on them) to a newer paint job and model style. Hoowever, the flower ones are still definitely floating around in the fleet. If you arrive to pick up your Hippie Drift and it has flowers on it, you know you are getting an older model camper. As with all companies with large fleets, there are going to be slight differences between campers over the years as they are produced. Therefore, keep an open mind that some things might be different with the camper you are used to. For aa budget and technically old camper, DO NOT expect everything to be perfect and shiny. There will be wear and tear―that's why they're cheap!
Hippie Hi-Top
Hippie Hitop Campervan ROOMTOUR
Hippie Campers has introduced a Hi-Top and being their "deluxe" model say they are 0-3 years old. This is stepping up the range to compete for the dollars of those travelling on less modest budgets who want a bit more comfort and style. Hi-Tops allow for full, upright standing inside the campervan. You can't do this in the budget models like Hippie Drift. Nimble youngsters on a tight budget generally couldn't care less about this element, but those choosing a bit more comfort or who are a bit older will love it. Being able to stand up makes a camper a lot more "homey" and less like tent-living. Despite the additional height, the interior design is fairly standard. There are only about 4 designs that pretty much everyone uses in 2 berth campervans and this is one of them. Fully-internal kitchen means easy cooking no matter what the weather and a bigger water container mean less running out at the wrong moment.
Nearly all Hi-Tops in Australia are based on the Toyota Hiace and this is no exception. They are nicer to drive than the budget model Hippie Drift Mitsubishi Express, being a comfier driver's seat and bit quieter if nothing else. A bigger fuel tank and better fuel economy will also mean fewer petrol costs. Not only does it have better mileage, but you won't be forced to stop at that super-overpriced petrol station as you should have enough to continue on to the next town. Henceforth, if you are doing a long journey (eg. Sydney to Cairns), then better mileage is something to consider even if the campervan costs a little more to hire. Saving around 30% on fuel bills really add up in Australia. The hi-top can seat three, but they will all be in the front. There are no seatbelts in the back and children under 8 cannot travel in this camper.
Hippie Endeavour

For a touring family, the only option you got is this Hippie Endeavor that accommodates 2 adults and 2 children. A recent addition to the Hippie Camper fleet, this unit is actually the same unit with the Hippie Hitop, which is built on a Toyota Hiace. Just like the Hitop, this one is good in terms of fuel efficiency, so long road trips will not end up costing a little more to run. Additionally, it provides a more functional layout to to cater to the entire family. Offering two double beds (more of a bunk style bed- one below and one on top), it's quite a surprise how the floor plan is well-designed for everyone onboard. But of course, you can't expect an overly spacious arrangement, especially at night time.
Insurance
The standard liability amounts to $3000, which is also the corresponding security bond payable thru credit card with a bond admin fee of 2%. By availing the liability reduction option at $22/ day (The High Road), the bond will be reduced to $100 while liability to $0. However, do take note that the reduction option does not include windscreen and tyre damage.
Reputation
Hippie is trying very hard to value-add to their brand. The vehicles they supply realistically can be found at many campervan hire companies. So the question is―how are they going to be better? Well, the Hippie Club makes sure to be on a good scale to get you specials, including no one-way fee on certain dates and branches, 10-15% discounts at caravan parks, and long-term rental markdowns. As they focus on youthful and vibrant accommodation, most travellers feel at home with their fleet of limited yet well-furnished and eye-catching campervans. These crowd-charmer units are all priced decently to keep your budget on track. Plus, you can web check-in before you get to their depot, though you still have to sign stuff when you get there. And if you are a social media fanatic, you have a chance to get seen on their Instagram feed!
Summary
Hippie Campers are a good hire in their price range but are still only providing the essential services in a campervan. With recent improvements in the fleet, design, and depot location, it is now one of the leading budget campervans hire companies in Australia (and New Zealand if you are going there too.) If you are restricted in the budget, then this is definitely one to get a quote from. If they come out a few dollars more expensive than their competitors, then it is probably worth it for the extra features added and the comforts provided.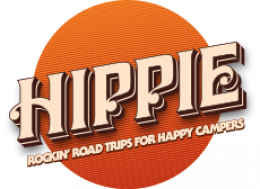 From the Agency
No word from this agency yet. Come back and see if they checked in soon.
Pros
Cheap and cheerful
Good interiors
Great for young and budget travellers
Pet-friendly
Cons
Pricier end of "budget"
Quickly book out in high season
Only 3 models to choose from
Not-so-good reputation
See who else rents Campervans in the same cities
Instant Price Comparison
Just Got Questions? Want a Quote direct from the company?
Fill in this form to contact the Agency direct.
Write Your Own Review
Tell the world about your experience renting from this company
1 Review
"
Awsome

"

I would love to try it out

5

Service

5

Mechanical

5

Interior

5

Value
1 Review
"
Great Experience

"

Camper was great! I was upgraded. I had a spectacular trip the van worked great and the staff was super friendly.

5

Service

5

Mechanical

5

Interior

5

Value
1 Review
"
Ripping me off for $250

"

Just learnt we can't go to South Australia next week (8days away from our pickup date) because our government has just advised us not to go due to the coronavirus and not to to return to Queensland without doing 2wks hotel quarantine. Hippy will charge us $250 just to cancel due to this. More than a third of the total rental. We'll book with someone else next time.

3

Service

1

Mechanical

1

Interior

1

Value
1 Review
"
Why i will never book Hippie-Campers-Australia again

"

I am a dedicated traveller and hire campervans on a regular basis for the last 20+ years. Canada, USA, Namibia, New Zealand and Australia are only a few destinations I travelled with hired campervans. I live in Australia now since many years and I do get visitors from Europe on a regular basis. The last campervan I have booked (just returned it a few days ago) was with Hippie campers.

To cut a long story short, it was disappointing from start to finish and I have NEVER seen such a run down, dirty and technically unfit vehicle.

Let me list only a few "highlights":
- Vehicle was about 20 years old - the ad said "3 years +". While this is mathematically correct, I expect a vehicle at least less than 10 years old...not a historic vehicle

- Vehicle unfit:
The speedometer showed 319,000 km (!!) when I picked up the car. The "service lamp" went on the same day I picked up the car. The vehicle was not at all in a technical state which would allow a long trip across Australia. Going up and down the coast a few kilometres might be possible, but exploring Australia with a 20 year+ old rust bucket? No thanks. So I had to adjust my travel plan as I wasn't able to get another vehicle from Hippie/Apollo for this holiday.

- Vehicle falling apart after 6 days on the road:
The window of the passenger door simply fell into the door - it was not possible to close the window afterwards. So we drove the last few hundred kilometres through the rain with an open window. A rather refreshing experience.

- Vehicle too noisy to drive over 90km/h and maintain a conversation:
Everything rattles and shakes. The interior was so purely done that pots (which were loose under the bed...), the sink (which wasn't fixed on the bench properly), "stove" (a cheap few dollar Bunnings camping stove) and bed frame (which slides around when you take a left or right turn) moves around the moment the vehicle starts moving.

- Vehicle simply filthy:
The seats were dirty, and I had to put towels on the seats to avoid getting stucked there. The "kitchen" was simply dirty, and I had to clean the car for more than an hour to actually use it

I will strongly advise everyone not to book Hippie Campers and I am currently thinking of taking the Hippie campers case to NSW Fair Trade as I feel simply cheated.
Given the bad experience I feel that Hippie camper owes me a significant refund as I did not at all get what I expected with my booking.

1

Service

1

Mechanical

1

Interior

1

Value
1 Review
"
OK, I guess...

"

Fridge didn't work. Fuel gauge didn't work either so we ran out of fuel without knowing we were that empty. We were told the battery would charge as we drove. It didn't. It only charged on a power connection. Normal power wouldn't work because it needs a 15amp connection.

Nice staff and people on the help line, but a typically convoluted phone system when we rang to report issues. Lots of waiting on hold and not being able to reach the person who can help you.

All in all an ok experience but not without issues.

4

Service

2

Mechanical

2

Interior

2

Value
1 Review
"
Good for camping, not as much for driving.

"

The hippie camper is good overall, but it's really old and has mechanical issues sometimes. It's not super maintained and I think Apollo and do way more for the price you need to pay for this van.

4

Service

1

Mechanical

2

Interior

3

Value
D. Hardstaff
, United Kingdom
1 Review
"
Review of my Hippie-Campers-Australia hire

"

Old run down campervan, many different problems along they way with the van and apollo, not worth the money we paid! Wouldn't recommend other hire companies much better.

3

Service

1

Mechanical

1

Interior

1

Value
1 Review
"
Review of my Hippie-Campers-Australia hire

"

The vehicle was older then expected and the interieur was damaged at certain points . While driving, dust could enter the campervan. (Crack in the backdoor)

5

Service

5

Mechanical

1

Interior

1

Value
1 Review
"
Not good

"

Some issues I have 1. The issue with credit card fee's on a $3000 bond. Its $60 (2% fee).... non-refundable. BUT if you take extra cover out, you don't actually take the bond so no fee's... it makes you take the extra cover so its pressure sales and its an issue that the industry is tarnished with. 2. The fridge wasn't clean and stunk of gone milk. 3. The overall van condition was poor - its old, which is understandable but clearly the vans don't get repaired after damage. Broken lights, chipped screen, many panels damaged and the doors did not close properly on the rear. 3. The lady said we could have chairs complementary and they were not present. 4. The overall cleanliness of the van was poor- its had not been cleaned properly compared to the new Apollo vans. 5. Cost, it was close to $360 for 2 days... this is not a budget hire price. When I highlighted the issues I was aplogised to and she said "i made the bed which is your responsibility" as a means of resolution. Again, poor response, overall not good at all.

4

Service

3

Mechanical

2

Interior

1

Value
1 Review
"
Honestly... just false advertising and poor service.

"

Overall quite disappointed, the van is nothing like advertised and when I contacted on the second day of our trip regarding faulty gearbox and brakes (which is quite dangerous) I was told that as not as an emergency they could not send out engineer, however they would send out someone the following day as a matter of top priority." Despite my follow-up call this was never followed through leaving us with a a difficult to drive and unsafe vehicle for the the entirety of the journey. Very poor customer service and a complete disregard for safety - I also asked to be informed on when the vehicle was last serviced, and was never told.
Other than the danger imposed by brakes and gearbox which would pop out of 4th gear, under-rev in 5th and stall/bunny-hop in 2nd, the exterior condition was completely unacceptable, clearly had been in many collisions from all of the bumps (two major), dints and scratches, while the interior was scratched, table/furniture chipped, mosquito nets missing and just over all damaged completely unrecognisable to what was advertised online.

1

Service

1

Mechanical

1

Interior

1

Value
1 Review
"
Good Value overall & Great Customer Service!

"

For a budget, older campervan (ours is named Thom), the Hippie Drift Campervan was cosy and warm to sleep in (we travelled in Winter), and was mechanically sound, even though a warning light appeared 50 mtrs down the road from Apollo'/Hippies Depot, We phoned the Assistnace Ph No at once, and was advised to return to the Depot to have it checked out, which we did, and apparently it was due to an oversensitive sensor re the type of Octane unleaded fuel previously used (?), and was told not too worry about it unless the temp gauge went up/oil lamp appeared. We had no other problem at all with the vehicle, though we did tie up the awning as it was banging against the van when we turned corners. The layout was reasonable for the L300 van and plenty of storage underneath the bed frame when pulled out, and there was even a table inside as well. The fridge kept everything in it cold for 10 days just charging while in transit, and being winter I'm sure helped as well.
Everything we needed re equipment was provided (except a plug for the sink!)and it all worked fine, and the van was clean, though a lot of scuff marks were visible inside and a few outside on the panels as well, which was noted down (and pics were taken) before we left the depot. The van is reasonably economical, and we enjoyed travelling around in Thom, even if he doesn't have all the comforts of the bigger, newer hightop campervans. :)
We purchased campervan rental insurance (Rentalcover) for under $90 for the 10 days, prior to hiring the campervan, in case anything unforseen happened and $3000 deposit/bond is required from Apollo/Hippie campers, (which I was concerned about) that is deducted from your credit card, but I was absolutely delighted when after returning the van (cleaned by us and tidy) without any incidents, the $3000 was deposited back in my Credit Card Acc within 5 days! The staff were friendly and helpful., and we'd be happy to travel in a hippie camper or similar again in the future if/when the opportunity presents itself.

5

Service

4

Mechanical

4

Interior

5

Value
1 Review
"
Pretty good all around

"

We had a Hippie Drift for a simple little run up the coast from Sydney. The van was as expected and did everything we wanted. The staff were fine and I can't fault any part of the campervan. Would use again.
Cheers.

5

Service

5

Mechanical

5

Interior

5

Value
1 Review
"
Review of my hippie-campers hire

"

It was just great. Especially that we got a free upgrade to the Hitop and paid for the Hippy Camper only :)

5

Service

5

Mechanical

5

Interior

5

Value
1 Review
"
Disappointed

"

As from the start, hippie camper tried to get as much money out of us from all the possible tricks they can think about. It is terrible. In addition, the car is very old and not so well thought about. The only positive think is the bed which is fortunately comfortable enough, but not very practical when you want to cook after having made the bed... Also the locations are the worse and you need at least 1h or 2h public transport to come back to town. Finally, the staff did not explain half of what needed to be explained and we learnt at the end of our trip different options that were available from the start (such as charging your phone in the car after having plugged in the electricity...).

2

Service

3

Mechanical

3

Interior

2

Value
1 Review
"
desapointed

"

we toke the cheapest RV :
Old ? why not ! but lots of problems could be avoid if hippie campers really maintain the vehicles !
The worst is that if you have troubles : don't trust the assistance when they say "we call you back"... we had to battle 3 days to find a solution after the V breackdown. Finally we was so pissed off that we had to ask to talk to the boss of assistance service besause nobody tried to help.
+ Companie expensive (1600$ for the vehicule...800$ for options you cant refuse /assurance, glass breackage.../)

2

Service

2

Mechanical

3

Interior

2

Value
1 Review
Best time of my life. Did some amazing activities and the campervan was really ok. No Problems, everything was there and clean as well.
5

Service
5

Mechanical
5

Interior
5

Value
1 Review
I would like to add my voice to those suggesting it's not a good idea to book a Hippie Camper. My partner and I recently hired one from their Brisbane office; these were our main concerns.

1) The single biggest issue for us was the Customer Service we received when picking up the car and completing paperwork from Carol, who was rude, impatient, irritable, unapproachable and ultimately really brought us down from feeling quite excited about our short holiday when we arrived at the Apollo office to feeling very discouraged and trepidatious.
2) Apollo can't seem to sort out a problem with their vehicles using toll roads, maybe because they sell $50 toll passes (when a single toll fare is around $4-5) and instead of clarifying with me whether a toll had been in fact paid for (which it had been), billed my credit card for a toll and an infringement notice. It would have been simple good courtesy to contact me first
3) The mattress had significant stains.
4) The check engine light went on towards the end of the trip, a mechanic we visited suggested it was likely because of the exhaust system not functioning correctly. This was concerning as it indicated to us that the vehicles may not have been well maintained mechanically.
2

Service
3

Mechanical
3

Interior
2

Value
1 Review
I have nothing good to say about my experience with Hippie Campers and the head ache continues long after you return the sub-standard vehicle back in one piece. Their administration is a nightmare. They expect an exorbitant bond unless you pay more per day of course, then they advise that your bond will not be refunded until 21 days after return....Good luck with that! No one answers the phones in the finance department and the message says they will return your call....yeah right!
They expect you to pay them up front for the use of their vehicle (which chews more fuel than a Boeing 747 per mile...by the way), but when it comes to them repaying you your money they don't even return your call or refund your money in the time frame stated!
There are better options to rent a camper van than going through Apollo/Hippie Campers!
1

Service
4

Mechanical
4

Interior
4

Value
1 Review
We rented the Hippie camper through a german company which was defintely worth it and very helpful. (bestcamper)
We had the car for 28 days from sydney to cairns.
The first thing which we realized was that the pick up station was not very central rather outside of sydney.
The staff was very nice and helpful on the pick up station.

We gave hippie camper (apollo) only one star because it was our worsest car renting experience ever. Hippie camper doesnt freeze the money (deposit) like anywhere else in the world they charge your credit card which means lots of fees to pay. (not if you take the most expensive insurance) Its not possible to pay the deposit cash. Than we got our deposit 4 weeks later back. The deposit is 2500 dollar which is really high. We had to write them.
On the first 5 days we had many issues with the car. Ok, it always can happen but the reaction was not very helpful. Sometimes after lots of passion you may get a good person who can help you. They seemed to be overhelmed. They could not really help us and we were calling the company every day (5 days). That was very stressfull and costs money for us too.

advantages:
- very comfortable bed
- kitchen area was very good
- clean
- fridge was very good
- light in the car (second battery)
- lots of stuff (sleeping bags, cooking gear, towels for free

disadvantages:
- bed was to high you couldnt sit inside)
- many technical problems
- gas bottle price too high
- insurance doesnt cover everything
- 14 Liter - 100 km (need much petrol)
3

Service
4

Mechanical
4

Interior
3

Value
1 Review
Ver rented a deluxe Hippie camper in March. And the experience was quite poor.
I had read many negative reviews but thought they must just have had bad luck... But after having had a car with a faulty battery for 5 days, a return guy that couldn't care less about our problems during the rental in Melbourne, and a refund that took over 1 month!!! I have the confirmation that Hippie Camper not the best choice if I ever have to book or recommend a camper in AU or NZ.
2

Service
3

Mechanical
3

Interior
3

Value