Australia
Editors Review
Last Updated: 8/22/19
If you owe yourself, your partner, and your family a budget holiday in Adelaide, Ozzie Travellers can give you a nice favor with their limited fleet of campervans and 4WD options.
About Ozzie Travellers
Founded in 2014, Ozzie Travellers is conveniently located in Bowden, Adelaide. The budget-based company pretty acts as an all-in-one shop for your camper needs, from sales to rentals to conversions. Since some vehicles are kept on their site for quite some time, they allow these to be rented, together with some rooftop tents. Offering various services, this makes Ozzie Travellers quite unique among all other campervan hires in the area.
Fleet
There are two options offered in the Ozzie Travellers fleet―the classic campervan and the adventurous 4x4. Both models have simple, white-washed exteriors, this means you get to enjoy your holiday discreetly. If you want comfort and ease while travelling with your partner, the campervan can do you good with its extra storage capacity, comfy sleeping space, and a nice little kitchen. But if you're the daring type, then the 4x4 model might suit you well.
Vehicles
4x4 Hire
The 4x4 camper is your practical option if you are travelling with a group of 4 or 5 people. This sturdy grey unit allows you to explore some outback landscapes comfortably. The 4x4 rooftop tent with a mattress easily setups to provide a room for two. Remaining passengers may sleep on an extra ground tent. This 4x4 model has lots of storage areas inside so that you can bring all your outdoor equipment.
Campervan
A classic holiday option, this 2 berth campervan is the easiest way to explore Australia with no frills attached. The unit is like your usual go-to unit with some extra capacity and extra essentials to assure that you enjoy your holiday. No need to shift things because you are provided with the basics—rear bed, little kitchen, power connections, water storage, and the like. Also, the unit is equipped with a solar panel that charges the auxiliary battery for non-stop comfort and convenience.
Insurance
For the insurance excess and reduction options, it is best that you coordinate with the company upon rental inquiry.
Reputation
Ozzie Travellers is a small multi-purpose campervan business in Bowden, Adelaide. Their location is good, which provides convenient pickup and drop-offs. Aside from rental, they have campervan conversion and sales. Their campervan rental may not be that popular but they can be a decent choice if you run out of options. Plus, you can enjoy more personalized service with them at a budget-friendly rate.
Summary
Ozzie Travellers allows you to maximize your budget while having a spectacular 'Ozzie' holiday. Their classic campervans and adventurous 4x4 units are good for couples and small families.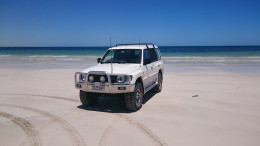 From the Agency
No word from this agency yet. Come back and see if they checked in soon.
Pros
Small and more personalized service
Convenient branch location
Budget-friendly
Cons
Limited campervan and 4x4 options
Not that popular
See who else rents Campervans in the same cities
Instant Price Comparison
Just Got Questions? Want a Quote direct from the company?
Fill in this form to contact the Agency direct.
Write Your Own Review
Tell the world about your experience renting from this company
Have you experienced Ozzie Travellers?
Be the first to leave them a review and help others on their journey.