Australia
Editors Review
Last Updated: 8/9/19
Not your ordinary fleet, you will surely experience a step back time without breaking the bank with Retro Campervans. Travel the scenic Australian open roads with your reliable vintage Volkswagen or classical Kombi.
About
At Retro Campervans, they offer a rather unique fleet―a compilation of exclusively classical models of Kombi, Volkswagen, Beatle, and mid-ranged Mitsubishi Express. The antique style will seriously lure those with retro hearts. What's more fascinating with the vintage fleet, especially the Kombis, are the large-scaled windows and pop-out roofs that provide panoramic scenery of the Australian countryside. And you actually don't need to spend heaps of money to experience a vintage road trip because most units are rented out at affordable rates. Aside from their main branch in Byron Bay, the have new drop off areas―Ballina Airport, Brisbane Airport, and Gold Coast airport.

Fleet
Solo travellers or couples will appreciate the selection of classical models, starting from the Classic Kombis to the VW Campervans. Aside from their campervans, they also have classic cars and buses―VW Beetle and VW Mini Bus. All their units for rent are old models, hence extended patience is a must. And of course, the economical price comes with certain downers. You need to personally bring your own blanket, duvet, pillows, cutlery, knives, camping table, and chairs. Most units can sleep up to two to three persons only, so it might be a huge disappointment for larger groups.
Vehicles
Lily
Let's start with their Classic Kombis. Welcoming the fleet is Lily, a 1977 dormobile bay window kombi that fits in 4 people. 2 adults can sleep on the fold-down bench that converts into a double bed while the kids can relax on the bunk beds above.
Bettsy

The second camper from their Classic Kombi range is Bettsy, which is a 1974 Kombi T2 restored in 2014. This 2-3 berth is customized to have a fold-down bench and a roll-out bunk bed above. Technically, this is the same as Lily, except for the age model, sleeping arrangement, and exterior design. Instead of sleeping 2 persons on the bunk bed, it only caters one. So, for those with a kid under 60 kg, the Bettsy is a good option.
The Colonel

This bright yellow campervan is a nice pop-top VW Kombi T2, which also seats 4 but sleeps up to 3. The Colonel and Bettsy are quite identical, sleeping 2 persons on the convertible double bed and 1 on the bunk bed. Equipped with a camping stove, fridge, water supply, and cutlery, the unit has almost everything you need―except for a shower and toilet. This vehicle is ideal for exploring around Byron Bay within 300 km radius.
Bob
Right after the Classic Kombi category, let's move to their VW campervan through its 2-3 berth Bob. Built on a 1985 T3 model, this campervan features a Subaru engine. Surprisingly, this is an automatic model, so no need to switch gears frequently. Some of the campervan inclusions are 230v cables, second battery system, 20L water capacity, and CD player.
Mitsu
Another category is their Surf Van, which is bannered by their Mitsu vehicle, a 2007 model that fits in 2 people. This small yet well-equipped camper comes with standard camping necessities, including a modifiable rear area, compact kitchen area, and roof rack. Even with its compact layout, the unit has enough storage space for your stuff.
Insurance
The liability/ security bond amounts to $3,300 ($3,850 for driver's 21 to 24 years old). You can reduce the amount by paying in advance their reduced damage liability fee. Take note that windscreen damage is not part of the insurance. Windscreen chip is charged at $60 each, with more than 3 chips resulting in a windscreen replacement amounting to $300.
Reputation
Retro Campervans offers you something unconventional. Instead of standard campers and motorhomes, they rent out vintage vehicles customized into compact, classical sleeping units. But of course, something to consider when renting from them is the age of the vehicles. Since they are all about retro campervans, you really can't expect for a seamless unit with no visible wear and tear features and even issues. And always take note, these units are far more traditional than the fast-paced vehicles on the road, so you may need extended patience to fully admire your one of a kind trip. On a positive note, their campervans are economically-priced and are well-equipped with standard amenities.
Summary
Retro Campervans focuses on travellers who would want to have a slow kind of adventure in a compact and equipped camper. So, if you're travelling in Byron Bay, then their vintage vehicles are worth-seeing.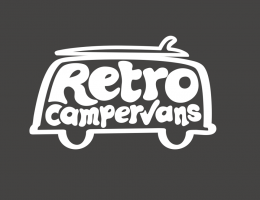 From the Agency
No word from this agency yet. Come back and see if they checked in soon.
Pros
Classical yet convenient ambiance
Affordable rates
Great vintage option for solo backpackers, couples, or small families
Cons
Not good for large groups
Not suitable for fancy travellers
See who else rents Campervans in the same cities
Instant Price Comparison
Just Got Questions? Want a Quote direct from the company?
Fill in this form to contact the Agency direct.
Write Your Own Review
Tell the world about your experience renting from this company
Have you experienced Retro Campervans?
Be the first to leave them a review and help others on their journey.