New Zealand
Editors Review
Last Updated: 9/11/19
Ara Rentals is a budget campervan rental service offering 2-3 berth campervans. They pride themselves in offering a very low-cost alternative to motorhomes and other campervans in New Zealand. They are a small family business, where you can expect friendly, efficient customer service.
About Ara Rentals
Based in Christchurch, Ara Rentals has been a family-owned and operated company since 1995. This small campervan hire has always been a budget-oriented company. They only have one branch located in Belfast, Christchurch, they allow one way and return hires between Christchurch and Auckland airports with no relocation charges. Furthermore, they offer free transfers between the airport, during the day of hire and day of return, within their office hours. And if you want to explore the country without breaking the rules, then don't miss to know the freedom camping rules beforehand. For all of the no-frills touting and the economical angle at which Ara markets their fleet, they actually do provide quite a bit of extra that is included in the rental price.
Fleet
The fleet consists of 2+3 berth campervans that are economical and simple to drive. The campervans are available in two models—the ARA2 and the ARA3—and are branded by Toyota, Nissan, and similar manufacturers. Because the focus is on the economy, the fleet is a bit long in the tooth, ranging from 1995 to 2000 models. This age, however, does not mean they are beaters. They are well-maintained and frequently serviced to assure a reliable rental (this, plus roadside assistance, is rather reassuring).
Some of the inclusive extras are very handy to have, too—such as area maps and brochures, deck chairs, pots and pans, sheets, towels, pillows, sleeping bags and duvet (doona), bowls, and buckets. Plus, there are a few optional add-ons that cost cheaper but are harder to get with other economy rentals, such as DVD players, baby seats, and chemical toilets.
Vehicles
ARA2
The ARA2 models are 1995-1997 manual models that sleep two and provide facilities including fridge, 2/3 burner gas hob, microwave, air-con, hot and cold water, shower, cassette toilet, and more. You can choose either two single beds or one double bed, but both already come with bedding. This high-top model gives extra space for stretching and even standing up inside the unit. Hence, if you're a couple looking for a self-contained unit with enough space, this one is a decent choice.
ARA3
Built on 1999-2000 models, ARA3 are dubbed to be budget family campervans that accommodate 2 adults and 1 child. It's equipped with all the family essentials, from a fully-furnished kitchen to a large sleeping space. Just take note that this one does not provide an onboard shower and toilet. That is why you are required to rent the portable chemical toilets at NZ $25.00 per hire. But because of that, you'll have heaps of storage areas for your stuff.
Insurance
Ara Rentals comes with mandatory insurance of $20/ day for a standard excess/bond amounting to NZ $2,500. On top of the required daily rate, you have the option to reduce the excess/ bond by paying an extra amount. Payment of NZ $10/day reduces the liability to NZ $1,000 and NZ $16/day to NZ $500. The mandatory insurance is quite surprising, though it's reasonable because of the cheaper standard excess.
Reputation
Ara has a good reputation for offering reliable transportation on the cheap. They are upfront about all charges, insurance, and what's covered by the minimum mandatory legal insurance, and how much the driver will be responsible for in the case of repairs being required. And if you do run into some damage, the reputation for handling such matters is not what you'd expect from a "small" family business. Perhaps it's because they are so upfront about what they will and will not cover, and are forthright about what you're expected to pay in the event of a mishap. They have a reputation for basics—simplicity—and that's exactly what you get.
Summary
This company is a small, straight-forward, family-owned and operated business that provides very basic campervans at a good price. They are extremely budget-friendly and market to the low-budget, money-conscious crowd. Luckily, they do provide quite a bit of extra with their service, which makes up for the bare necessities feel of the rental. Ultimately, you will get just a little bit more than what you pay for with the majority of the fleet, and, should you encounter any problems, you will receive the assistance you need from this family-oriented company.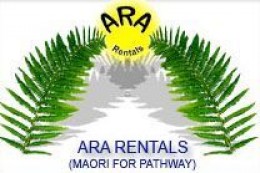 From the Agency
No word from this agency yet. Come back and see if they checked in soon.
Pros
Budget-friendly
Personalized rental
Free transfers between airports
Cons
Only one depot
Older vehicles
Just two rental options
See who else rents Campervans in the same cities
Instant Price Comparison
Just Got Questions? Want a Quote direct from the company?
Fill in this form to contact the Agency direct.
Write Your Own Review
Tell the world about your experience renting from this company
1 Review
"
Don't rent from ARA

"

Here is my explanation why ARA Rentals deserves 2/10 and you should not ever rent a vehicle from them:

1. Before I arrived in NZ, the owner did not respond to my email where I requested a copy of the terms of the "mandatory" insurance policy. The insurance policy was expensive, and did not provide as much coverage as a third party insurer would have covered for less money. Had he provided it, I would have insured myself from another insurance company.

2. On my first night, I discovered the van had leaks in the rain. One of them was through the back doors, and water fell directly on the bed.

3. On the third night, I had mice in my van. This occurred anytime I was camped near a beech forest, which was almost every night. I had many sleepless nights where I constantly had to remove mice from the van.

4. The windows did not open properly. Windows are important when you live in a van and cook food inside.

5. The van constantly had "warning" lights turning on and off. The owner told me when I rented the van to ignore them. What he didn't tell me, is that when a warning light is on, the van will not perform well at simple tasks, like going up hills.

6. The owner told me to drop off the van at the wrong location. As a result of his mistake, he almost made me miss my flight home, as the other location was over 30 minutes drive from the location he instructed me.

7. I caused some minor damage to the van. The owner told me it would cost approximately $300 when I dropped it off. He charged me over $600. He did not provide any receipts proving the repairs were made, but he did provide phoney quotations of repair estimates. I challenged this with my credit card company, and the owner refused to provide any additional information to them.

In short - New Zealand is awesome. Camping in New Zealand is really awesome. ARA Rentals is terrible. Spend your money elsewhere, and enjoy your time in New Zealand.

1

Service

3

Mechanical

2

Interior

1

Value
1 Review
"
Small company fantastic service

"

Although this is a small family owned business the service and campervan was outstanding. From being picked up at the airport to the friendly tips on making the most of our stay was first class. Forget the big rental companies book direct with ara and you will not be dissapointed

5

Service

5

Mechanical

5

Interior

5

Value