New Zealand
Editors Review
Ascot rental cars is a small car rental company with branches in New Zealand and Australia. They have limited campervan hire options as their focus is really on cars, but seeing as they do offer campervan hire they have made it to this list. Their campervans cater for 2/3 berth clientele on a budget.
Cars Offered by Ascot Rental cars
With nine options to choose from, this company has a large fleet of cars but it seems that most of their vehicles are small vans and saloon cars, so if you are looking for a campervan rental company with a huge selection of campervans to compare, Ascot rental cars is not one of them.
Fleet
They offer 2 types of campervans, deluxe sleeper van, and Standard sleeper van. Other vehicle includes; medium station wagons, Hatchbacks, large sedans and 8 seater coach.
2/3 Berth Standard Sleeper Van
This van is one of the cheapest options offered by Ascot rental cars. For as low as $25 per day, you can hire this small van and still enjoy your holiday in New Zealand with comfort. The van features a 2 burner cooker, Air-conditioning, Pillows & towels, Chilly bin, Table & chairs, awning, Extras include; gas heater, 12v fridge, 240v power code, electric heater & beddings. One of the drawbacks about this van is space; you will have to organize and arrange everything in order to cater for the sleeping bed and kitchen. The van seats can be converted into a bed that can sleep a maximum of 3 people. When the bed is constructed, the kitchen area is eliminated and this means you will have to prepare your meals before you sleep. But overall, this van is a great deal for anyone who wants to enjoy his or her holiday on a small budget.
2/3 Berth Deluxe Sleeper Van
The deluxe sleeper van is the second campervan hire option offered by this company. It's a bit more expensive than the standard sleeper van ($43 per day) and the most noticeable difference is space and size. The extra space on this van caters for a 40lt fresh water tank, bigger fridge, portable toilet, tap and sink unit (which are missing in the standard van). Other features include; 2-burner cooker, all cooking and eating equipment, towels, pillows and full beddings, 240V /12V power and gas for cooking, quick-erect toilet tent, Outside shade awning, chairs, and tables. One of the greatest advantages of the deluxe sleeper van is the height. The other van has a "low" roof so you won't be able to stand upright while in the van. This might not seem like a big difference but after some few days, you will not like the back pain brought by constant bending over in the standard sleeper van. Generally, the deluxe van is quite spacious, so you won't feel so squeezed when traveling on it.
Reputation
Ascot rental cars is a small well-established company and most of its cars are always in good condition before being hired to clients. The most critical aspect of this company is the time they take to refund your deposit. Most car rental companies will take a deposit/bond of about $200 to $400 depending on the value of the car been hired. This amount is refunded in approximately 4 to 10 working days if the car is returned in good condition (still a long time but manageable). Ascot doesn't seem to keep its promise and be prepared for delays with your deposit. Beside this, other services offered by the company are good.
Fees and charges
Ascot car hire fees seem to change according to the numbers of days you want to hire and current season. The more days you pick, the less you will pay for a particular vehicle. High rates normally come during summer peak seasons and spring. Cheapest rates are in autumn or winter season.
2/3 Berth Standard Sleeper Van hire price (per day)
5-6 days at $35 during winter/autumn and $80 during summer or peak seasons.
28+ days at $25 during winter and $63 during summer or peak seasons
2/3 Berth Deluxe Sleeper Van hire price (per day)
5-6 days at $50 during winter/autumn and $98 during summer or peak seasons.
28+ days at $43 during winter and $85 during summer or peak seasons
Other vehicles (per day)
8 seater coach from $49.
Medium Sedans from $32.
Hatchbacks from $28.
6/7 Seater Station Wagon from $47.
Large Sedans – Backpacker from $34.
Summary
If you are looking for a budget car rental company in New Zealand, Ascot Rentals Cars should be on your list. The company provides reliable and affordable cars for all to enjoy.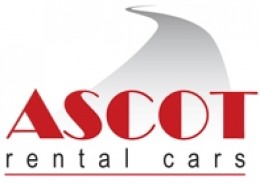 From the Agency
No word from this agency yet. Come back and see if they checked in soon.
Pros
Portable toilet with deluxe version
Cheap prices
Good car choice
Cons
Few campervans stocked
Focus in on cars
Older campers
See who else rents Campervans in the same cities
Instant Price Comparison
Just Got Questions? Want a Quote direct from the company?
Fill in this form to contact the Agency direct.
Write Your Own Review
Tell the world about your experience renting from this company
Have you experienced Ascot Rentals?
Be the first to leave them a review and help others on their journey.