New Zealand
Editors Review
Update: We suspect that Go Wild has closed its doors. We are checking in to it.
With two types of campervans, Go Wild Campervan Rentals has depots in Auckland and Christchurch. Go Wild readily admits that their vans aren't newer models – they even say that customers looking for "The Hilton" of vans should look elsewhere – but they tout clean, comfortable vans at affordable prices. The company got started in 2009 after it took over an existing fleet.
Fleet
Go Wild Campervan Rentals offers two types of vans: the two-berth high top and a two-berth sleeper van. A closer look at the fleet includes:
* 2-berth high top campervans: Most vehicles sleep two adults (some sleep three) and seats three (some seat five). The vehicles are 1991 to 1996 Ford Econovans, with a manual gearbox. Features include towels, linens, sheets and pillows; duvet or sleeping bags; cooking utensils and crockery and cutlery; AM/FM radio and CD player; storage space; sink; hot and cold water; gas stove; refrigerator; dual battery system, and; a power hook-up point.
* 2-berth Elgrand sleeper vans: Go Wild Campervan Rentals says the Elgrand campervan drives like a car. The models are a 1999 to 2000 Nissan Elgrand, with automatic transmission; air conditioning; electric windows; dual air bags; roof rack, and; a stereo that's equipped with an iPod/MP3 adaptor. The vehicle also comes with 24/7 roadside assistance. Standard equipment includes bedding/towels; two chairs and a picnic table; gas stove; washing bowl; chilly bin; cutlery and kitchen items (chopping board, kettle, frying pan, crockery and saucepans). This is clearly the luxury version of the 2.
Insurance
The insurance bond is NZ$2,500; add an additional 25% for drivers age 25 and younger. Customers, though, can reduce their bond with trips that last seven days or longer.
Extras
The vehicle comes equipped with most things you need however, there are a variety of options, for a small fee. Some of the more popular extras include: picnic table and two chairs (NZ$25); child seats (NZ$30); GPS (NZ$45); extra bedding (NZ$25 per person); tent (NZ$45), bikes (NZ$10 per day; minimum of 10 days); inflatable canoe (NZ$65); solar shower (NZ$15); mobile phone (NZ$45 plus calling charges); sunshade/awning (NZ$35), and; portable cooking stove (NZ$20). If you are getting chairs, ask to see them first. Cheap chairs are often tatty and you can find better ones for almost the same price in a camping store.
Depots
Go Wild has depots that service Nelson/Picton, Auckland and Christchurch. The Aukland depot is 10 minutes from the airport, with airport pickup available. The Christchurch depot is 15 minutes from the airport.
Reviews
The reviews were somewhat mixed. Overall, Go Wild Campervan Rentals' reviews were good. But a few negative reviews dropped its score to only 59/100
* The good: Customers liked the price and how well the vans operated, despite the age of some of the vehicles. Go Wild also got high marks for its customer service and the overall cleanliness and condition of the vehicles. And several reviewers raved about the low rental costs.
* The bad: It appears that people either love or loathe Go Wild Campervan Rentals. On a scale of 1-10 (1 being the lowest), a couple of former customers gave the company a 1. One of those reviews said a number of items broke down, from the refrigerator to the stereos, the wheels were out of balance, the windows wouldn't close and some items that were supposed to be included or standard were missing. They also had complaints about the customer service. Another reviewer called the vehicles "expensive and outdated," while another reviewer had troubles with the condition of the car, including the engine. It appears, though, that those are relatively isolated cases, with most customers raving about the condition of the vehicles and the customer service.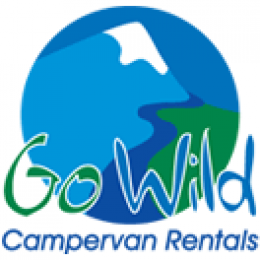 From the Agency
No word from this agency yet. Come back and see if they checked in soon.
Pros
Cheap
good optional extras
Cons
Older models
Limited selection
Limited branches
See who else rents Campervans in the same cities
Instant Price Comparison
Just Got Questions? Want a Quote direct from the company?
Fill in this form to contact the Agency direct.
Write Your Own Review
Tell the world about your experience renting from this company
Have you experienced Go Wild Campervan Rentals?
Be the first to leave them a review and help others on their journey.