New Zealand
Editors Review
McRent, Europe's largest motorhome rental company, has now expanded to New Zealand, offering 2 to 6 berth motorhomes at NZ's two popular locations — Auckland and Christchurch.
About McRent New Zealand
The European motorhome rental market is dominated by the biggest competitor on hand— McRent - now McRent has expanded its offerings to New Zealand. Its notable reputation could be a positive factor in this crowded campervan and motorhome rental market. Mcrent chose the two most visited cities of New Zealand to set up in, Auckland and Christchurch, and if you're undecided between the North and South islands, don't worry because the company offers one-way rentals for your convenience.
Renting a motorhome from Mcrent does not mean spending all your riches in just one holiday. They provide different choices for different travelers, which means it caters to everyone in the market, from budget backpackers down to high-end travellers.
Fleet
All McRent motorhomes are not older than 2 years, so wear and tear is not a problem at all. These vehicles are usually from Erwin Hymer Group, which are well-maintained and in top condition. Most motorhomes come with convertible seats to provide more spacious beds. For instance, the alcove motorhome provides 2 built-in beds above the driver's cab, 2 in the rear and another 2 from the convertible seats— but just take note that only 4 can still travel in the vehicle because of the number of seat-belts attached. The motorhomes have almost everything on board, from a fully-equipped kitchen to some generous extras like awning and bicycle rack.
And, they might allow you to bring your furry pets during your road trip. Taking along domestic animals is subject to the approval of the direct depot, and if this is allowed, of course, a higher degree of cleanliness is required.
Vehicles
Compact Plus
The Compact Plus is suitable for small families as it can sleep up to 2 adults and one child. This may be the cheapest option in the fleet (though quite pricey compared to other competitors), the motorhome already includes awning, bicycle rack, water hose, WC chemicals and more. Though design for three only, the interior is still very spacious with two fitted beds.
Family Standard

If you're travelling with a larger group, there's the Family Standard, featuring 4 seats and 4 beds— two single beds at the rears and two at the headroom of the driver's seat. There is no notable difference with the prior motorhome, except the size and load capacity.
Family Plus
This 6-berth motorhome provides the needed space and style for bigger families. The alcove model caters up to six, making it convenient for the whole family. There's one double bed at the rear, two beds at the headroom and two from the convertible seats in the living quarters. The converted sleeping area for two gives a lot of added space for walking around.
Family Luxury

Another choice in the 6-berth category is the Family Luxury. Well, from the name itself, this motorhome exudes more elegance and space. Aside from the higher price compared to the Family Plus, this vehicle is fitted out for a slightly fancy road trip for the family.
Comfort Standard

Ideal for couples in need of a luxury holiday on the road, the Comfort Standard comes with one queen-sized bed. However, the vehicle provides up to 4 seat-belts, which means that you can bring some extra passengers. But, of course, your sleeping space might get limited. One thing that makes this motorhome different from others in the fleet is its internal access, giving comfort from driving to resting in the living area.
Insurance
The renter is liable for the first $7,500 insurance excess but can be reduced if you take one of liability reduction options: $39/day to limit the excess to $1,000 or $69/day to limit it to $500.
Reputation
With several branches all over Europe, McRent New Zealand could be something to consider if you want to hire a motorhome from a company with a reputation already. This newest addition of the McRent company is a nice aspect to their growing business. But, since their branch in New Zealand is just a recent venture, it's also a factor that should be taken into account.
Summary
Still, McRent New Zealand, as a whole, is a good company with reliable services and newer vehicles on the fleet. The rates may not be that very affordable for budget travellers, but the years in the industry is a slight charm.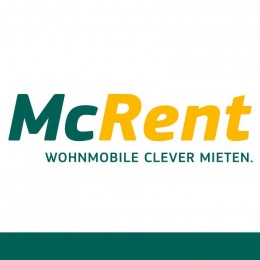 From the Agency
No word from this agency yet. Come back and see if they checked in soon.
Pros
Lot of branches all over Europe
New motorhomes on fleet
Pet-friendly
Cons
With only two depots in NZ
Quite pricey
Recent branch out
See who else rents Campervans in the same cities
Instant Price Comparison
Just Got Questions? Want a Quote direct from the company?
Fill in this form to contact the Agency direct.
Write Your Own Review
Tell the world about your experience renting from this company
, Israel
1 Review
"
Do not hire!

"

We hired a caravan from MCRent Christchurch and traveled with it for twi weeks. On our way a rock from the road broke our windshield and we made a small hole in the table by accident. We were more then wiling to pay the damage but when we got to their office they decided to charge us for the illogical price of 920 NZ dollars for the windshield (and they probably have insurance to pay for that kind of damage and) and 1265 NZ dollars for the tiniest hole in the table which obviously they can repair just by replacing the upper wood layer for no more then 200 dollars. After we told them it's too much the women in the office gave us the phone of the manager. We tried to call him repeatedly and email him but he did not answer and all we got is emails from one of his workers who avantually just stoped responding. Their customer service is almost non existing, we had a problem with the water pump in the middle of the trip which wasn't our fault and we had to wait 2 days in Wanaka and delay our trip until we got someone to fix it and we had to speak with the plumber ourselves And drive to his house because they were handling it like we had 3 month in New Zealand.
They took edvantage of the fact that we had to fly home and had no time to handle it. Overall very poor choice of caravan company! Be careful

1

Service

1

Mechanical

1

Interior

1

Value
1 Review
"
Review of my Mcrent-New-Zealand hire

"

New campervan. In perfect condition.

5

Service

5

Mechanical

5

Interior

4

Value
1 Review
"
Do not rent with Mcrent Christchurch

"

After they have your money, you receive no service at all. And you can not call or reach anybody. The bosses in Germany decide everything and they do not listen to customers or their problems. Everything is the fault of the customer and they make no mistakes according to Mcrent Germany.

2

Service

4

Mechanical

5

Interior

2

Value