New Zealand
Editors Review
Last Updated: 8/2/19
The expansion of McRent to New Zealand is continuous as they offer new motorhomes for hire―Urban Plus and Comfort Plus. These two modern add-ons are meant for smaller families from 3 to 4.
Urban Plus

A new 2 berth camper welcomes McRent's NZ fleet. These are compact and practical units designed for two adventurers looking for a simple yet comfortable place to sleep. Both driver and passenger seats are swivel chairs so you can easily jump from focusing on the road to lazing around with a cup of coffee. Another lazy spot inside the camper is the rear, where you can find the doubled bed with underneath storage.
Comfort Plus

Intended for up to 4 persons, the Comfort Plus still leaves enough space for moving around―hence the name! You've got two bed options here―from the rear double bed or from the front pull-down bed. Both kitchen and bathroom are located in the middle for a roomier interior.
Continue reading to know more about McRent NZ.
---
McRent, Europe's largest motorhome rental company, has now expanded to New Zealand, offering 2 to 6 berth motorhomes at NZ's two popular locations—Auckland and Christchurch.
About McRent New Zealand
The European motorhome rental market is dominated by the biggest competitor on hand—McRent. Now, McRent has expanded its offerings to New Zealand. Its notable reputation could be a positive factor in this crowded campervan and motorhome rental market. Mcrent chose the two most visited cities of New Zealand to set up in, Auckland and Christchurch, and if you're undecided between the North and South islands, don't worry because the company offers one-way rentals for your convenience. And before you hit the road, take time to utilize this NZ freedom camping tool that gives you specific freedom camping tools per NZ district.
Renting a motorhome from Mcrent does not mean spending all your riches in just one holiday. They provide different choices for different travelers, which means it caters to everyone in the market, from budget backpackers down to high-end travellers.
Fleet
All McRent motorhomes are not older than 2 years, so wear and tear is not a problem at all. These vehicles are usually from Erwin Hymer Group, which are well-maintained and in top condition. Most motorhomes come with convertible seats to provide more spacious beds. For instance, the alcove motorhome provides 2 built-in beds above the driver's cab, 2 in the rear and another 2 from the convertible seats—but just take note that only 4 can still travel in the vehicle because of the number of seat-belts attached. The motorhomes have almost everything on board, from a fully-equipped kitchen to some generous extras like awning and bicycle rack.
Vehicles
Compact Plus
The Compact Plus is suitable for small families as it can sleep up to 2 adults and one child. This may be the cheapest option in the fleet (though quite pricey compared to other competitors), the motorhome already includes awning, bicycle rack, water hose, WC chemicals and more. Though design for three only, the interior is still very spacious with two fitted beds.
Family Standard

If you're travelling with a larger group, there's the Family Standard, featuring 4 seats and 4 beds—two single beds at the rears and two at the headroom of the driver's seat. There is no notable difference with the prior motorhome, except the size and load capacity.
Family Plus
This 6-berth motorhome provides the needed space and style for bigger families. The alcove model caters up to six, making it convenient for the whole family. There's one double bed at the rear, two beds at the headroom and two from the convertible seats in the living quarters. The converted sleeping area for two gives a lot of added space for walking around.
Family Luxury

Another choice in the 6-berth category is Family Luxury. Well, from the name itself, this motorhome exudes more elegance and space. Aside from the higher price compared to the Family Plus, this vehicle is fitted out for a slightly fancy road trip for the family.
Comfort Standard

Ideal for couples in need of a luxury holiday on the road, the Comfort Standard comes with one queen-sized bed. However, the vehicle provides up to 4 seat-belts, which means that you can bring some extra passengers. But, of course, your sleeping space might get limited. One thing that makes this motorhome different from others in the fleet is its internal access, giving comfort from driving to resting in the living area.
Insurance
The renter is liable for the first $7,500 insurance excess but can be reduced if you take one of liability reduction options: $39/day to limit the excess to $1,000 or $69/day to limit it to $500.
Reputation
With several branches all over Europe, McRent New Zealand could be something to consider if you want to hire a motorhome from a company with a reputation already. This newest addition of the McRent company is a nice aspect to their growing business. But, since their branch in New Zealand is just a recent venture, it's also a factor that should be taken into account. Further, their reviews are not all flawless feedback, with some issues about failed customer service and mechanical quality. Still, they are very apologetic and responded to each negative review, unlike other companies.
Summary
Still, McRent New Zealand, as a whole, is a good company with reliable services and newer vehicles on the fleet. The rates may not be that very affordable for budget travellers, but the years in the industry is a slight charm.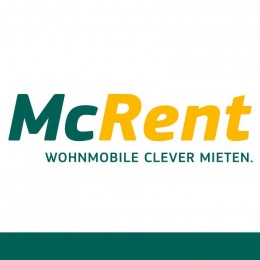 From the Agency
We are so thrilled to have opened our doors in New Zealand. Since we started operating in 2017, most of our fleet is only used for one season. We aim to exchange the majority of our fleet with new vehicles each year to keep them in great shape. But vehicles alone are nothing without being accompanied by great service. We are working every day at getting better at what we do, and I promise you this will never stop. We have a highly committed and customer-service focused team available in Christchurch with Oliver & Isabel and Shacky & Claudia in Auckland. We have our hearts in the right place and care for your happiness and satisfaction. We have put lots of work into process improvements this season to improve on the first year. If you are looking to book a unique and comfortable New Zealand Campervan Holiday off the beaten track, then get in touch. We would love to hear from you.
Pros
A lot of branches all over Europe
New motorhomes on fleet
Caters to small to big groups
Cons
Only two depots in NZ
Quite pricey
See who else rents Campervans in the same cities
Instant Price Comparison
Just Got Questions? Want a Quote direct from the company?
Fill in this form to contact the Agency direct.
Write Your Own Review
Tell the world about your experience renting from this company
1 Review
"
McRent customer experience

"

The camper lived up to all expectations. The experience with staff, from booking, to pick-up, contact during the trip, and drop-off has been professional, with a pleasant friendly familiarity.

5

Service

5

Mechanical

5

Interior

5

Value
1 Review
"
Uwe and Sabine from Germany in the Urban Plus campervan

"

18/04/2020
Die Zusammenarbeit mit MC Rent war vom ersten Kontakt mit Claudia Schoushoff in Auckland super. Die Übernahme in Christchurch war perfekt organisiert und die Dame in der Station überaus freundlich. Unser Camper war ein fast neuwertiger 6,40 m Kastenwagen Fiat Ducato der Fa. Sunlight mit Doppelbett. Wir hatten den Camper 8 Wochen von Mitte Dezember bis Mitte Februar. Sind 6500 km gefahren und waren auf der Süd- und dann auf der Nordinsel. Neuseeland ist ein Traum und die 8 Wochen waren eine der schönsten Reisen, die wir je gemacht haben!!! Der Camper funktionierte einwandfrei und war sehr gut ausgestattet. Kühlschrank, 2 Flammenkocher, TV mit Satschüssel, Toilette, Dusche, Internet, Solar, Campingmöbel, Navi und auch Bettzeug und Handtücher waren ausreichend an Bord. Besser geht es nicht. Nach 8 Wochen haben wir den Camper dann in der Nähe des Airport Auckland an Claudia zurückgegeben. Auch diese Aktion verlief sehr entspannt und freundlich. Wir möchten uns an dieser Stelle beim Team von MC Rent sehr herzlich bedanken und können diese Vermietstation von ganzen Herzen weiterempfehlen. 5 Sterne !!! Uwe & Sabine Fredersdorf - Deutschland

5

Service

5

Mechanical

5

Interior

5

Value
1 Review
"
Fantastic experience!

"

It was all great, fantastic experience with McRent!
We had a wonderful vacations, the motorvan and the staff were incredible!
Thank you!

5

Service

5

Mechanical

5

Interior

5

Value
1 Review
"
Good rental company

"

Super friendly and helpful in problem cases. Fair prices/fees if there are damages caused by the renter! We'll defenitely rent again by McRent!

5

Service

5

Mechanical

5

Interior

5

Value

2 Review
"
I have permission to post the following review from our lovely customer Heikki who travelled with us over New Year's

"

"We spent two wonderful weeks in NZ travelling with Mc Rent Dethleff motorhome. The car was brand new and of course very tidy. We have not travelled with motorhome earlier but found this motorhome very versatile, handy and easy to operate. There was surprisingly much space, even toilet, shower and toilet were completely usable. We were planning to spend some nights in hotels but ended up to spend every night in this motorhome.

When looking at some other people with cheaper campervans in the camping ground, I was very happy that we selected this more expensive solution.

The instructions when we received the motorhome were very good. We only had a small issue during these two weeks and we got very clear instruction how to solve it.

I can recommend McRent"

5

Service

5

Mechanical

5

Interior

5

Value
1 Review
"
Outstanding campervan rental experience 2019

"

We very much appreciated the great camper van rental experience with McRent in New Zealand. Claudia, the German Sales Manager, in Auckland already helped us before our arrival to get the right campervan for our 2,5 months travel time with our 1 year old son. From her own experience we learnt how to create a safe sleeping environment for our baby. We also received great travel tipps from McRent regarding campground, travel route and magnificent roads.
Picking up the campervan and returning it worked out extremely easy, efficient, fair and with lots of personnel support and time for our questions. Since McRent just expanded their business in New Zealand we travelled in a brand-new campervan. Compared to many other rental campervans McRent offers a very high campervan standard and quality:
- great isolation so that we could spend the night in Sep-Nov without using a heater
- huge fridge and freezer
- huge and comfortable double bed
- lots of storage room

The McRent service we experienced was absolutely outstanding. We can highly recommend this company and would always rend there again.

5

Service

5

Mechanical

5

Interior

5

Value
1 Review
"
A excellent Campervan company with quality product

"

Fantastic! Excellent built quality and very clean too. McRent also provided all that's necessary for your holiday. Quality beddings, sufficient cooking and dining utensils. They don't overload unnecessary things like electric toasters and electric kettle to you. Communications with Claudia from the sales team was a breeze. Her years in this campervan rental comes thru the moment our first enquiry went out. Nothing was ever too much and all querries, doubts are laid to rest. Issues along the way during the rental was also promptly dealt with. No nightmares of equipment breakdown or doesn't work. Our 7+meters van was superbly easy to handle too. This is our 4th campervan trip in NZ, but our first with McRent. The experience with them is certainly not inferior to some of the bigger and premium names that we had previously used.
The sum it up. There are 2 main areas which we believe are very important to most campervan hirers. The campervan quality (both the van and the interior fixtures working as they are supposed to) and the communication with the company (especially when there are issues before or during the hire period). Both these areas are very well handled by McRent.

Keep up the good work Team McRent!

5

Service

5

Mechanical

5

Interior

5

Value
1 Review
"
NZ Rohr

"

Very Good experience with McRent Auckland

5

Service

5

Mechanical

5

Interior

5

Value
1 Review
"
Quality Camper Van and experience

"

The McRent team from first contact to drop off were very friendly, helpful and thoughtful. They helped me achieve a long term sporting goal (running 160 km around Mt Taranakai, New Plymouth) I required a support vehicle and they were more than accommodating and provided a four berth van. It was nearly new, clean, well appointed and drove like a dream. I cannot recommend McRent and the crew highly enough. Thank you

5

Service

5

Mechanical

5

Interior

5

Value
1 Review
"
Awesome country

"

We drive 4000 km in this beautiful country. The campervan was new e really perfect for us. Thanks a lot to McRent team for great support during the trip (some technical problems in early days solved really well). Hope to come back soon and we sure wil use the McRent services.

5

Service

5

Mechanical

5

Interior

5

Value
1 Review
"
You're beeing well taken care of

"

Very caring and friendly staff. You can't really compare McRent to Hertz, Avis etc. It's complete opposite.
Guys explain very well the responsibilities, give detailed tour of vehicle usage and are keen to resolve any troubles that might occur on the road. Great service!

5

Service

5

Mechanical

5

Interior

5

Value
1 Review
"
Gladly reccomend McRent Christchurch

"

Couldnt fault the staff or service. The Motorhome was clean and great to drive. We had a great holiday. The follow up service from McRent was great.

5

Service

5

Mechanical

5

Interior

5

Value
1 Review
"
Defleffs Trend Motorhome

"

Excellent staff service. The whole trip was a great experience. The vehicle performed well, and handled some steep terrain encountered at times well. Storage in the vehicle was excellent, with plenty of cupboard/locker space & the door between the cabin area & the toilet/shower/bedroom area worked well for all situations. Only complaint is that the windows were quite flimsy, even in light wind conditions, and the window stays didn't lock them in place very well. Overall a very enjoyable experience.

4

Service

4

Mechanical

3

Interior

4

Value

2 Review
"
Rudi and Maria's Review

"

We have been given permission to post the following review for our lovely customers Rudi and Maria from Germany. Thank you so much for having allowed us to help you with your Motorhome holiday

"Für unsere Reise in NZL wollten wir ein Wohnmobil, das wir - wenn es mal nicht so schönes Wetter geben sollte - nicht umbauen müssen. Mit dem Camper von McRent konnten wir dieses realisieren. Wir bekamen in Christchurch ein fast neues, sehr funktionelles, deutsches Wohnmobil mit 7 m Länge, das uns 3 1/2 Wochen nicht nur gut befördert sondern auch viel Freude gemacht hat. Die Rückgabe in Pokeno bei Auckland war ebenfalls angenehm und freundlich. Hervorzuheben ist, dass in beiden Stationen Unklarheiten auch in deutscher Sprache geklärt werden können. Wir sind mit McRent sehr zufrieden gewesen.

Rudi und Maria"

4

Service

4

Mechanical

4

Interior

4

Value
1 Review
"
A great time in a great camper

"

We got a pretty new camper with 8000 km. During our 2 1/2 weeks in New Zealand we had no problems with the vehicle.
The staff were friendly and helpful.
A larger rockfall on the windscreen was calculated acceptable.
In my opinion, a very good landlord.
Gladly again.

5

Service

5

Mechanical

5

Interior

4

Value
Hey Ingo - it was wonderful to have you travelling with us. I am so thrilled to hear you had a great time. Let us know once you are planning your next campervan adventure in New Zealand. We'd love to see you returning.
, Israel
1 Review
"
Do not hire!

"

We hired a caravan from MCRent Christchurch and traveled with it for twi weeks. On our way a rock from the road broke our windshield and we made a small hole in the table by accident. We were more then wiling to pay the damage but when we got to their office they decided to charge us for the illogical price of 920 NZ dollars for the windshield (and they probably have insurance to pay for that kind of damage and) and 1265 NZ dollars for the tiniest hole in the table which obviously they can repair just by replacing the upper wood layer for no more then 200 dollars. After we told them it's too much the women in the office gave us the phone of the manager. We tried to call him repeatedly and email him but he did not answer and all we got is emails from one of his workers who avantually just stoped responding. Their customer service is almost non existing, we had a problem with the water pump in the middle of the trip which wasn't our fault and we had to wait 2 days in Wanaka and delay our trip until we got someone to fix it and we had to speak with the plumber ourselves And drive to his house because they were handling it like we had 3 month in New Zealand.
They took edvantage of the fact that we had to fly home and had no time to handle it. Overall very poor choice of caravan company! Be careful

1

Service

1

Mechanical

1

Interior

1

Value
Hey Israel. I am so sorry to learn about your less-than-perfect experience with us. Obviously we did not manage to meet your expectations. There is no excuse for having failed to deliver your dream holiday and I hate to see you thinking back negatively to your holiday and your McRent experience. Certainly not what we wanted to achieve. I welcome and invite you to get in touch with me to see if we can look into your case again and review the original cost of the damage incurred. I am keen to give this a try if you are willing to get in touch. Thank you so much for your consideration. You can reach me on [email protected] Speak soon.
1 Review
"
Review of my Mcrent-New-Zealand hire

"

New campervan. In perfect condition.

5

Service

5

Mechanical

5

Interior

4

Value
I am thrilled to hear you had a great time. Thank you so much for your time leaving this review.
1 Review
"
Do not rent with Mcrent Christchurch

"

After they have your money, you receive no service at all. And you can not call or reach anybody. The bosses in Germany decide everything and they do not listen to customers or their problems. Everything is the fault of the customer and they make no mistakes according to Mcrent Germany.

2

Service

4

Mechanical

5

Interior

2

Value
Hey M. claessen - I am very sorry we have let you down! No excuses, no yes, buts... or anything else you might have heard before. Plenty of things we needed to improve on after the first rental season in New Zealand - I can see that looking back. We have improved immensely in this second season, but there is still plenty of room to get better at what we do. For example: Being accountable for what has gone wrong in the past. My sincere apologies. I would love to hear from you if you would be willing to give me a chance to look into your case again. Rest assured - your multiple reviews have done their part and woken us up - for the good of the company and all future customer experiences. Thank you so much for having taken the time to write these. I truly appreciate your efforts. Speak soon.