New Zealand
Editors Review
Last Updated: 8/2/19
The expansion of McRent to New Zealand is continuous as they offer new motorhomes for hire―Urban Plus and Comfort Plus. These two modern add-ons are meant for smaller families from 3 to 4.
Urban Plus

A new 2 berth camper welcomes McRent's NZ fleet. These are compact and practical units designed for two adventurers looking for a simple yet comfortable place to sleep. Both driver and passenger seats are swivel chairs so you can easily jump from focusing on the road to lazing around with a cup of coffee. Another lazy spot inside the camper is the rear, where you can find the doubled bed with underneath storage.
Comfort Plus

Intended for up to 4 persons, the Comfort Plus still leaves enough space for moving around―hence the name! You've got two bed options here―from the rear double bed or from the front pull-down bed. Both kitchen and bathroom are located in the middle for a roomier interior.
Continue reading to know more about McRent NZ.
---
McRent, Europe's largest motorhome rental company, has now expanded to New Zealand, offering 2 to 6 berth motorhomes at NZ's two popular locations—Auckland and Christchurch.
About McRent New Zealand
The European motorhome rental market is dominated by the biggest competitor on hand—McRent. Now, McRent has expanded its offerings to New Zealand. Its notable reputation could be a positive factor in this crowded campervan and motorhome rental market. Mcrent chose the two most visited cities of New Zealand to set up in, Auckland and Christchurch, and if you're undecided between the North and South islands, don't worry because the company offers one-way rentals for your convenience. And before you hit the road, take time to utilize this NZ freedom camping tool that gives you specific freedom camping tools per NZ district.
Renting a motorhome from Mcrent does not mean spending all your riches in just one holiday. They provide different choices for different travelers, which means it caters to everyone in the market, from budget backpackers down to high-end travellers.
Fleet
All McRent motorhomes are not older than 2 years, so wear and tear is not a problem at all. These vehicles are usually from Erwin Hymer Group, which are well-maintained and in top condition. Most motorhomes come with convertible seats to provide more spacious beds. For instance, the alcove motorhome provides 2 built-in beds above the driver's cab, 2 in the rear and another 2 from the convertible seats—but just take note that only 4 can still travel in the vehicle because of the number of seat-belts attached. The motorhomes have almost everything on board, from a fully-equipped kitchen to some generous extras like awning and bicycle rack.
Vehicles
Compact Plus
The Compact Plus is suitable for small families as it can sleep up to 2 adults and one child. This may be the cheapest option in the fleet (though quite pricey compared to other competitors), the motorhome already includes awning, bicycle rack, water hose, WC chemicals and more. Though design for three only, the interior is still very spacious with two fitted beds.
Family Standard

If you're travelling with a larger group, there's the Family Standard, featuring 4 seats and 4 beds—two single beds at the rears and two at the headroom of the driver's seat. There is no notable difference with the prior motorhome, except the size and load capacity.
Family Plus
This 6-berth motorhome provides the needed space and style for bigger families. The alcove model caters up to six, making it convenient for the whole family. There's one double bed at the rear, two beds at the headroom and two from the convertible seats in the living quarters. The converted sleeping area for two gives a lot of added space for walking around.
Family Luxury

Another choice in the 6-berth category is Family Luxury. Well, from the name itself, this motorhome exudes more elegance and space. Aside from the higher price compared to the Family Plus, this vehicle is fitted out for a slightly fancy road trip for the family.
Comfort Standard

Ideal for couples in need of a luxury holiday on the road, the Comfort Standard comes with one queen-sized bed. However, the vehicle provides up to 4 seat-belts, which means that you can bring some extra passengers. But, of course, your sleeping space might get limited. One thing that makes this motorhome different from others in the fleet is its internal access, giving comfort from driving to resting in the living area.
Insurance
The renter is liable for the first $7,500 insurance excess but can be reduced if you take one of liability reduction options: $39/day to limit the excess to $1,000 or $69/day to limit it to $500.
Reputation
With several branches all over Europe, McRent New Zealand could be something to consider if you want to hire a motorhome from a company with a reputation already. This newest addition of the McRent company is a nice aspect to their growing business. But, since their branch in New Zealand is just a recent venture, it's also a factor that should be taken into account. Further, their reviews are not all flawless feedback, with some issues about failed customer service and mechanical quality. Still, they are very apologetic and responded to each negative review, unlike other companies.
Summary
Still, McRent New Zealand, as a whole, is a good company with reliable services and newer vehicles on the fleet. The rates may not be that very affordable for budget travellers, but the years in the industry is a slight charm.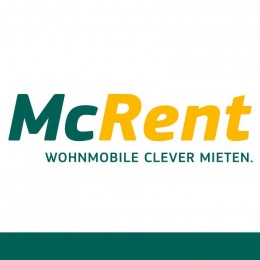 From the Agency
We are so thrilled to have opened our doors in New Zealand. Since we started operating in 2017, most of our fleet is only used for one season. We aim to exchange the majority of our fleet with new vehicles each year to keep them in great shape. But vehicles alone are nothing without being accompanied by great service. We are working every day at getting better at what we do, and I promise you this will never stop. We have a highly committed and customer-service focused team available in Christchurch with Oliver & Isabel and Shacky & Claudia in Auckland. We have our hearts in the right place and care for your happiness and satisfaction. We have put lots of work into process improvements this season to improve on the first year. If you are looking to book a unique and comfortable New Zealand Campervan Holiday off the beaten track, then get in touch. We would love to hear from you.
Pros
A lot of branches all over Europe
New motorhomes on fleet
Caters to small to big groups
Cons
Only two depots in NZ
Quite pricey
See who else rents Campervans in the same cities
Instant Price Comparison
Just Got Questions? Want a Quote direct from the company?
Fill in this form to contact the Agency direct.
Write Your Own Review
Tell the world about your experience renting from this company
1 Review
"
Free upgrade

"

We were upgraded to a brand new premium motorhome after our third rental with McRent. They provide us with a more spacious and sleeker model to experience. It was also a no-cost upgrade! We are extremely grateful and will most certainly return for our next camping trip.

5

Service

5

Mechanical

5

Interior

5

Value
1 Review
"
Modern, well-equipped, clean campervans and great service

"

We hired a campervan from McRent NZ in the winter school holidays (July 2021) and I cannot fault the campervan or their service.
The initial booking was made via email through the Auckland branch and then we collected the campervan from the lovely ladies at the Christchurch branch. We had previously been sent video instructions for how things worked in the campervans, which helped to prepare us for our journey and cut the time at pick up down.
We travelled in a group of 5 families and had 3 different models of campervans between us all - every model was great.
We had free transfers from the airport (and we didn't have to wait) and then we were shown through our campers that were all only about a year old and really clean and tidy inside. In the office they had a box of "leftovers" (grocery items that others had left behind when returning their campers) that we could pick from - great to grab some dishwashing liquid and salt/pepper etc!
The heating system was easy to use and perfect to keep us cosy throughout our journey despite it being the middle of winter, and we stayed off-grid the entire time - not plugging in to power once. We freedom camped every night, and the travel during the day was enough to ensure the power was topped up. They all have solar panels too (not that I think they helped much in the winter).
We discovered our fridge wasn't working the first night (bad luck seeing as the campervan was only a year old) and were given a temporary fix (portable 12v cooler box) until they could replace the fridge the following day. We were refunded for our taxis and compensated for our time while it was fixed. Communication was excellent and we had no other issues like that the rest of the trip.
The campervan was modern, equipped with everything we needed, and our kids loved the bunk beds at the back (we had a 6 berth). We loved the experience so much that we booked again to do another trip next year.

5

Service

5

Mechanical

5

Interior

5

Value
1 Review
"
A Good Company

"

We have rented through McRent twice, Once from Auckland and once from Christchurch. We think they are a good firm to deal with. We have just booked again for another holiday ex Christchurch Branch again. We have nothing bad to say about them. Great vans (far superior to other vans we have rented in Australia),& great people. Ian & Rachel

5

Service

5

Mechanical

5

Interior

5

Value
1 Review
"
McRent - Friendly to deal with

"

Great Service! Value for money. We hired 3 x motorhomes as were travelling as a group. Fantastic service right from the initial booking through to the handover/check out at Christchurch yard. Very friendly staff and prompt in communication. Highly recommend them. They listen and answer every question. They even transferred our luggage for us at no extra cost to Christchurch from Pokeno. Can't fault these guys! All the best to the McRent team!

5

Service

5

Mechanical

5

Interior

5

Value
1 Review
"
Damn happy with Mcrent

"

Great camper, like new, hassle free, helpful staff who even organised the weather for our SI round trip.

5

Service

5

Mechanical

5

Interior

5

Value
1 Review
"
McRent Chch

"

Just returned from a 9 day tour of the South Island in our McRent camper. The service and quality of vehicle provided by McRent was exceptional. Nothing was too much hassle. the vehicle itself was great, modern, easy to use and felt very safe. Well done McRent team we will be back.

5

Service

5

Mechanical

5

Interior

5

Value
1 Review
"
nortern roadtrip

"

Really enjoyed the experience. Great motorhome

5

Service

5

Mechanical

5

Interior

5

Value
1 Review
"
McRent Rock Stars

"

We rented a campervan for a long weekend and trip up north. Their vehicles are awesome, clean, tidy and well presented and the staff are very friendly and approachable. The 20 min video is a "much watch"! Keep up the great work McRent :-)

5

Service

5

Mechanical

5

Interior

4

Value
1 Review
"
Excellent rental company - highly recommend!

"

Just back from our best family holiday thanks to McRent. The staff are excellent and the camper vans themselves are near new and very high quality. Everything was easy from booking to check-in to drop-off. High quality service throughout and a pleasure to rent from. Definitely recommend. We'll book another rental as soon as possible!

5

Service

5

Mechanical

5

Interior

5

Value
1 Review
"
Motorhome takes the hard work out of family camping

"

All vehicles are new/nearly new as this company imports them so it's great to have such nice vehicles. Things have to be made light weight to keep the vehicle weight down so you have to take care of things when using.

All staff were friendly and professional along the way (thanks to Claudia for our booking, Francis for checking us in and Kelvin for checking us out). The premises is clean and professionally set up too.

The things that could have been better was cotton sheets, pillow cases, and quilt as they were poly cotton so very sweaty. There was no flat sheet so we had to get our own. When we told them of this they were apologetic and provided a discount for the inconvenience. TIP: BYO pillow and top sheets/blanket. and hand theirs back at check in.
The only other thing to note was that an inventory of exactly what is provided onboard would have been handy, as when packing for camping you need to know what bits you need to bring, and it would save asking them every time you think of something.
TIP: You have to BYO toilet roll, bin liners, hand towel, dish liquid, dish cloth, pot scrubber, hand soap. A microfibre dish mat is also very handy to put your washing up on.
X2 tea towels and bath towels are provided.

Would book again. Keep up the good customer service :)

5

Service

5

Mechanical

4

Interior

5

Value
1 Review
"
First time Motorhomers

"

We were first time renters and took the brand new Motorhome to the South Island for a month. Fabulous time all round. The team at McRent were very professional and helpful and made the experience all the more perfect.

5

Service

5

Mechanical

5

Interior

5

Value
1 Review
"
Our review

"

We have permission to post the following review from our lovely new friends Ineke and Kees

All the communications were prompt, honest and friendly. The campervan we travelled in, just only 1 year old with barely 30,000 in the clock, was great and for a very competitive price. Will definitely will use McRent again!

Kind regards, the Zegwaard family.

5

Service

5

Mechanical

5

Interior

5

Value
1 Review
"
Coromandel Experience

"

As 1st time Motorhome Renters we were very impressed with the great service and help we received from McRents Auckland Staff (Francis, Claudia and Kelvin)we had a great experience and can highly recommend McRent

5

Service

5

Mechanical

5

Interior

5

Value
1 Review
"
McRent motorhomes

"

First time campervaning in NZ. Would highly recommend Mcrent.
We found the staff to be professional and helpful especially after our little accident. Campervan was near new and very reasonable in price.

4

Service

5

Mechanical

5

Interior

5

Value
1 Review
"
Labour Weekend Jaunt

"

We hired the larger Fiat 6 berth camper van from McRent through an agent for our family of 4 trip over Labour Weekend. Apart from the inconvenience of pick-up in Pokeno vs. us heading to the far north from Auckland, we had a great experience. The staff were helpful and efficient. The vehicle was near new and performed well. The interior construction is a bit flimsy to save weight. We had to re-screw back on a cupboard door that rattled off. Other than that, things went smoothly for us first time campervaners. If travelling south from Auckland, I'd hire from them again.

5

Service

4

Mechanical

4

Interior

4

Value
1 Review
"
Young ones.

"

The Camper could not be faulted.
We traveled 1100km in a week and did not miss a beat. Was not lacking in power taking on many Hill and Valleys. We would recommend MCRent to anyone. From the start of booking the trip to the end. Great customer service with a very informative pre start on our adventure.

5

Service

5

Mechanical

5

Interior

5

Value
1 Review
"
Mc Rent Campervan Holiday

"

Thank you we fully enjoyed our journey in your camper van and fully appreciate your care and the excellent service you provided. The campervan was in excellent condition inside and out . Our journey in the North Island was so awesome dealing mainly with NZers.

5

Service

5

Mechanical

5

Interior

5

Value
1 Review
"
Best ever

"

We rented a McRent from Auckland the camper was only 2 months old 2000kms on clock. Absolutely fantastic we had a great time. Camper is very fuel efficient, warm. The staff were amazing and helpful. Thanks McRent Auckland.

5

Service

5

Mechanical

5

Interior

5

Value
1 Review
"
McRent

"

Amazing customer service and camper van. Highly recommended.

5

Service

5

Mechanical

5

Interior

5

Value
1 Review
"
McRent outstanding

"

We had a simply amazing time spending 7 weeks travelling the country. MCRent were so professional from the get go, great value and amazing service. Claudia is incredible as well as Shaky. The vehicle was new, exceptionally comfortable, economical, spacious and clean. You pay a little more but trust me you totally get the best RV on the road. 100%

5

Service

5

Mechanical

5

Interior

5

Value