New Zealand
Editors Review
Specializing in car rentals, Mode Car & Camper Rentals extends its range to campervan rentals, featuring unbranded and refurbished Toyota Estima or Nissan Serena models.
About Mode Car & Camper Rentals
Without a doubt, Mode Car & Camper Rentals is a name in the rental industry in New Zealand. Well, it isn't a new company after all. Originally Blue Sky Rentals, they changed their name to Mode Car & Camper Rentals in 2016. They have pick-up and drop-off at Auckland Airport, Auckland CBD and Christchurch airport, as well as shuttle services. Their car and campervan hires are fairly priced with great inclusions and some add-ons.
Fleet
Their campervan rental fleet provides two options for renters: the 2-seater and the 4-seater. Both campervans are refurbished models that drive like cars. Good thing is, these units do not come with any loud exteriors. These are all unbranded with no trace of marketing hints so that you can wander around the scenic NZ roads like Kiwis and not hyped tourists. Most of the campervans are automatic vehicles that can fit out booster seats and baby capsules. GPS and other accessories including phone, sound system, snow chains and roof racks can be added to your rental.
Vehicles
2-Seater Campervan

This 2 berth Toyota Estima is a refurbished 2015 unit with air conditioning, power steering, central locking and electric windows. Even with its size, it can exactly sleep two people in the multi-purpose double bed with mattress, bedding and even towels. The back area is for the kitchen equipped with portable gas cooker, fresh water storage, chilly bin and kitchen utensils. To add some camping vibes, outdoor table and chairs are also provided. The campervan is ideal for unassuming couples or friends who wouldn't mind the limited height and length.
4-Seater Campervan

Travel in comfort with this refurbished 2016 Nissan Serena. The motorhome provides more than enough space for two in the custom-made double bed. For the other two passengers, camp under stars inside the pop-up stretcher tent. This one is pretty suitable for adventurous friends on the hunt for some fun and laid-back camping experience. Also, the motorhome is equipped with just everything you need from linens to kitchen utensils.
Insurance
The standard insurance is included in the rental, with an insurance excess of $3,000 for drivers over the age of 21, if not $3,500. The company offers reduced liability options for an additional daily rate. And to cover the liability, a pre-authorization bond is required through credit card or cash.
Reputation
Even with their previous name as Blue Sky Rentals, this NZ company is already popular. They are known for their great service and good prices. With their new name, Mode Car & Camper Rentals have now three locations across NZ, making them very convenient for pick-up and drop-off. Their campervans are great value for money, with the inclusion of bedding supplies, silverware, camping table and chairs and more. Though only limited options are on the range, and most are refurbished models, these units are decent and unbranded so you can travel like a local.
Summary
Mode Car & Camper Rentals is great for those who don't mind renting a campervan that is not brand new; hence, priced at a good rate with all essentials plus some extras onboard.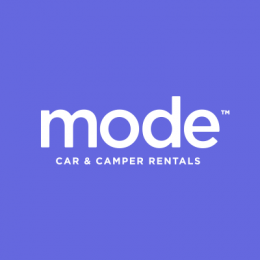 From the Agency
No word from this agency yet. Come back and see if they checked in soon.
Pros
Value for money
Decent and reliable rental
Nice inclusions and extras
Cons
Not brand new models
Only two campervan types
See who else rents Campervans in the same cities
Instant Price Comparison
Just Got Questions? Want a Quote direct from the company?
Fill in this form to contact the Agency direct.
Write Your Own Review
Tell the world about your experience renting from this company
Have you experienced Mode Car & Camper Rentals?
Be the first to leave them a review and help others on their journey.