New Zealand
Editors Review
Talking about beautiful, handcrafted campervans, Quirky Campers gathers a fleet of 2 berths, oozing with craftsmanship, style, and originality. This family business based in Auckland currently rents out three personalized units for two travelers.
About Quirky Campers
Unlike other campervan hires in Aotearoa, New Zealand, Quirky Campers is all about customized road trip adventures. They are the only family rental business that is selective, which means they personally handpick their campervans from private owners. Simply said, they act as agents for campervans that perfectly fit their branding of a quirky, handcrafted, and luxury camping experience. Even if they only have one depot, most of the campervan owners provide a delivery service at a decent cost. Plus, all their campervans are self-contained, meaning you can freedom camp around NZ with ease. Check out the freedom camping rules ahead to know some important information per NZ district.
Fleet
With the beautiful and charming interior designs and inclusions, it's hard to think that the age of the units ranges from 2005 to 2009. Aside from that, these are all self-contained 2 berths, with some pet-friendly vehicles for rent. Most of the campervans come with seats suitable for child seats/ boosters. Moreso, each unit has its own kitchen space geared with all kitchen utensils and facilities. If you want more comfort, you can add some extras like bedding, towels, bike rack, awnings, camping furniture, BBQs, and more.
Vehicles
Ivan
For two people planning to bring their furry friend, this blue campervan is the perfect option. Ivan features a sophisticated urban styling on a rustic, wooden camper. This 2006 Fiat Ducato truly feels like a boutique room on wheels with everything you need, from a convertible bench seat that converts into a double bed to the fully-equipped kitchen with all essentials. Plus, this unit comes with a solar panel and a portable toilet for an off-grid experience.
Mahara

Next on the list is the high-roof Mahara, which is built on a 2009 Ford Transit. Equipped with three seat belts, this unit is still a 2 berth camper―ideal for couples who want extra interior space for stretching and even standing. Some unique features of this camper are the 32" monitor that allows you to catch up with your favorite series and an overhead shelf that is stacked with books and board games. There are also enough outlets to charge your electronic devices.
Kākāpō
Completing their rental fleet is this Mahara―a beautiful 2005 Volkswagen featuring a classy, contemporary wooden interior like a Scandinavian log cabin. This 2 berth camper highlights its impressive storage spaces, which include the area underneath the bed as well as the kitchen drawers. The kitchen features a built-in sink, a portable gas stove, and a portable cooler. Plus, you've got a portable toilet, an outdoor table, LED fairy lights, and some reading materials for a cosier and memorable road trip.
Insurance
The standard insurance excess is $1, 000 but can go higher, depending on certain circumstances (answers made to their driver suitability questions). With that, the excess can range from $1, 000 to $3, 000. There is limited information as to the reduction options but you can confirm these with them prior to booking.
Reputation
Quirky Campers' fleet is quite interesting as they offer all self-contained, personalized, and stylish units for hire. Though these units are meant for two travellers only (plus, your furry friend), they ensure a classy, cosy, and comfy campervan adventure. But take note, they only act as agents of the units, hence they cannot completely guarantee the vehicle condition. Also, one thing to consider is the age of vehicles, which are slightly older models.
Summary
Even as a third-party, Quirky Campers makes available a unique selection of beautiful, self-contained vehicles. So, if you're eyeing for a luxury campervan experience, you can give their personally-picked rental fleet a try.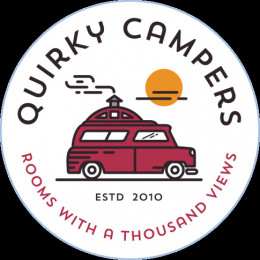 From the Agency
No word from this agency yet. Come back and see if they checked in soon.
Pros
Cosy, stylish, and handcrafted units
Self-contained fleet
Delivery service
Cons
Mostly older models
Only 2 berth campervans
Limited options
See who else rents Campervans in the same cities
Instant Price Comparison
Just Got Questions? Want a Quote direct from the company?
Fill in this form to contact the Agency direct.
Write Your Own Review
Tell the world about your experience renting from this company
Have you experienced Quirky Campers NZ?
Be the first to leave them a review and help others on their journey.