New Zealand
Editors Review
Last Updated: 8/31/19
A humble family-owned campervan hire, Sunrise Holidays allows you to watch the sky light up in the rose and golden hues of a stunning sunrise on Te Araroa, the easternmost point of New Zealand through their mid-ranged campervans. There have been lots of addition to their fleet, plus a campervan to look forward to this year.
About Sunrise Holidays
Sunrise Holidays was established in the 1990s, even before the advent of social media, and continues to provide homey rentals at competitive prices. They've got a nice selection of campervans available at good prices. You're not going to find any incredible bargains here, but their prices are fair and in line with other mid-range market options. One of the best things about Sunrise Holidays is that they seem to have vehicles available to fit whatever your particular travel needs might be. And if you want to ensure a convenient campervan rental wherever you go, from Auckland to Christchurch or vice versa, then equip yourself first with valuable freedom camping guidelines per NZ area through this freedom camping tool.
Fleet
The fleet of Sunrise Holidays moves around their Tribute models and one LDV unit. These campervans are great for couples, starting families or larger groups up to 6. All vehicles are self-contained to allow you to explore all bits of NZ's beautiful yet remote locations in comfort with significant facilities like solar panels, fridges and gas heaters. In addition, you get to drive newer campervans, mostly with 2017 fit-out and other with 2015-2016 models.
Vehicles
Piwakawaka 669
Traveling in a smaller group? You might be interested with the 2+1 berth Piwakawaka. This little campervan gives you and a mate the chance to experience New Zealand's rugged wilderness up close and personal. But if you want to travel with your kid, don't worry because you can sneak one inside. As the name itself suggests, Piwakawaka is NZ's native bird―a small creature with a big name. And just like its description, the Piwakawaka campervan is small but compact with more than enough camping essentials like kitchen with sink and gas stove, 3-way fridge, dinette, comfortable sleeping areas, shower, and cassette toilet.
Piwakawaka 680

There isn't much difference with the Piwakawaka 680. They have the same interior layout and facilities. So, if you're a couple in need of extra space, then this camper wouldn't disappoint. The entire rear lounge easily converts into a large bed. Plus, you can easily drive and park the unit because of its compact space.
Weka 620
A perfect treat for small families, the Weka 620 offers cosy sleeping areas―upper and lower bed―for two travellers with a young child. Unlike most motorhomes with rear bedroom, this one comes with a corner shower area and toilet. Also at the back is the modern kitchen. This model is ideal for those who want to enjoy a roomy lounge for relaxing and extra space for cooking. The Weka, in reality, is a native bird known for being smart and adventurous. Hence, the name of this particular vehicle― Weka. The Sunrise' Weka is a mid-sized unit with smart layout that would take you to a more adventurous road trip without leaving behind all the comforts of home.
Weka 625
Unlike the previous choice, this campervan has a bigger and comfier internal layout. However, it's intended for two persons only. The bathroom and the kitchen are positioned on each side of the unit, leaving the entire back area as a generous lounge that alters into a spacious double bed. This one also features swivel front seats so you can smoothly transition from driving to relaxing.
Weka 590
Last option for this model is the Weka 590 is designed to be smaller but more spacious. This will be introduced to the fleet this comping October 2019. To give you a glimpse about this camper, this one offers a unique fit-out―a spacious lounge in the middle, an L-shaped kitchen next to lounge, and a vanity area at the back. Not only that, since this is a 4 berth camper, there are two double beds. The first one is from the convertible lounge and the other from the electric double bed that lowers down above the lounge.
Takapu 720

Taking the whole family out on the road? The 6 berth Takapu available at Sunrise Holidays is perfect. With bigger vehicle dimensions to comfortably get the family where they need to go, this campervan makes travelling on wheels more fantastic. It has two spacious lounging areas that give private zones for the parents and children. The lounge-diner behind the cab area can cater up to five with the swivel front seats rotated. This is a nice entertainment area during daytime and cosy sleeping option at night. Other sleeping places would be the bed at the back or the cab-over bed.
Papa Takapu 736 G

Another 2 to 6 berth motorhome for the entire family is the Papa Takapu 736 G. This one is also loaded up with a permanent rear double bed, a dinette bed, a side kitchen, and a full bathroom with shower and toilet. One distinct feature of this large unit is its reversing camera. So, if you're particular about this aspect, then Papa Takapu 736 G is your ultimate choice.
Insurance
The standard insurance, which is already included in the rental, features a bond of $5,000 to cover the insurance excess. But you can avail of the extra insurance options to reduce the bond or excess to a lower amount. For $29 per day, this lowers the excess to $950 and $49 per day for a $0 excess with the inclusion of RUC tax. Just in case you do not want to pay an additional fee, you must provide a credit card imprint to cover the possible liability.
Reputation
Newer campervans are what to expect with from this campervan hire company with this price range. No surprises here. What might come as a surprise is just how beautiful Sunrise Holidays' customer service is. This is a family-owned business and it shows. Little touches like familiarizing you with your campervan, helping out with personalized trip itineraries, and setting you up with coffee, tea, and sugar at the start of your trip go a long way. Accordingly, they couldn't provide you anymore with impressive discounts because their rates are already attractive―but not for budget backpackers though. They are quite popular, with pick-up and drop-off location on both Auckland and Christchurch airports.
Summary
Whatever your travel situation―from two friends to the whole family to anything in between―you'll likely find a campervan for hire from them that's just what you're looking for. When you consider the selection of vehicles, friendlier service, and mid-range budget, Sunrise Holidays is an easy recommendation for travelers. Definitely worth checking out.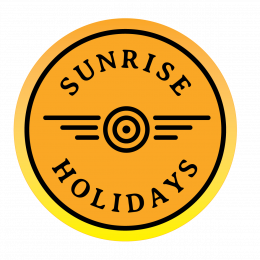 From the Agency
No word from this agency yet. Come back and see if they checked in soon.
Pros
Caters the mid-ranged market
Extensive selection for different needs
Newer vehicles on fleet
Great reputation
Cons
Pricey insurance options
Not for budget-based backpackers
See who else rents Campervans in the same cities
Instant Price Comparison
Just Got Questions? Want a Quote direct from the company?
Fill in this form to contact the Agency direct.
Write Your Own Review
Tell the world about your experience renting from this company
Have you experienced Sunrise Holidays?
Be the first to leave them a review and help others on their journey.