New Zealand
Editors Review
Last Updated: 10/22/19
Sweet As Campers is a funky campervan hire company based in Auckland, New Zealand. They have traditional campervans and motorhomes as well as 'pimped' rides with disco decorations, soft padding from floor to ceiling, shag pile, tinted windows and a slew of other options and themes.
About Sweet As Campers
This Auckland-based campervan business is as sweet and exciting as it gets. If you are looking to attract attention or have a unique ride, this may be the company that can sort you out. Sweet As Campers also knows a little about luxury travel. They have a rather interesting rental range with all the amenities that add comfort and lots of fun to the users. Moreover, they offer drop-off and pick-up services at most major centres. And when you freedom camp using one of their units, don't forget to gear yourself with the important freedom camping rules that may vary per NZ district.
Fleet
They supply 2, 2/3, 3, 4, and 6 berth campervans and motorhomes in the budget to mid-range price. Before reading on, I suggest you check out the gallery section―an area that gives you a glimpse of what lies ahead when renting a unit from them. Most of their vehicles are more than 3 years old, hence some wear and tear signs could peek out, But on the contrary, they provide extra items such as bedding pack, GPS, camp chair, mattress, child car seat/ child booster, bike rack, and tent at an additional charge.
Vehicles
Pimped Vehicles
Sweet As Campers are quite unique, offering "pimped" campervans into travellers to New Zealand. The pimped campervans come in different colors both on the inside and the outside. Whilst you are allowed to make a booking for the preferred vehicle of choice, unfortunately, they can't guarantee it as each van is unique and you may already be out, or need a repair at the time you need it. All pimped vans have crazy colored interiors and various fittings include; bubble tinted windows, chandeliers that transform the van to a luxurious nightclub comfy vehicle, plush leather seats, blue velvet seats, etc. You will definitely like the van's sweet body kit, shag pile carpets, high-interior roof, moon roof over the driving cab, and perfect body paints that are well decorated with awesome graffiti. Having a pimped campervan that is decorated with stylish graffiti will make you stand out from the crowd, however, let's not over-sell it – there are only 5 in the fleet.
2 Berth Later Model Campervans
For this category, they offer two options: 2 berth Hiace and 2 berth Hitop. Both Toyota models are automatic, with a spacious interior equipped with a convertible double bed, kitchen space, and solar panels. So, if you are two friends or a couple who wouldn't mind a simple yet well-furnished campervan, this energy-efficient unit is the answer.
2 Berth Campervans with Shower & Toilet

Next of the list are these upgraded 2 berths now with shower and toilet. There are three campervans from this range: 1 Toytota Hitop, 1 Toyota Hiace, and 1 Ford Transit. These are large enough to cater to all travelling needs for most people. They have a lot of similarities and also some added features that distinguish them. Some of the features that you can expect to find include interior kitchen with microwave, a small tub for the sink, gas cooker, and fridge. Plus, there are lots of storage inside the unit so you won't have a hard time keeping your things safe.
2 - 3 Berth Campervans
These Hitop campervans come with 2 to 3 seatbelts, hence the name! Depending on your choice, you get almost the same facilities, which include a double bed, pull-out awning, well-equipped kitchen, dining equipment, and an outdoor solar shower.
3 Berth
The 3 berth Ford Transit vans come fitted with a double bed, a pull-out bed, and 3 seat belts. These manual units are very roomy during daytime as you have the rear area for dining or lazing around with a cup of coffee. Come nighttime, you can easily convert the rear bench seats into a double bed. More than that, you get to utilize the USB and power sockets for your devices. And before we forget, these campervans have good storage too and an extra interior space for standing up.
4 Berth Campervan
The 4 berth motorhomes have all the amenities that you can expect to find at a luxury home. There are three 4 berths on selection: a pop-top model, a Fiat Ducato, and a Toyota Hitop. Each camper is quite spacious and one can roam around and still stand upright. It's ideal for a family, small group and couples that want to enjoy a fantastic holiday in style. Features include 2 double beds, kitchen space, interior dining table, and ample storage for your things.
6 Berth Motorhomes - Later Model
Sweet as Campers offer these fantastic 6 berth manual motorhomes to renters who want to experience a comfier house on wheels. These are late Ford models can accommodate 5 adults with comfort and contain all amenities for a cozy and efficient road trip. Its ample space provides one with a lot of freedom to walk around and enjoy a great meal while taking a beautiful view at the side-rear windows. There are three sleeping options inside these motorhomes, including other facilities such as shower & toilet, entertainment system, and a kitchen.
6 Berth Motorhome
The 6 berth is the most high-end motorhome offered by Sweet as Campers; it's extremely spacious and comes equipped with everything that you might need for a great vacation. For this fleet, you've got two models to choose from: a Ford Transit and a Canter. Both vehicles are manual and are suitable for small groups, couples and a family of 5 or 6. After hiring this great motorhome, you will definitely love the variety of sleeping spaces inside. There's a king-size bed, a double bed, and 2 single beds or pull-down bunk beds. Plus, you've got a spacious bathroom too.
Insurance
Sweet As Campers offers two insurance options to reduce the excess. At $25 per day, you reduce the excess to $1, 500. On the other hand, an additional payment of $50 limits the excess to $500 only. These payments are paid via credit card.
Reputation
The company has seriously a lot of campervans and motorhomes for rent. This means they cater to travellers of different sizes, from couples to small groups to big families. They have new units, however, most of their vehicles are a bit old compared to those on the road. So, you might find a few small issues of wear. Still, they offer great quality for premium vehicles and their rates aren't that pricey. Most customers that have used their services are happy with their trip, though there are also some who are devastated. These leave them with a mixed reputation.
Summary
Generally, Sweet as Campers is a decent company with plenty of rental options. These can go further to those who want to have extensive choices before deciding what to rent.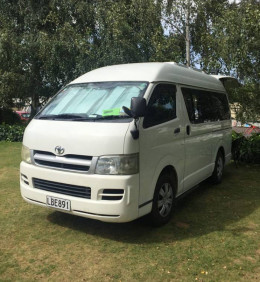 From the Agency
No word from this agency yet. Come back and see if they checked in soon.
Pros
Unique campervans
Traditional campervans too
Plenty of units for rent
Suitable for travellers of all sizes
Cons
Split resources on pimped and non pimped campers
No guarantee you will get EXACTLY the pimped ride you want
Limited branches
Older models
Mixed reputation
See who else rents Campervans in the same cities
Instant Price Comparison
Just Got Questions? Want a Quote direct from the company?
Fill in this form to contact the Agency direct.
Write Your Own Review
Tell the world about your experience renting from this company
1 Review
"
Total disaster

"

Totally disaster, never use this company......my holiday was fuxked up due to this dishonest company.
1. Give a totally different car to you and tell you to accept it at the day of pick-up.
2. Shift your car returning time to earlier by its side.
3. Charge you extra money from your credit card without any notification and details.

Hopefully no one would suffer again, please be aware of this " Sweet As Campers" car rental company.

1

Service

1

Mechanical

1

Interior

1

Value
1 Review
"
cool campers

"

hi I have used the sweet as pimped campers a few times and they are very cool they area bit older but I was able to pick one up in wellington and drop it off in Queenstown one one trip I did get a flat tyre on a hill so I just called the AA and they turned up and we were away The camper we were in had a massive comfortable bed and had a gas cooker and out door furniture my husband mt self and out 7 year old all sleeped in the same queen size bed and there was plenty of room so it was all sweet as

5

Service

5

Mechanical

5

Interior

5

Value