New Zealand
This Company has ceased trading, or is otherwise no longer operating.
Editors Review
It looks like Tiki Campers has ceased trading. This page is left here as legacy in case anyone is trying to find them some time in the future
There's more to come for this review. If you would like to contribute a full length review of Tiki Campers, please click on the CONTRIBUTE link.
They were based in Auckland. Follow this link if you are still looking for campervan hire in Auckland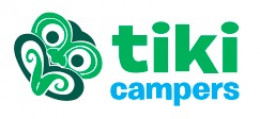 From the Agency
No word from this agency yet. Come back and see if they checked in soon.
Pros
Modern fleet
Certified self-contained
Unique design
Cons
Limited amount of vehicles for hire
Limited to 2 or berth only
Only 1 depot
See who else rents Campervans in the same cities
Instant Price Comparison
Just Got Questions? Want a Quote direct from the company?
Fill in this form to contact the Agency direct.
Write Your Own Review
Tell the world about your experience renting from this company
Have you experienced Tiki Campers?
Be the first to leave them a review and help others on their journey.