New Zealand
Editors Review
Last Updated: 8/27/19
There's a lot to like about Wilderness: a nice range of vehicles, good prices, and excellent customer service. If you're looking for a campervan for hire in New Zealand, chances are, there's something you'll like at Wilderness. Before, they have options like 5 berth and outback camper, but now they focus more on 2 berth and 4 berth units. At present, their fleet is composed of 12 vehicles.
About Wilderness
First things first, Wilderness isn't trying to target the budget market – you won't find the cheapest campervans for hire in New Zealand here. But their rates aren't outrageous, and for everything that's included with the rental, there's good value on offer. And when we say everything, that includes airport and hotel transfers, extra drivers fee, cleaning fee, one way rental as well as linen and kitchen package. Their complimentary transfers from their depots in Auckland and Christchurch add convenience to the renters who want to have a hassle-free holiday.
And if you're starting and ending your trip with the same location, you can leave your suitcases with them for a small fee. This family-owned company lives up to its name so they do not give a list of prohibited roads that can't be accessed because of insurance restrictions. They want you to explore the wilderness and get into the named and accessible roads with peace of mind. Before you start the adventure, utilize this amazing freedom camping tool that outlines all the specific rules and regulations that you need to know before camping in NZ.
Fleet
The range of Wilderness motorhomes is impressive. As of this writing, they offer 12 units that target couples to larger groups. All Wilderness motorhomes are certified self-contained, which means they are considered for freedom camping. These units are close to brand new, with an average age of three years and maximum mileage of 190, 000 miles. The motorhomes may not be the newest on the road but they are religiously maintained to conform with the Wilderness standard. Whether you like something with a sleeker exterior or something with extra space inside or prefer manual than automatic transmission, you can find a motorhome that will match your preferences.
Vehicles
Vista 2
See all the panoramic views from your motorhome's large windows. Vista 2 is one of the newest 2 berths on the fleet that takes pride in its compact and clever interior layout. This unit is brimming with all unique features such as a huge sliding door, swivel front chairs, and a permanent rear sleeping area that can be set up as two single beds or one double bed. Plus, you can easily open the rear door to see the breath-taking NZ landscapes. Vista 2 seems to be a replacement of their Escape 2, which was once the company's flagship for people looking for luxury space.
Helix 2
The Helix 2 is the standard-bearer for compactness and flexibility. This 2 berth motorhome provides a cozy French bed with plenty of room to relax without the need for extra vehicle length. However, just make sure you are okay with no vehicle compartment that divides the supposed to be bedroom from the living quarters. This unit features a shorter length that limits space for extended layout but still allows you to get into a few more places compared to longer and bigger motorhomes.
Wave 2
Same length and width as the Helix 2, the Wave 2 is just a step up in terms of internal height and exterior. This fashionably elegant and functional motorhome is oozing with a spacious layout that provides a comfier permanent bedroom at the rear. And because of the slight internal height addition, taller people can appreciate the layout. Instead of an oven, you are equipped with a microwave to make your cooking/ baking session a pleasure.
Freedom 2
The Freedom 2 is actually the most spacious and ideal choice for travellers wanting to explore more remote places. The diesel-fueled engine means your money goes farther at the pump, and the vehicle's ergonomic design makes handling and parking simple even on off-road terrains. To save space, the vehicle provides a drop-down double bed from the ceiling cavity; hence, the need for a ladder. As the living quarters and bedroom use the same area, the motorhome furnishes a larger kitchen.
Cruise 2
Built on a Fiat Ducato 2. 3L Turbo diesel with 6-speed auto transmission, the Cruise 2 is the perfect motorhome for a cozier NZ motorhome hire. Tagged as the most popular option because of its upgraded, versatile layout, this unit gives you the option to sneak in your child with the help of its fix child seat fastening that ensures the safety of your kiddo while travelling. As safety is never a compromise with this vehicle, comfort is also provided at its finest. Easily rotate the pilot seats after a long and tiring drive so that you can relax and dine together at the dinette. And the permanent island bed at the rear awaits you after your sumptuous meal.
Alpine 2

Also known for its sleek external features and unique bed layout, the Alpine 2 is made for two not-so-close friends or couples in their rekindling stage. In any way you have decided to be closer, then easily set up the single beds into one spacious king bed! Another distinct charm of the Alpine 2 is the step-up going to the bedroom. This gives, at least, a slight compartment for more privacy. And because of the nice water storage, the appliances can still work even without plugging them to the main power.
Glider 4
Another new addition to the range is the Glider 4, which a perfect treat for those eyeing for a super spacious living space. This family motorhome offers a large L-shaped lounge at the back and functional dining quarters at the front. The sleeping areas might surprise you as theses are practically hidden on top to save space. You simply press each button on the rear and front and ta-da, you'll be relaxing in no time on the electric beds.
Ranger 4
The Ranger 4 follows the standard and most popular motorhome configuration, with the permanent double bed at the rear and the double drop-down bed at the front. This layout saves space while providing the same essentials of larger motorhomes. Accordingly, there's no need for extra vehicle length, making it very convenient to drive around and park at most camping sites. Plus, you will appreciate the extra width from the back bedroom.
Alpine 4
The Alpine 4 is all about private affairs, which means the parents can have their own time at the drop-down double bed while the teenagers can enjoy their late-night talks at their own beds at the rear. Just like the Alpine 2, this model provides options for the family, either twin beds or one king bed at the back. The step-up before the rear bedroom also makes sure that your kids can have a little exercise while on-board.
Cruise 4
Just like the Cruise 2, the Cruise 4 gushes about versatile features, starting with its wraparound lounge with rotating front seats that allow you to dine in together up to the permanent island bed at the rear. But one addition to the layout is the double drop-down bed upfront to cater extra two passengers in transit. So, you can invite two friends to experience this highly sophisticated and functional motorhome.
Outback 4
Outback 4 is big and better. With extended vehicle length and internal height, this 4 berth motorhome can now provide more space for stretching your tired arms and legs. Unlike other units that make the living area unusable at night because of the drop-down bed, this vehicle allows you to comfortably relax at the dinette while other passengers rest above the living quarters. The rear bedroom is much more private compared to similar berths because of the uniquely open and lock feature of the bathroom.
Peak 4

Peak 4 is one of the two biggest motorhomes by Wilderness. So, if you're up for some real comfort and space for everyone on-board, you will not be disappointed with this large unit with luxury layout. This unit gives you three different sleeping arrangements to suit your preferences. The rear bedroom has two single beds that can be set up into a spacious double bed. Also, there's a double bed that conveniently drops down over the cab for another double bed.
Insurance
Wilderness is one of the few motorhome companies who don't take a cash bond instead they would require a credit card authorisation for the security bond/ excess (deductible) of NZ$7500. The great thing about this company is the inclusion of overhead and underbody damage in the standard coverage. You also have the option to reduce the excess by availing one of their reduction options: Extra Package at NZ$29 for an NZ$ 950, Maxi Package at NZ$49 for an NZ$450 excess, and VIP Package at NZ$69 for NZ$0.
Reputation
A review of Wilderness wouldn't be complete without mentioning their stellar customer service, which can be attested by a number of travellers who have experienced their rentals. On top of their top-notch service, this family-owned business gives an impressive number of luxury motorhomes at decent prices, though not really cheap. Hence, the company is definitely not for the budget market. But you get what you pay for or even more! For the past years, there have been changes in their rental fleet and some motorhomes have come and go. But even with the modifications, they remain to offer heaps of excellent units for rent.
Summary
A great range of awesome vehicles, competitive prices, and killer customer service, Wilderness comes recommended if you're considering a campervan for hire in New Zealand. No matter the size of campervan you decide to go with, you'll enjoy some nice perks like kitchen equipment, linen and bedding, and guide books.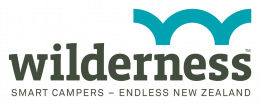 From the Agency
No word from this agency yet. Come back and see if they checked in soon.
Pros
Impressive number of motorhome options
Nice customer service
Established reputation since 2004
Heaps of motorhome options
Cons
Not particular for budget market
Pricier rates
See who else rents Campervans in the same cities
Instant Price Comparison
Just Got Questions? Want a Quote direct from the company?
Fill in this form to contact the Agency direct.
Write Your Own Review
Tell the world about your experience renting from this company
T. Clayson
, United Kingdom
1 Review
"
Top trip

"

Excellent in every way. Can't recommend too higky

5

Service

5

Mechanical

5

Interior

5

Value